What is the most user-friendly blogging platform? Choosing the right platform for your blog is the first step in creating a successful blog, but there are only a few that are worth considering.
Have you thought about starting a blog but aren't sure which platform to choose? Let us take care of you.
As a beginner, your best option is to choose a blogging platform that allows you to set up your blog without coding or complications. Furthermore, it should be flexible enough to grow, provide a high level of customization, and be easy to use.
To help you decide which is the Best Blogging Platform, we've reviewed the best options and provided a detailed guide.
Our Top 5 Recommended Blogging Platforms (2023)
| Platform | Best For | Pricing | Rating |
| --- | --- | --- | --- |
| WordPress | Best for all types of businesses | Starts at $1.94 annually | 4.7/5 |
| Wix | Designed for beginners who want to build a professional blog | Starts with a basic plan $1 annually | 4.5/5 |
| Blogger | Best for beginners | Free | 4.0/5 |
| Squarespace | Best website builder for blogging | Starts at $12/month | 4.6/5 |
| Medium | Suitable for writing for an existing audience | Free | 4.3/5 |
These were just an overview of a few blogging platforms. Read on to explore the top platform in detail.
1. WordPress (Best for All Types of Businesses )
The WordPress blogging platform is top-rated and open-source. The platform is easy to use and learn, so new bloggers can start blogging immediately.

With it, bloggers are given numerous options for monetizing their content and accessing the necessary tools.
Features
A free domain on WordPress.com is available with a paid plan for one year.
Drag and drop images & videos to integrate.
Pros
Professional templates at your fingertips
Keeping your system up-to-date is easy
It is easily integrated with marketing tools and SEO software
Cons
Pricing
Basic WordPress.com accounts are free, and they are branded with advertisements. Starting at $4 per month, the personal plan is billed annually.
2. Squarespace (Best Website Builder For Blogging)
An easy drag-and-drop interface makes Squarespace an excellent platform for building websites and blogging. No coding skills are required to create stunning websites and blogs.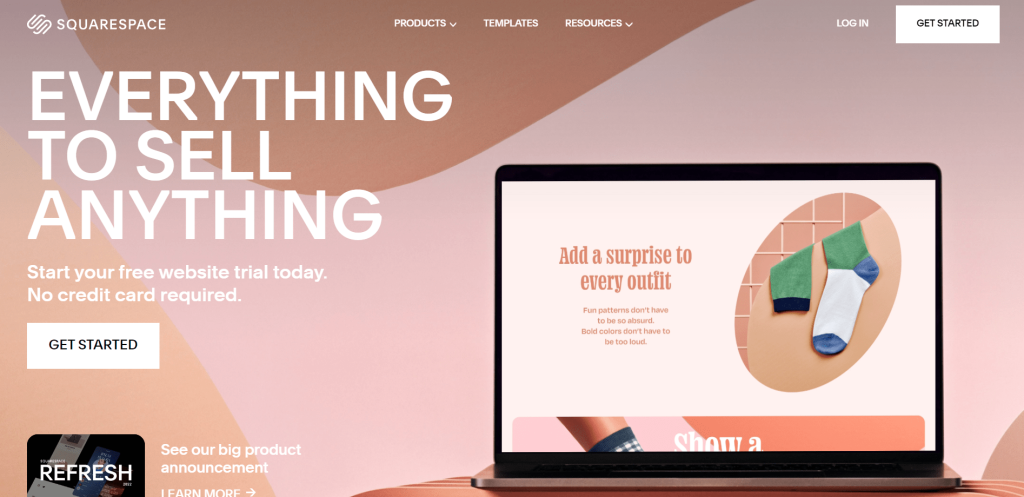 The Squarespace platform is designed for small businesses wanting to create an online presence quickly. Since 2003, it has powered millions of websites.
Features
Display categories of blogs
Commenting is allowed
RSS Feeds
Create a social sharing account
Set up a posting schedule
Pros
Do not require extensive technical knowledge.
Adding a store to your website is possible.
Allows you to use Google AdSense now.
Cons:
Apps and extensions from third parties are not permitted.
The company does not offer a large number of marketing tools.
Pricing
Squarespace plan comes in four categories, which you can choose per your needs.
Each annual plan pricing is categorized as below:
Sites for personal use are $12/month.
Business sites cost $23/month.
eCommerce sites cost $27/month.
Advanced eCommerce $49/month
3. Medium (Suitable for Writing for an Existing Audience)
The Medium platform makes it easy for people to earn money by writing blogs.

Creating your site, web hosting, design, and maintenance will not be a problem. This is the perfect option if you are just interested in writing and getting paid without doing anything else but writing.
The best thing about Medium is that it already has an audience. You will also not need to worry about attracting readers to your blogs.
Features
Editor with rich features.
Countless visits/bandwidth.
Monetization is limited to medium partners.
Pros
It doesn't cost you anything
Testing your content before you build your blog is a great idea.
Cons
Your success depends heavily on Medium's audience and algorithm
You don't own a domain name
You can't customize your ads
Pricing
Medium lets you create a free blog.
4. Wix (Best for Beginners who want to Build a Professional Blog)
Wix is the quickest and easiest way to create a professional blog. In addition to the easy-to-start option, there are other great options. A full-featured website with a blog is an excellent choice for beginners.

Setting up a website is accessible by dragging and dropping your content. No code is required.
Features
Build a website with drag-and-drop ease
AI-powered design with Wix ADI.
Pros
Wix offers customizable templates and apps from third parties.
Building your site is as easy as dragging and dropping.
Cons
Wix's free versions have limited functionality and are branded with Wix's logo.
Third-party apps are limited in number.
Wix Pricing
With Wix's primary website builder, you can get a free subdomain. Basic plan prices start at $1/ month (billed annually) for premium plans and can go upto $6/month (billed annually).
5. Blogger (Best For Traditional Blogging)
Whether you're a casual blogger, an individual advocating for a cause, or a business looking to maintain a traditional blog, Blogger is a great platform.

As part of Google's Chrome family of products, it features easy navigation and a high level of dependability. The same rules apply to Blogger posts as they do to email posts.
Features
The basics of editing.
You get unlimited bandwidth and visits.
Customizability is limited.
Pros
Create a blog quickly and for free.
It is secure and reliable as a technology giant that owns the platform.
Cons
Platform updates aren't frequent.
Design and customization options are minimal.
Basic blogging tools don't help you grow your blog.
Pricing
Blogger makes it easy for users to get online without spending money. It's free of charge.
6. Ghost (Best for Bloggers Looking for a Next-gen Blogging Platform)
After a successful Kickstarter campaign in 2013, Ghost was founded as a blogging platform in 2013. The software is designed specifically for journalists and bloggers, taking a minimalist approach to content management.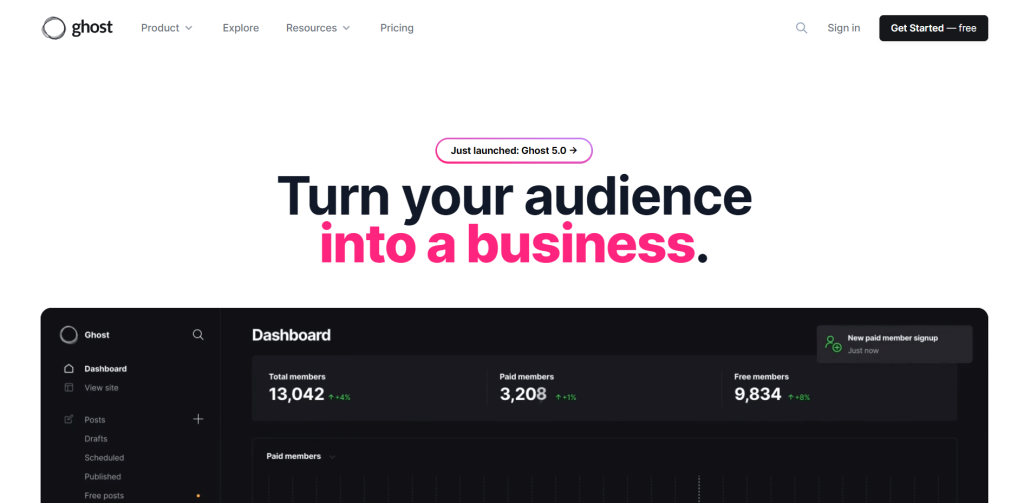 Features
Blogging is the primary focus of Ghost's built-in features.
There is also a night mode on the dashboard, which makes it easy to use and manage.
Pros
Learning the stripped-down interface is easy
All your content is under your control
Designed for blogging
Cons
Blogs do not support adding online stores
Blogging platforms with fewer customization options
The platform is not free (so it isn't the most affordable).
Pricing
Ghost comes with multiple pricing plans depending on your requirements.
Here is the list of pricing plans:
Starter plan: It comes at $9/month (billed yearly)
Creator: It costs you $25/month (billed yearly) with a bunch of custom themes
Team: Costs you $50/month (billed yearly)
Business: It comes at $199 (billed yearly)
7. Drupal (Ideal for Users who want to Build Large, Complex Sites)
A self-hosted blogging CMS like Drupal is ideal for large corporations that need advanced features.

This blogging platform offers more features for enterprises in the blogging space than other blogging platforms.
Key Features
Drupal comes with great built-in features
Bloggers can create personalized customer experiences
Pros
Achieves enterprise-level functionality
Creating content for multiple purposes
The blog team has access to advanced user permissions
Maintaining complex blogs is easy
Cons
Beginners should avoid blogging because it is too complicated
Small businesses might not need some of its features
Pricing
Drupal's price depends on the web hosting and customized domain name chosen. The following Drupal hosting plans are available through Hostinger with a free domain:
Our Premium Shared Hosting costs $2.99/month – and is available for blogs with maximum monthly traffic of 25,000.
Bloggers with up to 100,000 visitors can use Business Shared Hosting for $4.99/month.
8. Weebly (Ideal for New Bloggers)
Weebly allows you to create a blog with its variety of tools quickly. There is no difference between using it for a standalone blog and as an integral part of a more substantial website.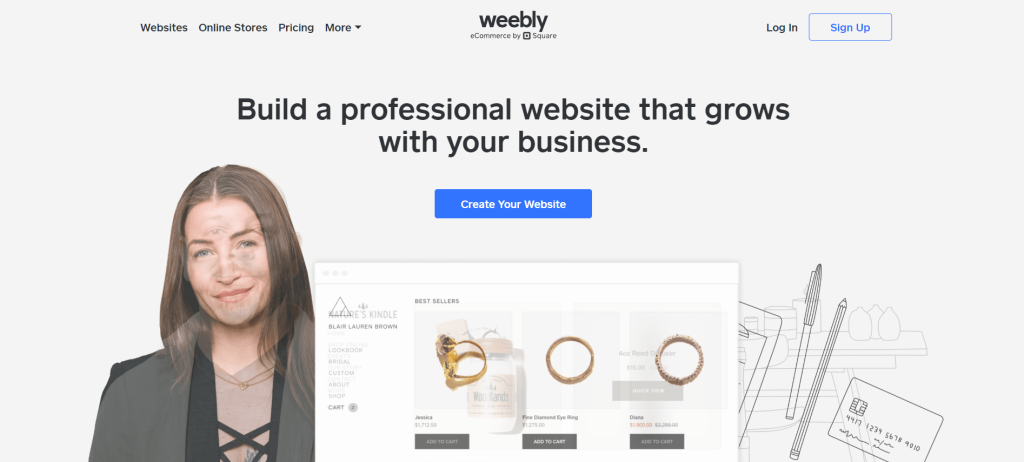 Key features
Use powerful tools to create your blog.
Create your galleries by gathering images.
Editable templates designed by professionals.
Pros
Hosting-based blogging platform
A variety of themes are available
It's easy to set up with drag-and-drop
Cons
Weebly's free plan offers limited features.
Paying for subscriptions is expensive
Plans and pricing
Weebly offers four types of plans – Free, Connect, Pro, and Business:
Free version
It comes with a free subdomain and branding from Weebly. 500MB of storage and a free SSL certificate.
Connect plan
Starts at $5/month when billed annually, i.e., $60/yearly
The domain has 500MB of storage space and a free SSL certificate.
Pro plan
$12/monthly (billed annually)
Business plan
$25/monthly (when billed annually)
9. Tumblr (Best for Creative Bloggers)
Tumblr is the ideal blogging platform for visual bloggers, so if you enjoy creating images, infographics, animated GIFs, and such, Tumblr is the platform for you. There is excellent popularity among the young demographic on this platform. You can create a website with Tumblr, a microblogging platform.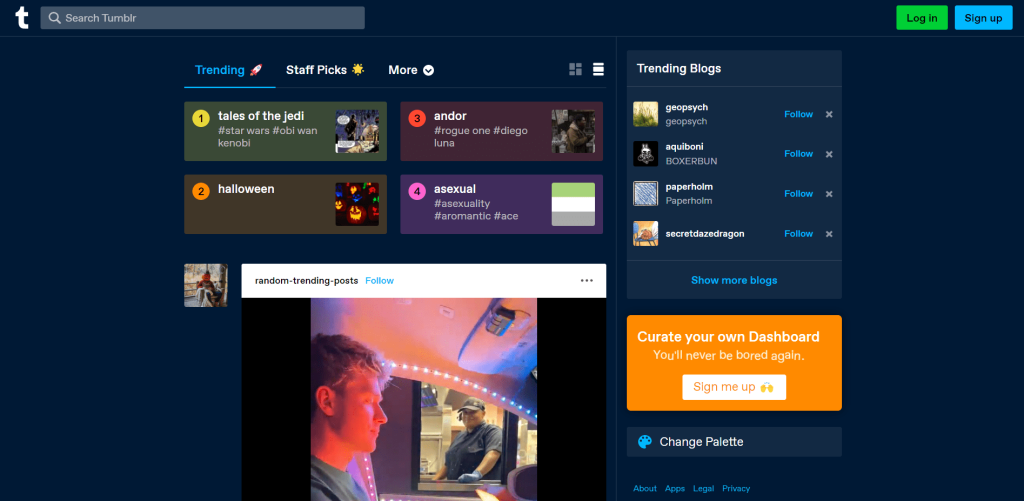 Features
Easy to use interface.
Uploads, visitors, and bandwidth are unlimited.
Pros
Built-in sharing tools and social media sharing features are included in the platform
Audio, GIFs, videos, and images can be quickly created, shared, and commented on.
There is a large community of bloggers and content creators.
Cons
User content published on the platform does not belong to you.
Taking a Tumblr blog backup, or importing it from one platform to another, is a very challenging task, which requires a few tools and some coding knowledge to carry out.
Text blogging is not emphasized on the platform, which disadvantages writers.
Pricing
With a Tumblr subdomain, you can use Tumblr completely free of charge. Also available are premium Tumblr themes, priced from $9 to $49.
Related Read:
Conclusion: Best Blogging Platforms
Bloggers who choose the best blogging platforms do not only get a place to share their thoughts but also the tools to watch their following grow as well as their business.
In a nutshell, that's what makes WordPress stand out from the rest of the self-hosted solutions on this list.
Depending on your needs, such as just having a personal blog, sharing your writing with others, and getting feedback, a hosted solution such as Medium or WordPress.com may be the better option.
FAQs
What is the best free blogging platform?
There's nothing complicated about Medium.com, and it's beautiful. In addition, the audience they already have can help drive traffic to your articles.
What is the best blogging platform for making money?
Beginners can monetize blogs easily with Weebly. Whether you want to grow a scalable business out of your blog or you need more advanced tools, WordPress.com has them all.
Can I earn money with free blogs?
Yes, you can make money even with a free blog. You can earn money in different ways (advertising, affiliate programs, sponsored content, online stores, etc.)
How can I design my blog?
Most blogging platform offers design, templates, and themes which you can add to the blog.