Do you hate contacting a developer whenever you want to update your website? It can be very helpless to feel as if you must be an expert coder to attempt to modify your website, and this is yet another major misconception. The good news is that some of the best CMS platforms are ultra-intuitive, enabling even a novice to use them efficiently.
With it, you can build websites without needing any coding knowledge.
There are hundreds of CMS platforms available, but choosing the right one determines whether the website is a success or failure.
Here are some of the best CMS platforms for users to help them select the right one.
Our Recommended CMS platform
| | | | | |
| --- | --- | --- | --- | --- |
| Sr. No. | CMS Platform | Ratings | Best for | Pricing |
| 1. | WordPress | 4.6/5 | Anyone who wants to start a simple use website | Starts at ₹160/month |
| 2. | Wix | 4.3/5 | Best for creative minds | VIP plan starts with $3.94/month. |
| 3. | Drupal | 4.2/5 | Best for creating large-scale websites. | Shared hosting starts at $2.99/month |
| 4. | Shopify | 4.7/5 | Best for e-commerce websites. | Basic plan starts at $18/month |
| 5. | Joomla | 4.1/5 | Best for professional websites. | Premium shared hosting starts at 2.49/month. |
Continue reading to explore the detailed review of the top yet user-friendly CMS platforms.
9+ Best CMS Platforms In 2023
Here we have listed the 9+ Best CMS Platforms for you to try in 2023. So without getting late let's have a deep dive.
1. WordPress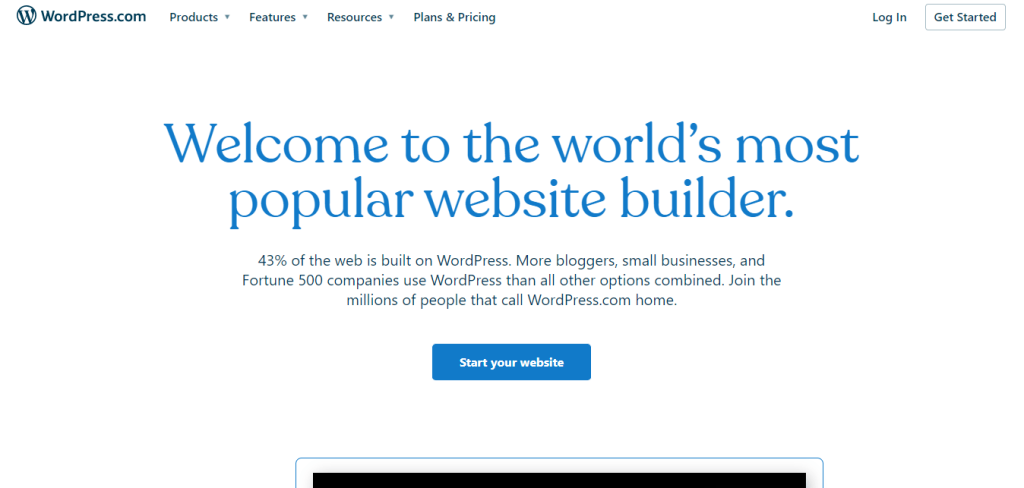 Best for anyone who wishes to create a simple blog.
As far as CMS platforms go, WordPress is the best choice. Around 43% of the internet's websites use this CMS software, making it the world's most popular.
The WordPress content management system (CMS) was originally designed for blogging, but now it is used for all kinds of websites/online shops. The WordPress.com website provides a platform for hosting blogs.
Key features
The user management process lets you assign roles and permissions to different types of users
When inserting images, ensure that alt text and captions are included to improve search engine optimization.
Built-in comments section.
Pros
Depending on individual needs and budgets, the cost can be tailored.
Take advantage of an extensive gallery of free WordPress themes
Cons
Finding reliable or high-quality WordPress plugins or themes is not always possible.
Customer support is limited to forums, tutorials, and documentation, with no direct contact with the company.
Pricing
To use WordPress for free, get a domain name and web hosting. WordPress hosting plans come in four categories. Let's have a look below.
WordPress Starter costs ₹160/month.
WordPress premium plan starts at ₹280/month.
WordPress business plan comes at ₹640/month.
WordPress eCommerce plan starts at ₹1152/month.
2. Joomla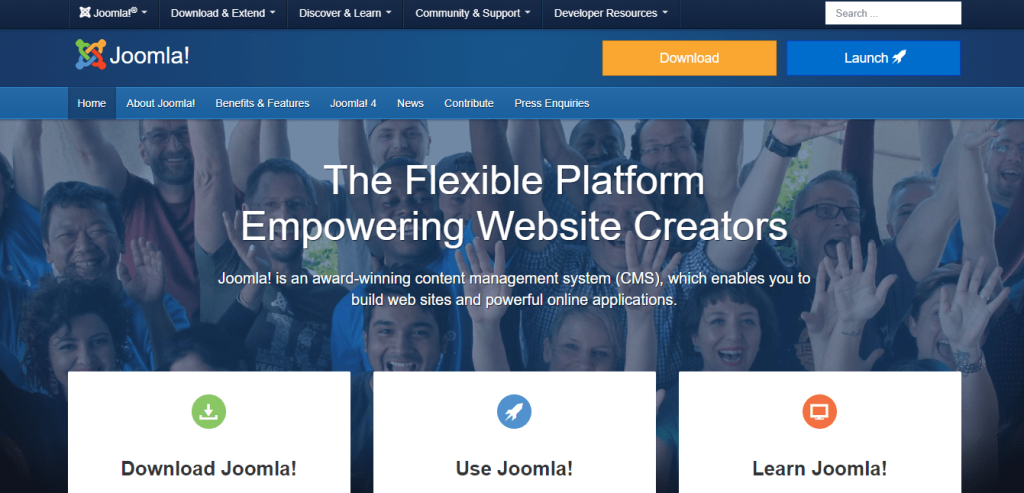 Best for professionals.
The Joomla CMS powering over 2% of all websites, is open-source software. Joomla has a better feature set right out of the box than other CMS platforms, including multilingual functionality, making it more robust than others. Non-technical users may find the initial setup of the system a bit challenging.
Key Features
Managing banners. Set up advertising campaigns to make money.
With the platform's core software, you can create websites in more than 70 languages.
Utilize a smart search or a built-in search tool to help visitors find the necessary information.
Pros
Effectively manage a website with hundreds of subpages.
Make sure that you use two-factor authentication to prevent break-ins.
Cons
In the control panel, there is a lot of web development terminology that is not user-friendly for beginners.
Modular, extension, and plugin compatibility issues.
Pricing
You can host Joomla with a free domain, just like WordPress.
If you want to take advantage of its advanced features, you should choose these plans:
Hosting for only $2.99/month with premium features.
A shared hosting plan for businesses for $4.99 per month.
3. Drupal
Best for creating complex and large-scale websites.
This open-source software allows you to create a highly customized website that handles large amounts of data.
The security of Drupal-based sites is high, making them difficult to hack. Free installation and assistance with transferring an existing Drupal site are available. Keeping Drupal updated for the best performance means always having the latest update installed.
Key features
The automated translation supports over 100 languages.
Utilize geolocation data, browser history, and device type data to create a customized customer view.
Increase reach by automating marketing campaigns.
Pros
Suitable for websites with many pages
It is possible to get community support
Cons
Changes to your website's appearance are difficult
A high cost for customized themes
Pricing
Drupal pricing is dependent on the web host and the domain name. The Drupal hosting plans include
$2.49/month for Premium Shared Hosting.
Shared hosting for businesses for $3.99 per month.
4. WooCommerce
Best for beginners who need an easy-to-use platform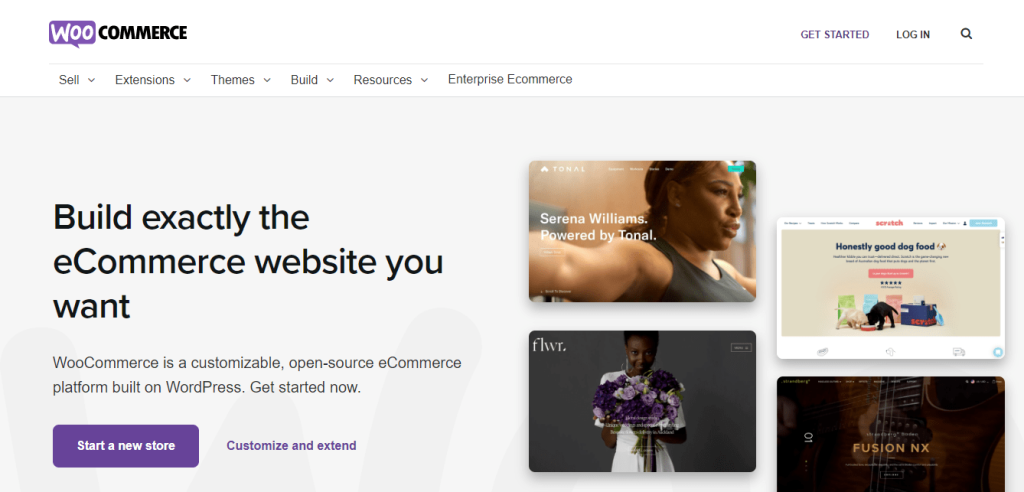 Among the top CMS platforms worldwide, WooCommerce is the most popular. You can manage it quickly, and it's flexible.
WooCommerce doesn't technically constitute a CMS platform. To install WooCommerce, you must have WordPress installed on your site, and WooCommerce runs as a plugin on WordPress.
Key Features
Integrate WordPress seamlessly
Flexibility like no other
A built-in payment processing system
Pros
Flexibility at its best
Personalized to your liking
Open-source and free
Cons
Specific to WordPress
Paying for extensions is necessary
Pricing
By getting WooCommerce, you do not need to pay any money. You may need to purchase additional plugins or extensions to run your online store.
5. Magento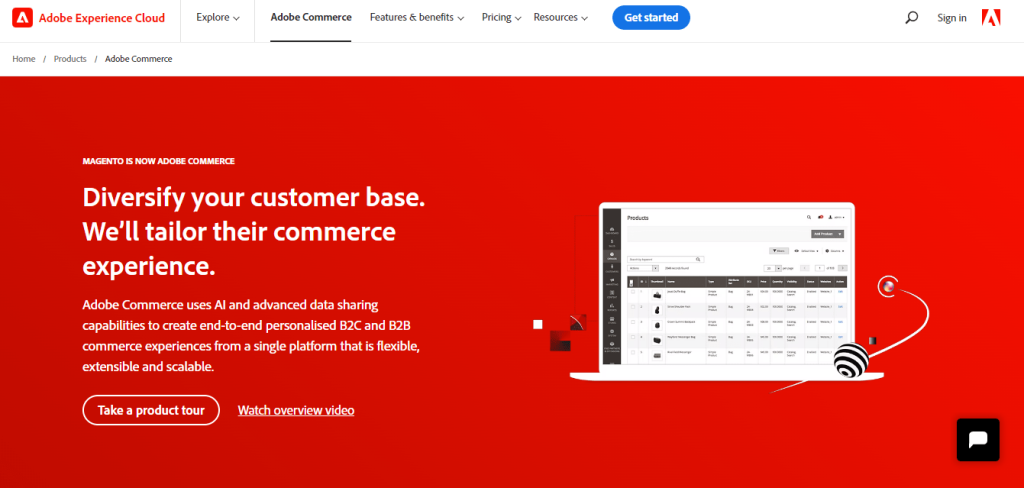 Best for individuals and businesses looking to develop professional eCommerce websites.
Magento is, without a doubt, a popular CMS platform for developing eCommerce websites. It powered over 100,000 online stores & eCommerce sites when it launched on 31st March 2008.
Using Magento, eCommerce websites can deliver exquisite user experiences. Small, medium, and large organizations can benefit from its website development framework, and using it effectively can make a good CMS for small businesses and eCommerce in general.
Key features
It offers robust catalog management capabilities.
Businesses can use it for advertising & marketing themselves.
Creating and managing user accounts is simple and easy.
Pros
There are a lot of third-party extensions available for Magento that provide additional functionality.
There are a lot of products and customers you can handle with Magento.
Cons
A newcomer to eCommerce might find Magento intimidating.
Magento developers can be hard to find, and they can be costly to hire.
Online forums and Magento Open Source can provide varying levels of support.
Pricing
The cost of Magento Commerce is high.
Pricing starts at around $22,000/year. For established companies, it could be a helpful eCommerce CMS platform.
6. Shopify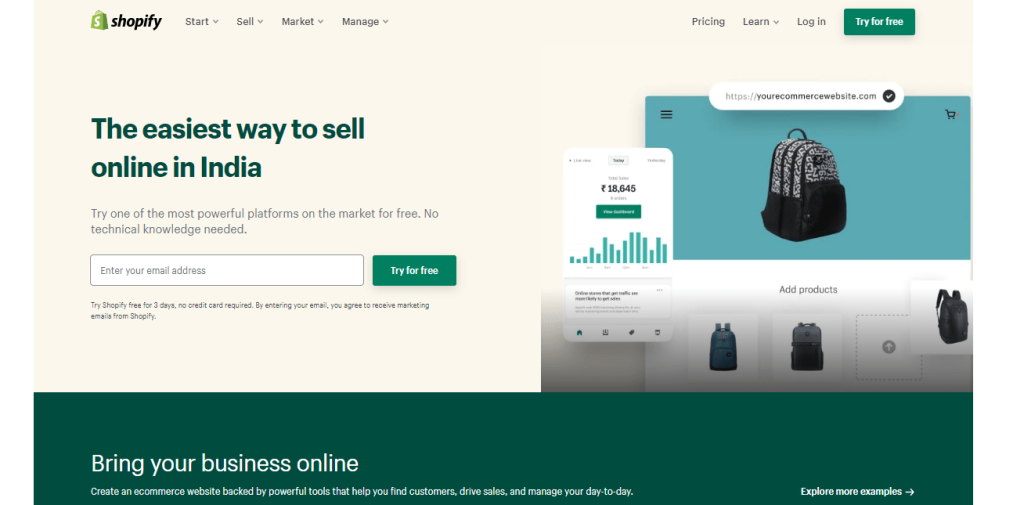 There are a lot of eCommerce site owners who know and love Shopify. This hosted solution makes setting up and managing an online store easy for small businesses, and Shopify's dashboard allows you to manage all aspects of your store.
First-time online retailers who want an easy platform they can get started with immediately can use it. To start using Shopify, you don't need many technical skills since its native functionality is simple and intuitive.
The platform also offers robust integrations and omnichannel capabilities for larger stores.
Shopify integrates with many other platforms and systems to help customers fulfill their orders as a third-party logistics provider and inventory management system.
Features
With Shopify, users can track their online store's performance using multiple analytics tools
User-friendly
Ample of templates
Pros
It is perfect for those who are starting as online merchants
Setting it up doesn't require much technical expertise
All packages include security, hosting, and support
Cons
Performance issues with SEO
Store functionality and appearance are less customizable
There are no free plans available
Pricing
Shopify pricing comes with multiple pricing plans, from the cheapest to the most expensive, depending on your needs.
Here's a quick look at Shopify's pricing:
The basic plan for Shopify is $18/ month
Shopify plan is $67 per month
Advanced plan for businesses is $275 per month
7. Ghost
Best for small-medium businesses and bloggers.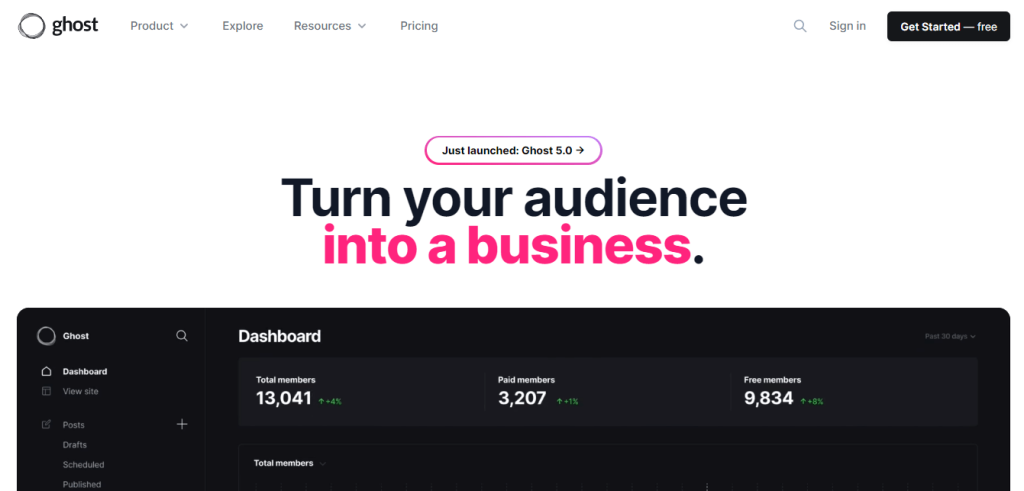 Designed specifically for bloggers, Ghost is a content management system. The term "headless CMS" may sound odd initially, but it's pretty accurate. The CMS platform does not impose a specific way to deliver content.
You could display your content on a website or send it to a mobile app or something else, depending on the content or data you produce. However, if you are not a developer or want to use Ghost for blogging, you do not have to worry about this.
Features
Minimalistic and lightweight
Technology-based
Customization and theme creation are easy
Pros
You can use it to make words bold, italic, etc.
Ghost has excellent SEO support.
Cons
The CMS platform is designed specifically for blogging, so it can become overwhelming if your readers have to pay subscriptions for your content.
Pricing
As far as Ghost software itself is concerned, it is free, but you must pay for the hosting service and domain name.
Here is what its pricing plan looks like
The starter pack starts at a $9/month (Annual billing)
The creator pack begins at $25/month (Yearly billing)
The team plan starts at $50/month (Annual billing)
The business plan begins with $199/month (Yearly billing)
8. Wix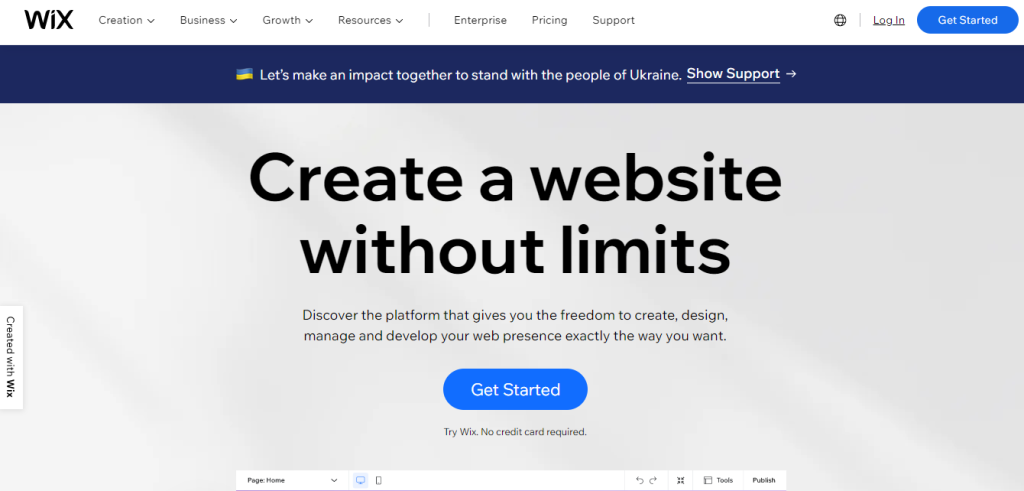 Best for Small and medium-sized companies, as well as solopreneurs.
Getting started with Wix is free and you can create customized web pages quickly using the drag-and-drop editor. You can edit any part of the page by simply selecting it.
In addition, you can choose from 500+ website templates available on the site, giving your website a slick and professional look from the beginning. Also, every template is entirely responsive, which means it will look great on mobile devices and desktop computers.
You can add apps from the Wix App Market to make your site more functional.
Features
Mobile optimization is made easier with it.
The shopping cart on Wix is secure.
Order tracking is easy.
Pros
Displays products in photo galleries.
Templates designed for eCommerce and responsive design.
Cons
The template cannot be easily changed.
Wix has a slow loading speed.
Pricing
With Wix, you can build a website for free as long as you don't mind having Wix ads on your site. Integrated support, custom domains, ad removal, and ad removal are included in paid plans.
Here are four pricing plans for Wix that gets you advanced features:
VIP pack – $3.94/month
Unlimited plan-$2.25/month
Combo pack- $1.25/month
Connect domain- $1/month
Each of the plans are billed annually.
9. PrestaShop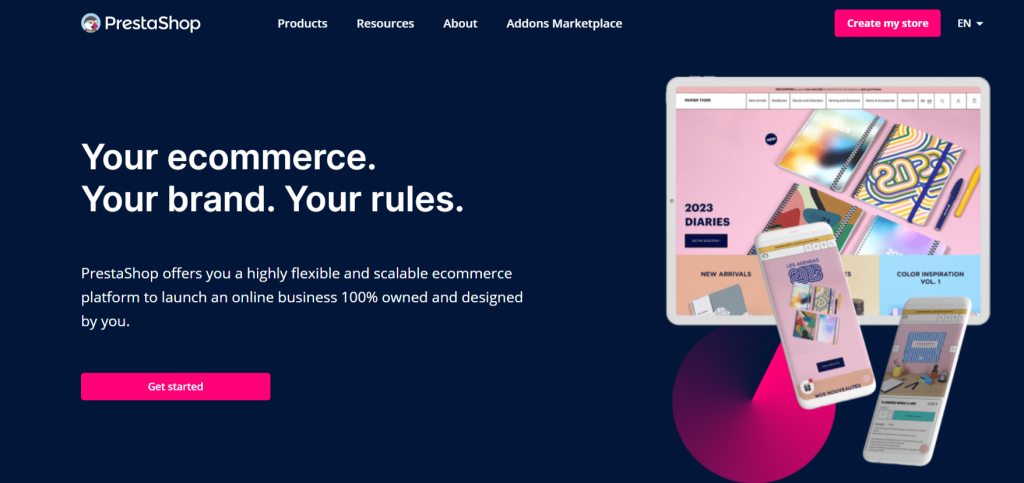 PrestaShop is also one of the most popular and reliable CMS platforms for all types of small and medium-sized e-commerce businesses. Its broad set of features and active community make it a highly flexible online store management platform.
PrestaShop offers plenty of tools to create and customize your e-commerce sites for your online business. The business model of PrestaShop depends on selling services to its customers, optional add-ons, and embracing theme features.
Features:
Store Builder
Google rich snippet
Easy customization
Pros:
Easily customize shopping sites
Support multiple languages and currencies
Cons:
Lack of official support
Limited scalability
Pricing:
It is free to download and use there is no monthly fee or commission.
Related Read:
Conclusion: user-friendly CMS platform
A great CMS platform and the best content management system can be hard to choose.
It is recommended to use WordPress. It has the largest following in the market today and is constantly being improved by thousands of international developers working every day to make it even better. It is one of the most popular content management systems available today.
With just a few clicks, beginners can access easy and intuitive drag-and-drop functionality to help them get started in no time.