Instagram, one of the fastest-growing social networks in the world with over 1 billion users, has a social grasp on many different businesses. Companies in these industries use Instagram to display colorful, dynamic images, enabling a connection beyond that of Facebook and Twitter. These industries range from fashion to music, cooking to fitness.
For your WordPress website, are you seeking a fantastic Instagram plugin?
Connecting your website with the more vast and growing social media is more crucial than ever because it can help your growth boom.
So that you can pick the Instagram plugin that works best for your WordPress website, we've gathered all the top ones available and explained what they do.
What Is The WordPress Instagram Plugin? 
WordPress Instagram Plugin is a type of social media plugin that offers a seamless connection to your Instagram feeds on the website and enables users to show Instagram photos, feeds, and videos directly to your website.
It also serves the elegance of your website as they organize your Instagram photos into a stunning display by reducing load time if the photo is hosted off-site.
A Comparison Table Indicating Top WordPress Instagram Plugins (2023)
| | | | | | | | |
| --- | --- | --- | --- | --- | --- | --- | --- |
| Plugin Name | Pricing | Rating | Option for Follow & Like Button | Ability to Connect | Display all kinds of posts on Instagram | Display all kinds of posts on your site | Number Of Downloads |
| Spotlight -Social Photo Feeds | Free | 4.8 | Available | Yes | Yes | Yes | 400K+ |
| Feed- Theme Social | Free | 4.7 | Available | Yes | Yes | Yes | 70k+ |
| Simple Social Icons | Free | 4.8 | Available | Yes | Yes | Yes | 200K+ |
| 10 Web Social Photo Feed | Free | 4.6/5 | Available | No | No | Yes | 2 Million+ |
| Instagram Slider Widget | Free | 5/5 | Available | Yes | Yes | Yes | 80K+ |
| Enjoy Social Feed Plugins | Free | 4/5 | Not Available | Yes | Yes | Yes | 10K+ |
| Easy Social Feed | $39 per year | 4/5 | Not Mentioned | Yes | Yes | Yes | 10K+ |
| Instagram Feed Pro By SmashButton | $99 per year | 4.8/5 | Available | Yes | No | Yes | 1.5 Million + |
| Instagram Journal | $20 per year-regular$100-extended | 4.4/5 | Not Available | Yes | Yes | Yes | 1.8K+ |
| Grace | $29/license | 4.4/5 | Available | | | | 1.8K+ |
Free & Premium Instagram WordPress Plugins
Even while some of the plugins in this first part also have a paid version that unlocks more features, all of them allow you to establish an Instagram feed for free.
1. Spotlight-Social Photo Feeds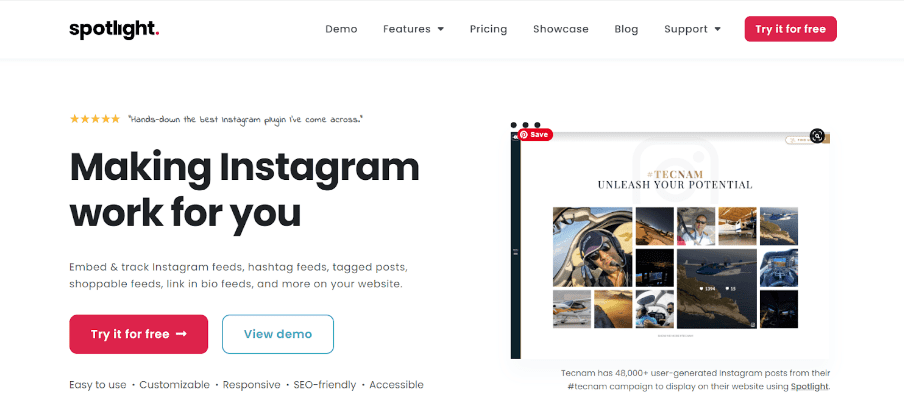 Spotlight is a quick and easy way to add your Instagram feed to your WordPress website quickly. Connect as many accounts as you need, and make as many feeds as you require.
You can see precisely what you're making in the live preview customizer before you embed it on your website. To make sure it's responsive and looks great everywhere, you can even adjust the appearance for each type of device (desktop, tablet, and phone).
The free edition of Spotlight comes with a lightbox option that allows users to view both photographs and videos, as well as other features that will assist boost user engagement. Either a shortcode or widget option can be used to embed the feed on your website.
There is also a more feature-rich commercial version of the plugin available. You'll have new layouts, more customization options, greater control over how to make your own feeds, and other fun features with Spotlight PRO.
Features
With Spotlight, you can create a feed without leaving your dashboard owing to its interactive live preview customizer.
The point-and-click design options, which are akin to those found in page builders, make customization straightforward.
The popup/lightbox feature of the free version allows you to show off your images and movies wherever you like on your website.
Any feed can have "Follow" and "Load more" buttons added to it to foster user interaction and expand your audience.
Spotlight offers possibilities for a custom photo and bio within the plugin as Instagram doesn't include the profile photo and bio for free personal accounts in their API. Additionally, you can alter them for each feed to correspond with a specific page on a site.
2. Feed-Them Social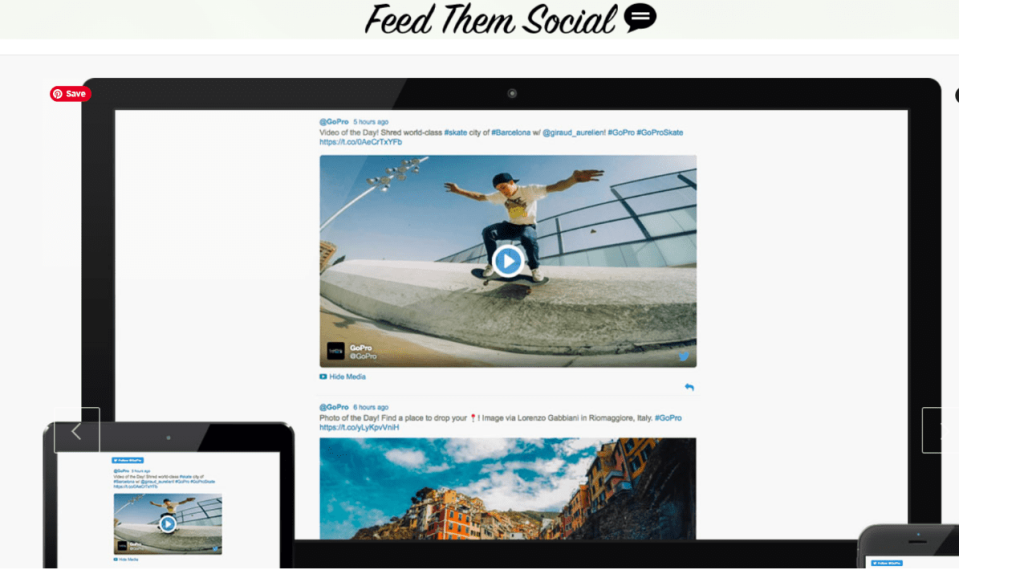 Using a stunning, scalable layout, Feed-Them Social makes it available and helps you to add your Instagram, Facebook, Twitter, and YouTube material to your website. Depending on how prominently you want the photographs to show, you can use this plugin to add your Instagram feed to a page, post, or sidebar.
The Feed Them Social plugin's biggest feature is the inclusion of two buttons that invite users to like and follow your social media profiles at the top and bottom of the feeds that you import to your website. While expanding your social media presence, you may be able to lengthen visitors' duration on the page.
Most businesses should be fine because many of these fundamental functions are available in the free version, especially if they only need an Instagram gallery. However, I would primarily suggest the Feed Them Social plugin to those who want to aggregate feeds from other social networks. You have clear information about Feed them Social , you can go through it.
Features
Both a free and reasonably priced paid version are available.
You may access images from social media sites like Instagram, Facebook, and Twitter.
The social feeds can all be seen on mobile devices with full responsiveness.
You can develop shortcodes for any of your social feeds. You can publish any of the created shortcodes wherever you like because the plugin comes with a shortcode generator.
3. Simple Social Icons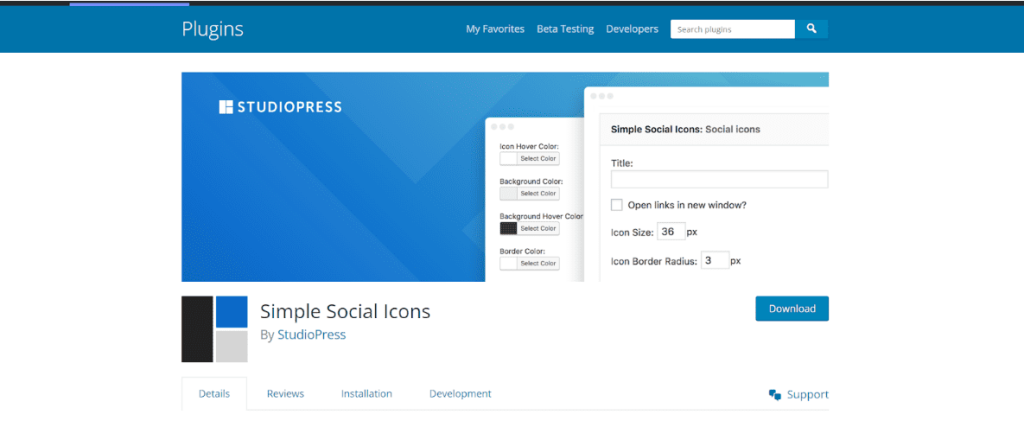 In a sidebar widget, Simple Social Icons displays straightforward social networking icons. A simple and ridiculously simple setup is required to add those potent social media icons to your WordPress sidebar.
Features
The simple ability to select your own colors and alter button styles.
Lightweight – Runs quickly and won't slow down your website.
Having few icons, but nevertheless being one of the most widely used social platforms.
Rearrange the positions of each of your social media icons to put the more significant ones in the foreground.
Add your own – This feature enables you to add extra icons for use.
4. 10 Web Social Photo Feed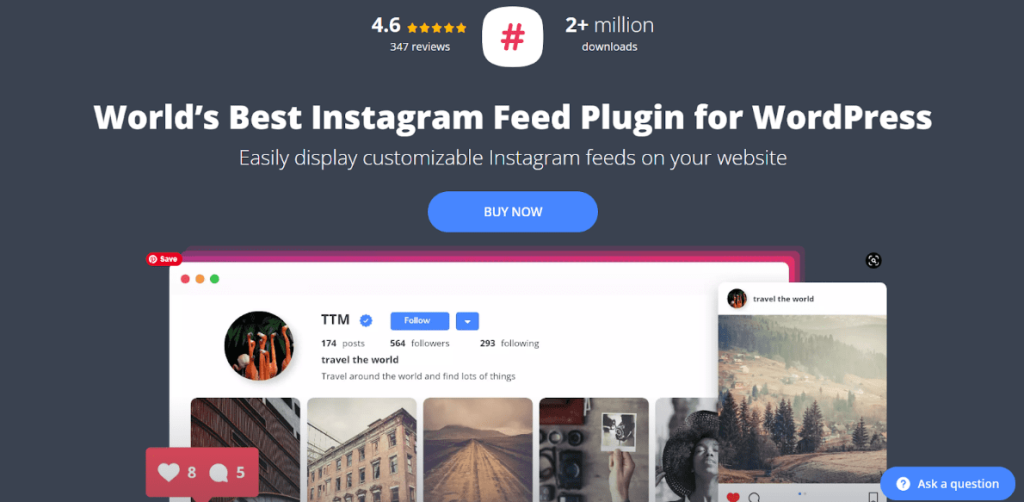 The 10Web Social Photo Feed plugin from 10 Web lets you to make image galleries on your website by adding the entire timeline in your posts. For this, you can use a shortcode or the plugin itself. You may easily change the arrangement of your feed and display it in a variety of ready-made forms. Integrating your Instagram feed with your website allows you to provide users a more complete view of your company.
With the help of the WordPress plugin for Instagram through 10Web Social Photo Feed, you can quickly add an Instagram feed to any of your blog articles or web pages.
Features
Adaptable layouts. It provides the Thumbnail and Image Browser layouts for free. Only the pro version of the layouts, such as Masonry and Blog Style, are accessible.
Instagram feeds with filters. By using condition types and filter logic, the conditional filter, a premium tool, enables you to display or skip specific items.
Sidebar widget for Instagram. You may use this widget to show your Instagram photo feed in the sidebar of your website.
Lightbox. Both the carousel and HTML5 video functionalities are supported. 15 transition effects are also included in the plugin's premium edition.
5. Instagram Slider Widget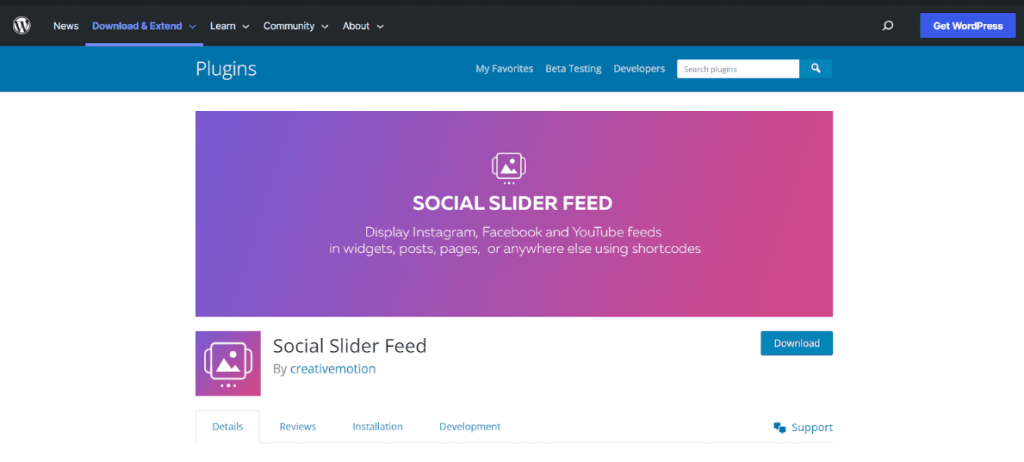 With over 100,000 active installs on WordPress.org, Instagram Slider Widget is one of the most widely used methods for integrating the Instagram feed into WordPress. It's possible that the success of the plugin is due to how straightforward its idea is. In widget regions of your theme, you can specify the picture sorting option and show an Instagram feed from a certain user or hashtag as a thumbnail grid or slider (by popularity, date or randomly.)
Features
Include the ability to link photographs to an Instagram profile, a custom URL, or no URL at all.
As well as the ability to arrange images by popularity, date, or randomly. Your web space will then start to display your Instagram pictures.
Installing and activating the plugin just has to be done in four easy steps.
6. Enjoy Social Feed Plugins For WordPress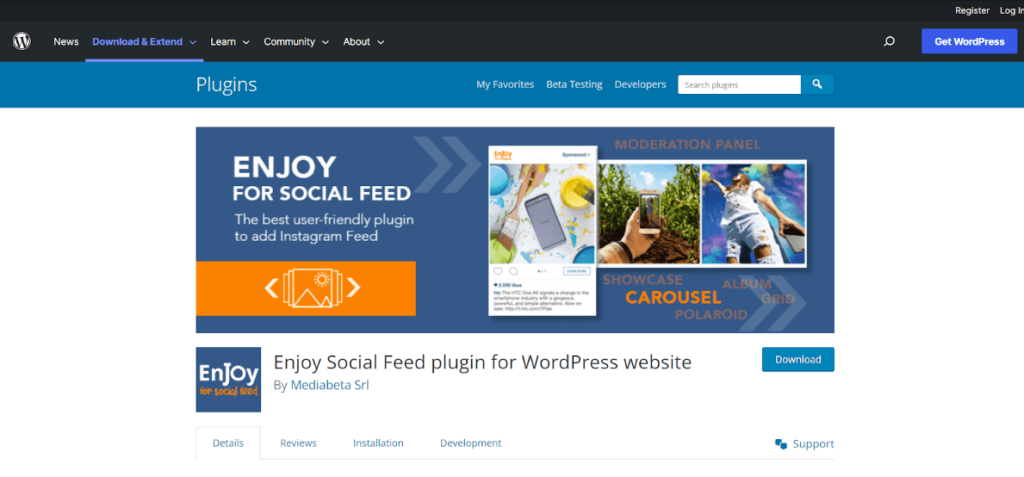 You have a good selection of settings in Enjoy Instagram for how Instagram material is displayed on your WordPress website.
Enjoy Instagram makes sure you can get your social media feed integration working the way you want it to with photo grid and carousel settings, as well as the capability to import information from your accounts and hashtags. Additionally, you have the choice of displaying the feeds on your website via the sidebar widget or shortcodes. This makes it simple for you to add a content feed to your posts and pages.
Free Features
Swift setup
Customize layouts with the editor
Columns, borders, and colors can be changed.
You may quickly build skins for various site areas, such as the sidebar or footer.
Shortcode generator to add the feed option
The feed's header will be displayed at the top.
Top Paid Features
Numerous feeds
A sophisticated pop-up with photographs
Use a Carousel gallery to show films and photographs.
Show likes and comments on your photos and posts
Grayscale, sepia, saturate, hue, brightness, and invert are just a few of the effects you can use on your images.
Adjust padding, colors, and other components as needed.
7. Easy Social Feed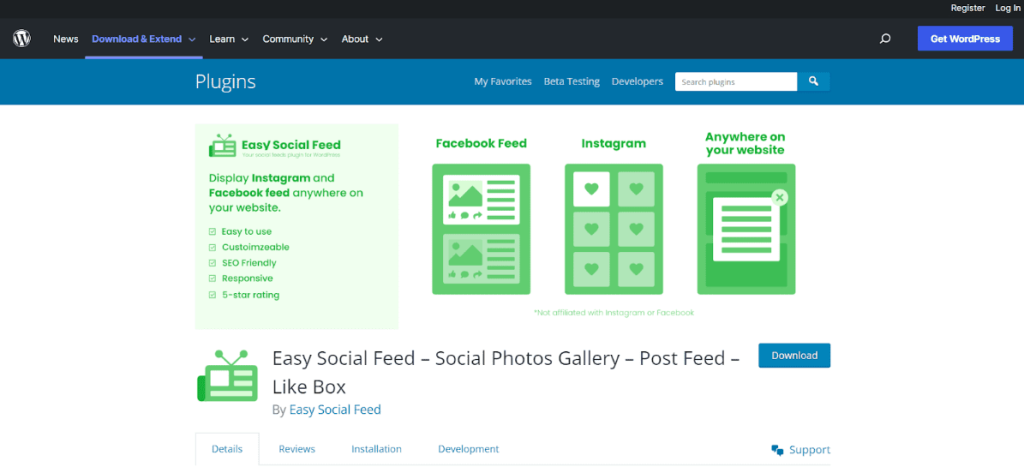 With the help of the premium plugin Easy Social Feed, you may show images and videos from your Instagram account on your WordPress website. This plugin is fully customizable, adaptable, and SEO-friendly so you can totally match your Instagram feed with the appearance and feel of your website. Your feeds' borders, colours, and column counts are all customizable. In order to display a feed differently on a post or page, in the footer or sidebar, you can also design numerous skins.
You may also display comments, hearts (or likes), and a follow button on your feed with Easy Social Feed. More visitors can be drawn in and kept interested by using this form of social proof.
Free Features
Rapid setup
Layout that can be modified using a real-time editor
Change the borders, colours, and columns.
Create skins quickly for various site areas, such as the footer or sidebar.
Create shortcodes for your feed's "Load more" button.
Header to be displayed at the feed's
Top Paid Features
Various feeds
Show pictures in a sophisticated pop-up
Showcase photos and videos in a rotating gallery.
Display feedback and "likes" for your posts and photos
Filters like grayscale, saturate, sepia, hue, invert, and brightness can be applied to your photographs.
Colors, padding, and other aspects can be changed.
8. Instagram Feed-Pro By SmashBallon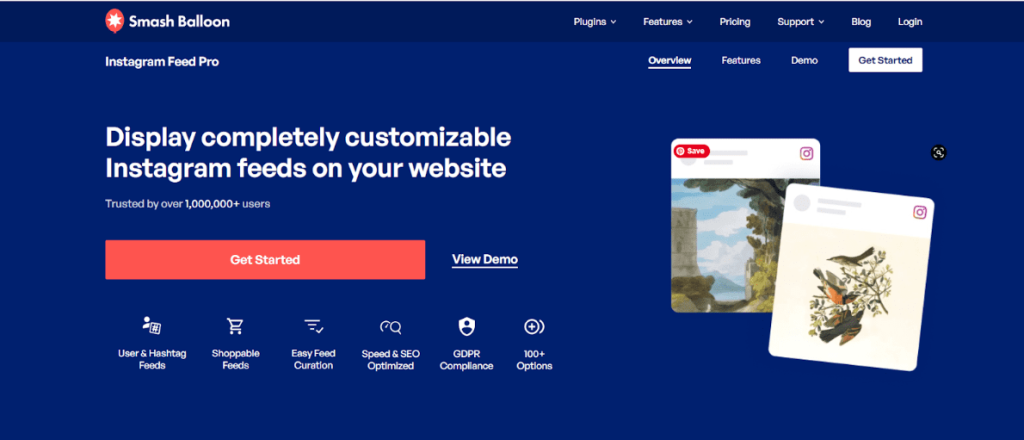 Limiting your website content to Instagram posts is the best course of action, which will result in automated website syndication. With the Instagram Feed Pro from Smash Balloon, you can achieve this while saving time and working more effectively.
Additionally, you will be able to boost engagement with your Instagram followers and gain additional followers by adding your Instagram content to your website.
Additionally, your business will develop by showcasing posts from your community on Instagram. This will help you convert them into customers by giving them more honest comments.
Top Features
Enables you to display as many feeds as you'd like
Your WordPress theme is what determines the look of your website.
Instagram images are resized, and you can save them locally.
No matter if Instagram is unavailable, the posts will always be visible.
Offers total customization
9. Instagram Journal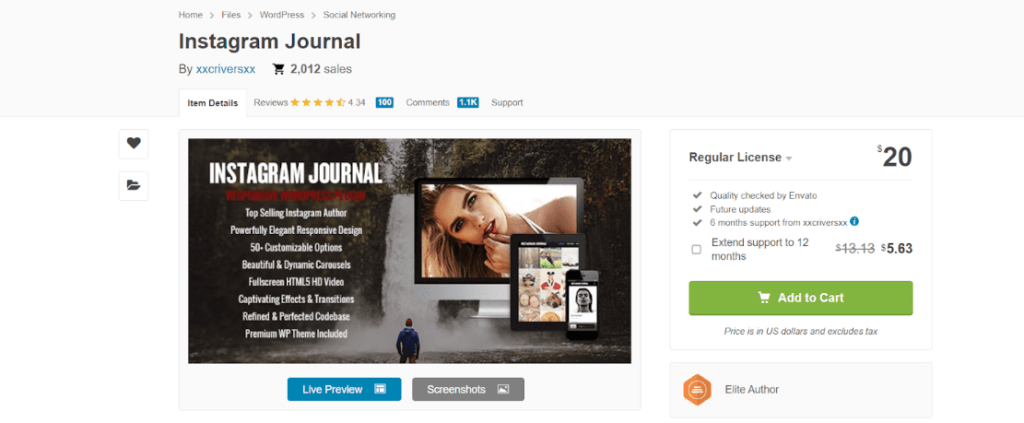 Instagram Journal is a reasonably priced premium WordPress Instagram plugin that provides much more functionality than similar free plugins.
You may build the ideal Instagram integration for your WordPress website using its many capabilities. Choosing to view material from any of your accounts, objects labelled with particular hashtags, and images you've liked are just a few of the options for filtering photos. Therefore, this plugin is undoubtedly an excellent choice if you're looking for a means to add Instagram photographs to your WordPress website from various sources.
More on Features
Various layouts. Provides various view options, including Classic, Collage Carousel, Section Carousel, Large Carousel, and Infinity.
Photo restriction control. The quantity of Instagram photographs loaded by the API might be limited.
Adaptable carousels Your carousels' animation, transition, and pace are just a few of the features that you can modify.
The theme for Instagram journals. You can obtain their Instagram Journal theme, which was originally $48, for free if you utilize the plugin.
Fancybox. A program called fancy box is used to show images, HTML content, and multimedia on websites through pop-up windows that float above the page. It has settings for personalization, including various display animations and title locations.
10. Grace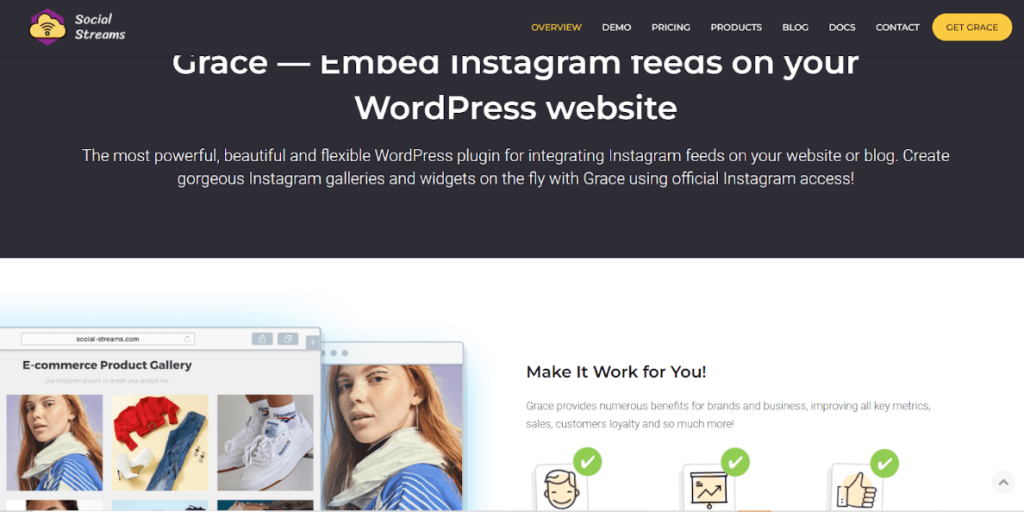 One of the top WordPress Instagram plugins for building widgets and media galleries for Instagram posts is Grace.
You can access practically every aspect of Instagram with Instagram Journal, including your photos, the photos you've liked, images from a specific hashtag, images of a location, and more. On your website, you can censor photos and run contests. Additionally, it includes a free WordPress theme that is intended exclusively for Instagram photo displays.
For WordPress users who are building their websites solely as a home for their Instagram images, Instagram Journal is a fantastic option.
Additional details on its features are as follows:
Customizability. Modify different parts of your Instagram feeds, including the layouts, colours, and objects' placement.
Various layouts. The plugin offers you a variety of unique layouts, including Image Slider, Grid, Justified Galleries, and Masonry.
filtering of content. By term, username, or URL, utilise various filters to include or exclude Instagram postings.
System of post-approval. Before they are shown, you can approve Instagram posts using this tool.
Conclusion: Best WordPress Instagram Plugins (2023)
Using a WordPress Instagram feed plugin, you can quickly integrate Instagram feeds into your website. Increase the site's vibrancy, visitor engagement, social media reach, brand exposure, and conversion rates using WordPress Instagram plugins.
We suggest Simple Social Icons as a free plugin if you're seeking for uncomplicated and easy-to-use Instagram WordPress plugins, with the given Instagram plugins having both a free and paid counterpart.
Any questions or comments? Feel free to interact with us!
Related Links
FAQs
What is the easiest way to embed Instagram on WordPress?
Find the post you wish to embed by visiting your Instagram account. Then select "Embed" by clicking on the three dots in the top right corner of the post. In the HTML editor of your WordPress post or page, copy the embed code and put it there.
What is the best Instagram Plugin for WordPress?
The top Instagram feed plugin available is Instagram Feed Pro from Smash Balloon.
What are all the points to remember while using plugins in WordPress?
Select System Definition > Plugins from the menu. Locate the plugin name, then click it. Review the plugin details on the System Plugin form, and then click the Activate/Upgrade associated link. These plugins are listed with their activation state if the plugin depends on any other plugins.
What are the top 5 plugins you typically use with WordPress?
Spotlight Social Photo Feeds, Feed Theme Social, Easy Social Feed, Simple Social Icons, and 10 Web Social Photo Feeds are listed to be under the top 5 plugins under the free pack