Ever wondered how websites that depend on user interaction maintain their audience engaged? How do they keep the relationship fresh and different? How do they use innovation to grow their audience?
Quizzes are the solution to all of these problems.
Quiz plugins are the ideal tool for boosting user engagement on WordPress-powered websites. To increase user engagement, you may utilize WordPress quiz plugins to easily build and manage various quizzes and trivia on your website. Quizzes can be added to your website without requiring any coding.
The finest WordPress quiz plugins, how to add them to your WordPress website, and the benefits these plugins provide you with are all covered in this post.
Top WordPress Quiz Plugins: In A Nutshell (2023)
| | | | | | | |
| --- | --- | --- | --- | --- | --- | --- |
| Sr. No. | Quiz plugins | Notable Features | Rating out of 5 | Number Of Downloads | Application Best For | Pricing |
| 1. | WordPress Viral Quiz | Easy installation &setup | 4.7 | 7151 | Personality Tests and Trivia | $36 for regular license |
| 2. | Quiz Cat | More user engagement &social media shares | 4.6 | 5000+ | Viral & Engaging Quiz Making | Free |
| 3. | WP Quiz | Engaging, professional&dynamic | 2.5 | 9000+ | Trivia, Personality Or Flip Quiz | Free |
| 4. | Ari Stream Quiz | Collect unlimited leads in a fun way! | 5 | 3000+ | Interesting Quizzes | Free |
| 5. | Unlimited Quiz Builder | Super easy &quick to create | 5 | 400+ | Contains a collection of 15 types of quizzes | Free |
| 6. | WordPress Quiz | Supports for unlimited sites | 5 | 940305+ | Quizzes for customized &advanced level exams | Basic-FreePaid-$39 for one-time payment |
| 7. | Gravity Forms Quiz Add On | Helps in learning audience &generate leads | 4.8 | Increasing each year | Documentatio | Basic $59/year |
| 8. | HD Quiz | Easy to use as use shortcodes | 5 | 8000+ | Most appealing fun quizzes | Free |
| 9. | ProProofs Quiz Maker | 100+ personality &scored quiz templates | 4.4 | Mass users | Huge sectors by selecting 15+question types of quizzes in Scored, Personality or survey | Basic-FreeEssentials-$20/month |
Advantages Of Quiz Plugins
Quizzes can benefit your site's design, whether they are used for amusement or education.
They're a great resource for obtaining leads and visitor demographic data. Email addresses can be used to expand a newsletter subscriber list and create an email marketing list. Customer segmentation can benefit from the use of age groups.
You can post quizzes and surveys on social media platforms. Free publicity can increase visitors to your website, which will benefit your branding and conversion rates.
Offering a variety of quiz kinds can help with search engine optimization, according to the technical side. As visitors might stay on your WordPress site longer, there's also a probability of lowering bounce rates.
Best WordPress Quiz Plugins For Your Website In 2023 (Top Pick)
Here we have listed Best WordPress Quiz Plugins For Your Website, so without getting let's have a look.
1. WordPress Viral Quiz

The premium, fully responsive WordPress Viral Quiz plugin was created to assist you in creating quizzes that resemble those on Buzzfeed. You can make personality quizzes or trivia quizzes that are responsive on the web.
Additionally, this plugin provides effective marketing tools to increase sales, lead generation, and the likelihood that your quizzes will go viral. You may, for instance, demand that users enter their email addresses or share the quiz in order to view their scores. Around each quiz, you can also show advertisements.
Features
There are two types of quizzes: personality tests and trivia
There are 2 skins available; make the questions random.
Email marketing integration
Utilizing social media
Allows for advertisements
Options that are compliant with GDPR User Analytics
Pros
You can use the integrated email capture module it has to get more people to subscribe to your newsletter.
You may create personality and trivia tests. Trivia tests are more prevalent on Twitter, but personality tests are more likely to go viral on Facebook.
The plugin provides a feature that asks users to post quiz results on social media in order to view the results.
Visit analytics to find out how well the quiz is working.
Place advertising all across the quiz and enable the refresh browser feature to increase your revenue gradually.
Cons
No trial period, only a paid option.
Visitors may find the forced share and browser refresh functions annoying.
Only personality-style and trivia-style quizzes are available to you.
2. Quiz Cat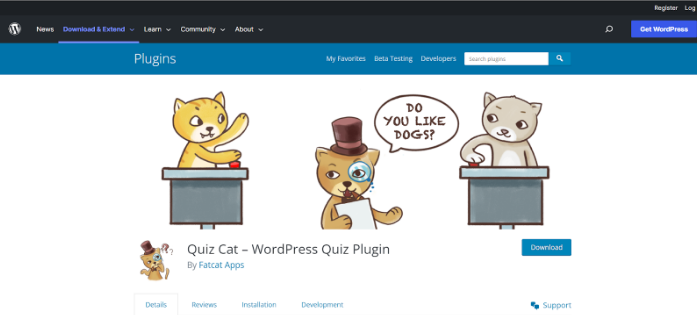 A free version of the straightforward paid quiz plugin Quiz Cat is even more basic. It offers two different quiz styles that you can combine to create personality-style and multiple-choice tests that culminate with a final result.
There are only a few simple settings available for each quiz type. The only feature that adds any real interest to queries is the ability to submit photographs.
The user interface, which is similar to WordPress', is straightforward but recognizable and simple to use. Your quizzes will appear and feel more like those popular "BuzzFeed" posts, thanks to the frontend UI design.
By encouraging or even requiring users to enter their email addresses in order to view their findings, you may also expand your email list. To measure ad campaigns through page views, quiz start and completion metrics, leads, and other analytics, you can also integrate your quizzes with Facebook's pixel tracking code.
Features
Two distinct quizzes
Using language and visuals, the questions and results
Question generation is done automatically
Shareable results on Twitter, Facebook, and Pinterest
Using user data and email marketing analytics integration
Test results for Facebook Pixel Exporting Integration
Pros
The interface is clean on back and frontends. It works really well with most WordPress themes and works amazingly on all devices including mobile devices.
Special features include random responses and message delivery at the end.
You can translate the quiz in almost every language.
They offer a few interesting paid features, such as spreadsheet export, email marketing, and Facebook Pixel connection.
Cons
The plugin is only available in English, despite the fact that the quizzes can be translated (as of now).
You must employ a filter in order to change the quiz's language. It's not beginner-friendly, to put it briefly.
You are limited in the amount of media and other formatting options because the quizzes run in independent modules.
3. WP Quiz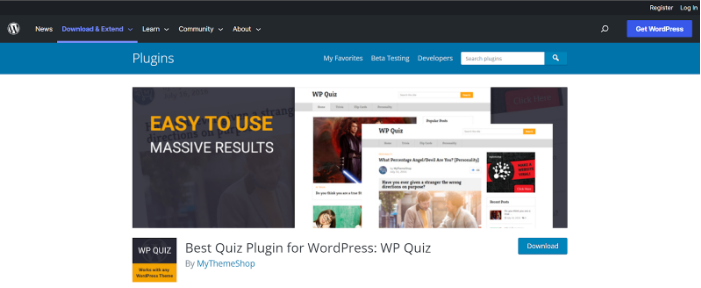 Another well-liked premium plugin that makes it simple to design and include interactive quizzes on your website is WP Quiz. You can make personality and trivia tests, surveys, online tests, and interactive list postings using WP Quiz. Even better, you can make your website a fully-fledged website for viral quizzes.
You can demand users enter their email addresses before beginning a quiz or receiving their results in order to grow your email list. To increase the likelihood that the quiz will go viral, you can instruct users to share it before seeing their findings. Or you might charge visitors to your website to view their findings in order to monetise it.
Top Features
Appealing user interface
For surveys, quizzes, personality tests, educational courses, and more, there are many different quiz types.
A unique quiz format that allows users to rate the importance of list items
text-based, visual, and auditory inquiries
Dynamic outcomes
Integrating email marketing
Create quizzes for Facebook
Analytics with user information and answer statistics
Pros
The free version supports adding an infinite number of quizzes and includes an astounding variety of features.
When a user answers a question correctly, you may add a flip quiz effect that will display animations (akin to flipping flash cards).
There is a space where you can provide credit to the image, always keeping your business legitimate.
The plugin offers capabilities for customising background and font colours, animation effects, progress bar colours, and animation types.
Cons
Only personality and trivia tests are available to you.
The prices could seem a little high to certain webmasters.
4. Ari Stream Quiz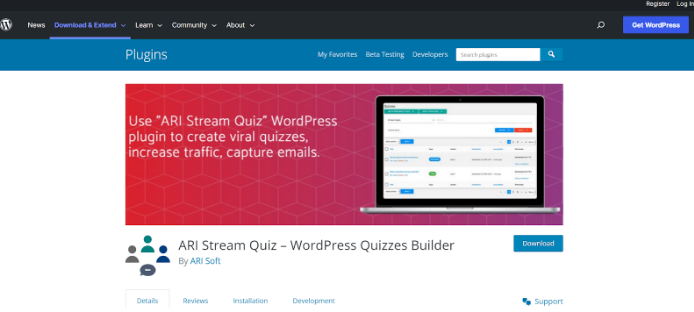 The free WordPress quiz plugin Ari Stream Quiz enhances your user experience while enabling you to increase page views. Your users will have access to a variety of quiz kinds, such as personality and trivia tests, with the possibility to create an unlimited number of quizzes.
Additionally, computers, laptops, and mobile devices can all use Ari Stream Quiz. The user experience is improved, and sharing quiz results on Facebook, Twitter, Google+, Pinterest, and LinkedIn is now simpler.
Top Features
Make trivia games that ask questions about facts, and the user receives points for the right answers, or employ personality tests to reveal characteristics of a person. Personality assessments may also be used to assist in selecting a good or service.
ActiveCampaign, AWeber, ConstantContact, Drip, GetResponse, MailChimp, MailerLite, and Zapier integration with email marketing platforms. Before displaying quiz results, the plugin will request users to complete a lead form (name, email). Your mailing lists will continue to expand.
Share test results by email or on popular social media sites like Facebook, Twitter, Google+, LinkedIn, Pinterest, and VKontakte. To try quizzes for all followers is a challenge.
This plugin has a responsive and contemporary design to not interfere with user experience.
You have the option to export quiz results in a well-liked CSV format so that you can share the final file with others using the ARI Stream Quiz plugin.
Pros
To share the quizzes on social media, you can nudge folks in that direction.
The use of the email marketing tool will inevitably result in more subscribers to your list.
Actually, they provide a free plugin along with premium assistance.
Better social sharing tools and "force-to-share" capabilities are available in the higher subscriptions.
Cons
Only personality and trivia tests are available to you.
Although the quizzes allow for the integration of media, HTML code must be used.
5. Unlimited Quiz Builder By Email Capture By Riddle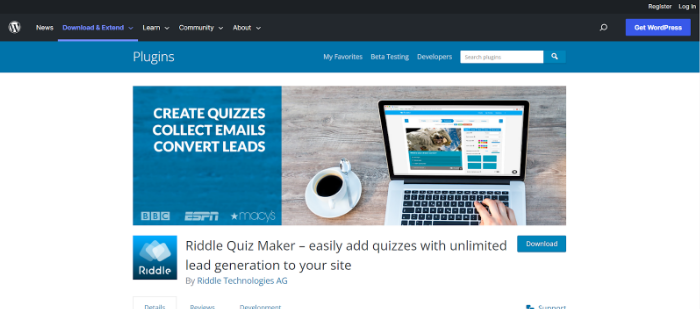 The Unlimited Quiz Builder offers extra options like lists, standard quizzes, and polls if you'd need more freedom in addition to the well-liked personality and trivia quizzes. It ends up being one of the most expensive WordPress quiz plugins available because the plans start at $7 per month.
With email capture, rapid image editing, social sharing, and a GIF search engine, however, the capability is present.
Top Features
You may create more diverse quizzes with Unlimited Quiz Builder than only personality and trivia tests. You can create polls, regular quizzes, and lists using this plugin.
You can utilise the plugin's search box to look for GIFs and photos, image editing tools, social media sharing tools, and email marketing tools.
Pros
They provide a fantastic search function for locating memes, GIFs, and photos that are certain to be widely shared.
Most CRMs as well as services like MailChimp, AWeber, and Zapier are all integrated with the plugin.
Rating scale tests can be created.
Since the plugin has a reliable editing tool built in, you don't need to worry about modifying photographs before uploading.
Cons
The plugin has a more professional appearance, but it still maintains the BuzzFeed aesthetic, which some users may not like.
In this plugin market, monthly recurring fees are the antithesis of one-time payments.
6. WordPress Quiz

If you want a clean, contemporary quiz without the madness of viral sharing and personality quizzes, WordPress Quiz is one of your finest options. This is a practical choice for normal businesses that wish to design quizzes for clients or even for educational institutions that require entrance exams.
Top Features
Through social sharing icons, quiz takers can spread the word about the information.
To make it perfect, you can randomly reorder the questions as the administrator.
The hint section is where people who are taking the quiz can find the solution if they are stuck. This feature is not available in all plugins.
Pros
It departs from the popular BuzzFeed quiz format.
You can arrange questions and answers in random order.
You can add many quizzes to a single page. This unique quality is rare.
On the backend, statistics are displayed with charts and deconstructed data for upcoming analysis.
There is simply a $19 price.
After taking a quiz, users can send the owner their results.
Cons
This isn't the plugin for you if what you're looking for is a fun, catchy personality quiz maker that goes viral.
There is no point system in the plugin. Therefore, you will need to go elsewhere if you want some questions to have greater point values.
7. Gravity Forms Quiz Add On

You can use the official quiz add-on if you have a developer license for the well-liked Gravity Forms contact form plugin.
The "Advanced Fields" area is where you can find the quiz features.
Top Features
Has a drag-and-drop gravity form that helps in building quickly your WordPress Forms using inbuilt tools
Easily accessible and compliant
Have a user-friendly form import and export functioning
Easily customizable with multiform layout
Pros
You receive excellent support and updates from the Gravity Forms team because this is a premium plugin.
You may quickly incorporate quizzes into the forms that you are already accustomed to utilising.
Select correct and incorrect responses, weight the score, randomly order the options, and explain the correct and incorrect responses.
Cons
Requires a developer's licence, which costs $199 to purchase.
Although it doesn't have as many visual options as some other plugins, a developer could make this plugin perform almost anything.
8. HD Quiz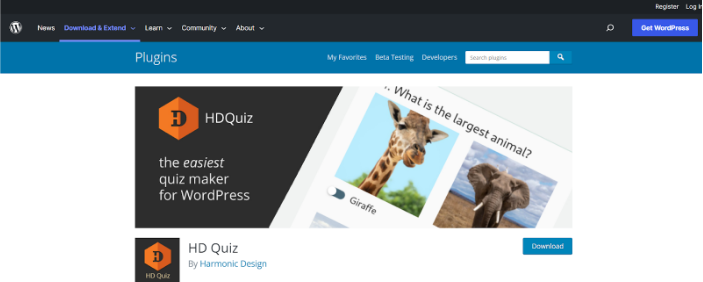 A free and simple-to-use WordPress plugin called HD Quiz may be used to make quizzes for websites. You can make an endless number of quizzes with this responsive plugin, specify a featured picture and tooltip for each question, accept images or animated GIFs as responses, and add Facebook and Twitter share buttons.
Top Features
The quiz timer, social sharing, question tooltips, scoring, the ability to add images as answers, and more are noteworthy features.
The pop-up messages that appear when a person choose the incorrect answer, passes, or fails the quiz can also be customise
Additionally, users can post their findings on Twitter and Facebook.
Just be aware that this plugin cannot create any quizzes with personality or BuzzFeed-style questions. Additionally, the personalization and results saving add-ons each cost close to $15.
Pros
Having an excellent user ratings
Provide with unlimited numbe rof quizzes
It has the option to include images as well as GIFS
Works accurately according to timer functioning
Ability to provide vast question formats
Cons
Image sizes cant be altered
No support for further updates
 9. ProProofs Quiz Maker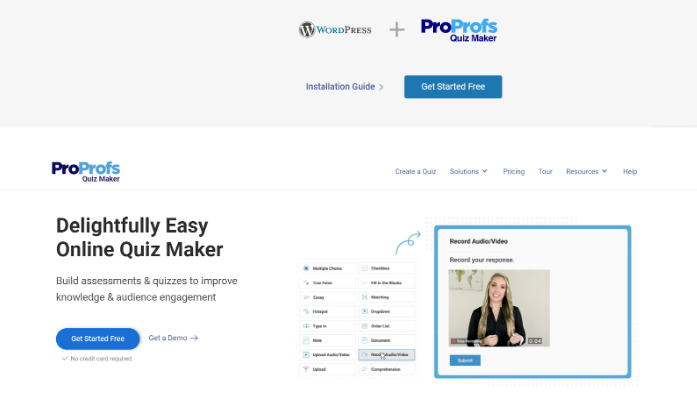 Many different sorts of organisations and educational institutions utilise ProProfs, one of the most well-liked quiz creator and online assessment software out there, to create quizzes for various purposes. It has a remarkably straightforward user interface along with a variety of features that guarantee its customers a pleasurable experience. Quizzes made using ProProfs plugins are simple to integrate on your WordPress blog.
Top Features
For easy creation, choose from 100+ personality and scoring quiz templates.
100,000+ ready-to-use questions for an easy, from-scratch quiz creation
Time-saving automated grading system
Branding your quizzes with white labelling
protection using a password to prevent illegal access
Simple lead forms for data collection from quiz takers
Lead generation improvements through integrations with marketing automation tools
Pros
Intuitive and packed with features
Free forms, tests, and inquiries
Useful and presentable reports are simple to embed
Cons
Additional integrations may be possible.
The quizzes' answers cannot be printed.
Related Links
WordPress Quiz Plugins Final-Words
Quizzes are an engaging method to get leads. They are highly shared on social media and offer tons of entertainment and repeat value. To make learning enjoyable and simple, you can mix them with learning management system themes. These WordPress quiz plugins can boost website visitor engagement.
I hope the above article has given you an insight into the top WordPress quiz plugins, and if you have any queries or comments, please feel free to connect with us!
FAQs
How do I create interactive quizzes in WordPress?
Either from scratch or using a pre-designed template, you may construct your quiz in a matter of minutes. Numerous question categories, including multiple-choice, true or false, polls, riddles, and more, are available. To increase interaction and engagement, you can even include images and videos
How do I create Personality quizzes in WordPress?
For quicker outcomes, you have to have a WordPress test plugin that executes an immediate assessment. The Best Personality Quiz Maker is a quiz creation plugin that I'd suggest using if you want to make quizzes of all kinds, including personality tests.
Can I create quizzes with the help of Elementor?
A fantastic tool for designing quizzes is Elementor. You may build both timed and untimed quizzes with the quiz engine, and creating questions is simple. Additionally, you can add inquiries from a question bank or add your own.
What is the best WordPress Quiz plugin?
Formidable Forms and many other quiz plugins listed are best suited based on the particular application.