Today, almost all WordPress users may have heard about membership plugins in one way or another. It enables you to post membership-based content on your website.
This means access to the particular content is restricted only to paying customers, which can be extremely important for artists, writers, and other individuals who sell online and want to protect their work.
When you have a membership site, you have complete control over the revenue stream that comes to your site.
Many membership site plugins are available, but not all are good. Membership plugins for WordPress are plentiful.
We have rounded up the best WordPress membership site plugins to help you make the right decision.
What Is WordPress Membership Plugins?
The WordPress Membership Plugins helps you to create login access to content. This types of plugins helps you to:
Charge for content
Create email list to send customers updates & coupons
Share free content to create a following
This plugin is very different from the gated content marketing. It is because gated content only ask for the email opt-ins. But on the other hand WordPress Membership plugins want more payments and details.
Top WordPress Membership Plugins Compared
| | | | | |
| --- | --- | --- | --- | --- |
| Membership plugins | Best For | Ratings | Downloads | Pricing |
| MemberPress | Best for website owners who wants to set up a membership site | 4.6/5 | 9,00,000+ | Basic plan starts with $179.50/ |
| Simple Membership | Best for beginners with a limited budget | 4.5/5 | 50,000+ | Free |
| LearnDash | Best for building membership-based online courses and education programs. | 4/5 | 40,000+ | Starts at a $199/year |
| Restrict Content Pro | Best for any website that needs to restrict content and add a membership model. | 3.5/5 | 15,000+ | Starts at a $99/year |
| WooCommerce Memberships | Best for recurring revenue generation | 4/5 | 4,000,000 | Costs $199/year |
These are just a few highlights of the plugins. Keep reading to learn detail about each membership plugin
1. MemberPress
Best for website owners who want to set up a membership site should consider it.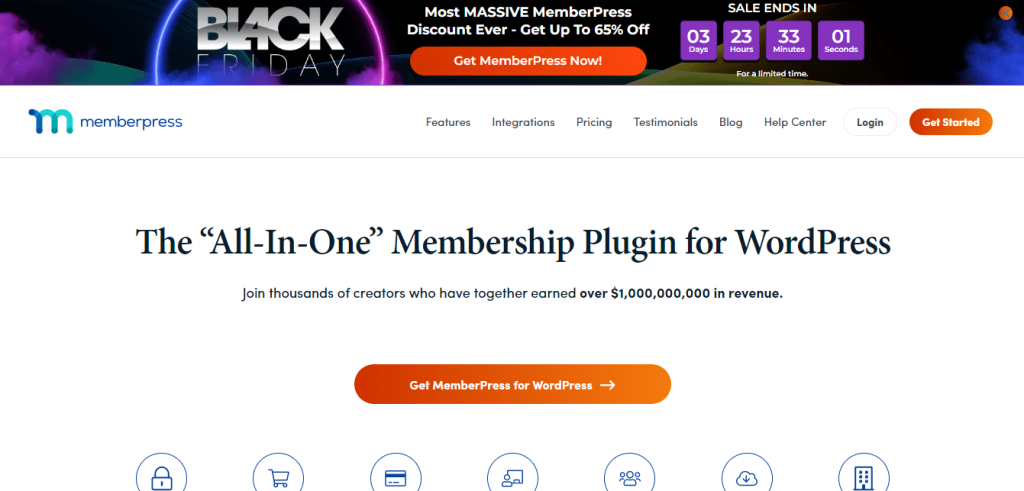 When creating a membership website with WordPress, MemberPress is the most efficient and popular plugin on the market.
It comes with all the features you want in a WordPress membership plugin and an easy-to-use interface that makes it a dream plugin for every website owner. There is no hassle when it comes to installing the plugin.
Features
There are no limits to subscription levels.
Set access restrictions for child pages, posts, and custom post types.
Manage and create coupons in detail.
Expiration of content and drip content.
Pricing
MemberPress is the most powerful WordPress plugin, offering three pricing plans to suit different needs:
Basic: It comes for $179.50/year and lets you manage a single website
Plus: This is the most popular plan, providing access to up to two websites per year for $299.50/year
Pro: A one-year subscription costs $399.50/year and can be used on up to five sites at the same time
Sadly, MemberPress does not offer a free trial, but a 14-day money-back guarantee allows a full refund on all plans.
2. LearnDash
Best for building membership-based online courses and education programs.
Among the most popular learning management systems (LMS) for WordPress, LearnDash is the most popular. This is the best plugin to create and sell online courses.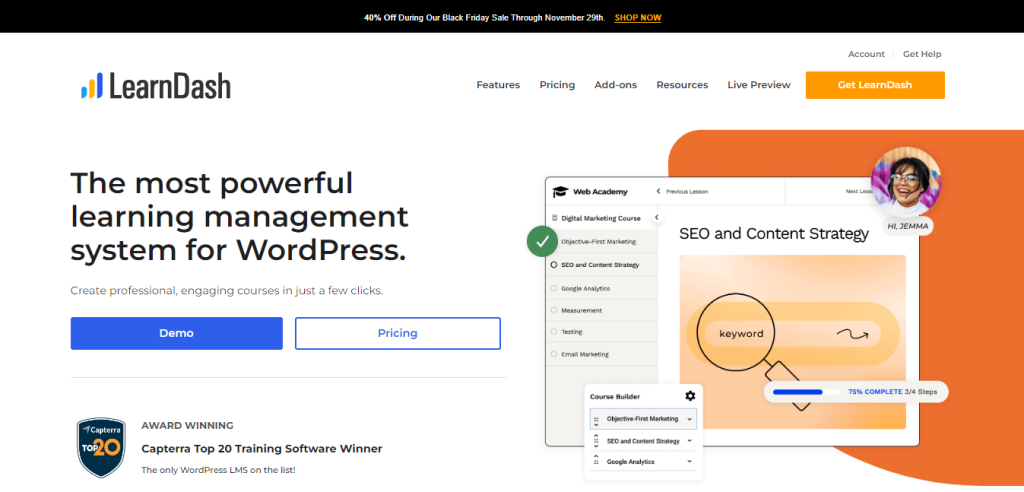 This plugin can help you build highly engaging courses using an intelligent course builder. After that, you can sell access to your classes at a one-time price, a membership, a bundle, or a subscription for a specific period. The content of lessons can also be drip-fed on a schedule.
This plugin allows you to send automated emails to learners depending on their activity.
Features
Stay on top of the latest developments with automated notifications
Certificates and badges for customers who have completed a course
Purchase courses on a one-time basis
LearnDash Pricing
The price starts at $199/year for one site and scales to $399/year for ten and $799/year for unlimited sites. There is also a $29/month Full Site plan available.
3. Teachable
Best for Beginners
As one of the best methods for creating a membership website that you will use to sell your online courses, Teachable is one of the most cost-effective options out there.
As a Learning Management System, it goes beyond what you would expect from a typical LMS and offers some great features, including installing an SSL certificate.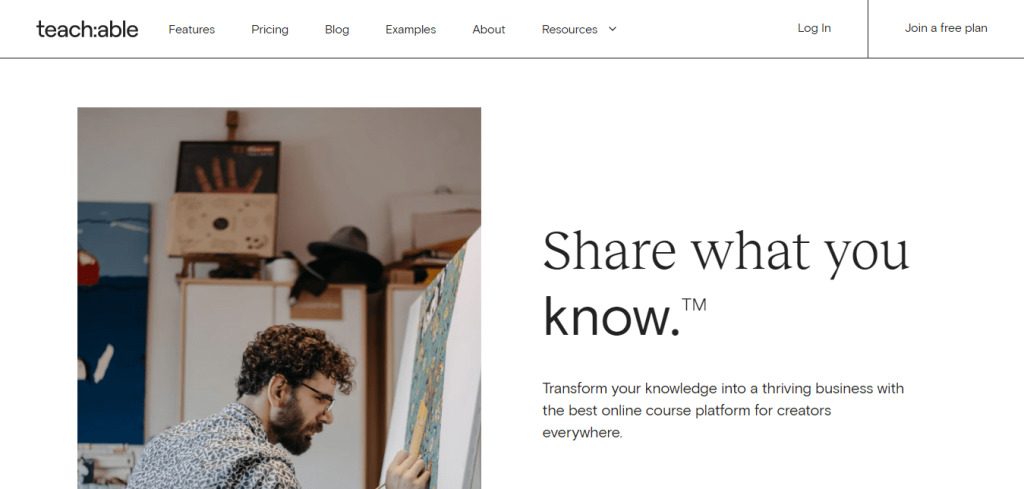 To get started quickly, you only need to know how the payment system works and how marketing works so that you can start creating your courses immediately.
With Teachable, more than 68,000 trainers use online courses for personal and professional development. The Teachable platform allows students to sign up quickly for your courses, view curriculums, preview course content, and buy any courses they are interested in.
Features
A stimulating learning environment
Detailed Reports
A high level of security
Management of sales
Pricing
Pricing is not based on the user, and you can add as many courses or students you can add. An annual billing of $29/mo is available with the Basic plan, and professional plans start at $99 per month. For an advanced plan, you need to connect with the sales team, and this is for websites that generate a lot of traffic.
They also offer a free trial plan to try it out.
4. WooCommerce Memberships
Best for recurring revenue generation
Connecting your website to a membership section is no longer difficult. If you want to create a membership with WooCommerce Memberships, it's really easy to do.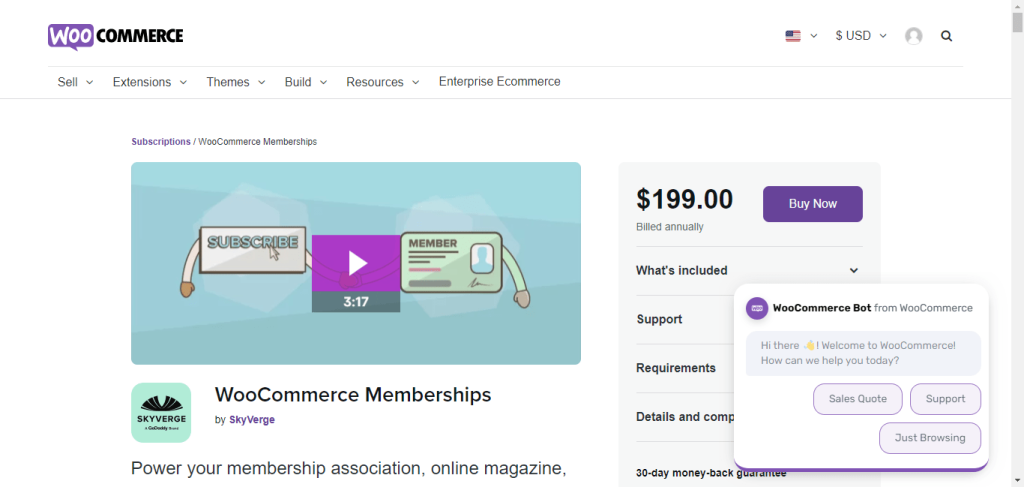 You can set up a membership site within a few minutes and enjoy the growth of your business, as it will also help you with some advanced concepts.
Features
Membership should be included with product purchases
Memberships are only assigned manually to invited users
Defining drip rules for content
Pricing
A single plan is available for $199 a year.
5. Restrict Content Pro
Best for any website that needs to restrict content and add a membership model.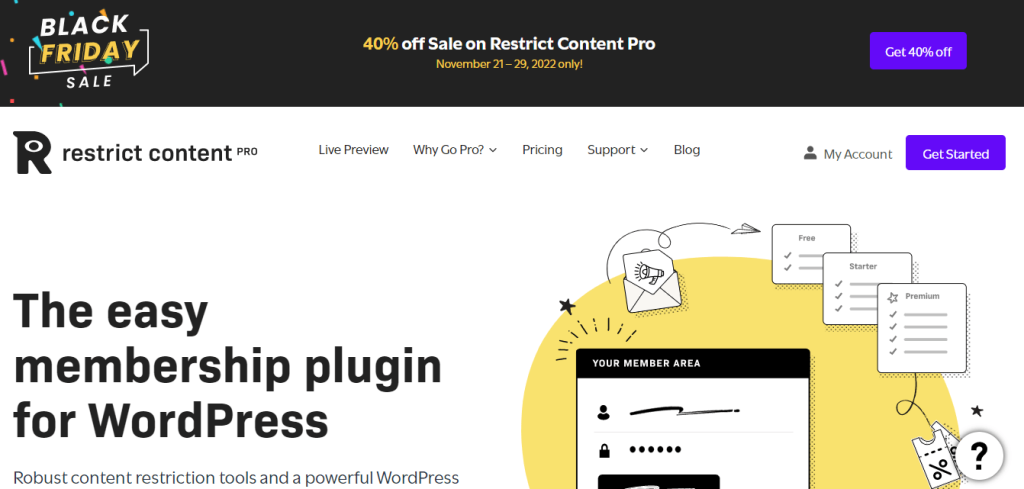 The Restrict Content Pro WordPress membership plugin is another excellent option worth considering. Newbies who wish to build a professional WordPress membership site from scratch can take advantage of this popular plugin that provides easy-to-use tools that simplify the process.
Restrict Content Pro provides a customer dashboard to ensure the best possible experience for the members, which provides details about each member's account, including PDF invoices for every payment made.
Features
A welcome email for new members
Packages with unlimited subscriptions
Detailed performance reports
Exporting data
Pricing
It is available in four different pricing plans that provide outstanding value for money. Among them are
You will be charged $99 a year for one site and 34 add-ons
The annual fee is $149 per site, plus 34 add-ons
Among the most popular plans, it lets you manage unlimited sites and 34 add-ons for $249 per year
6. S2Member
Best for Everyone who wants to create a membership website easily and cheaply.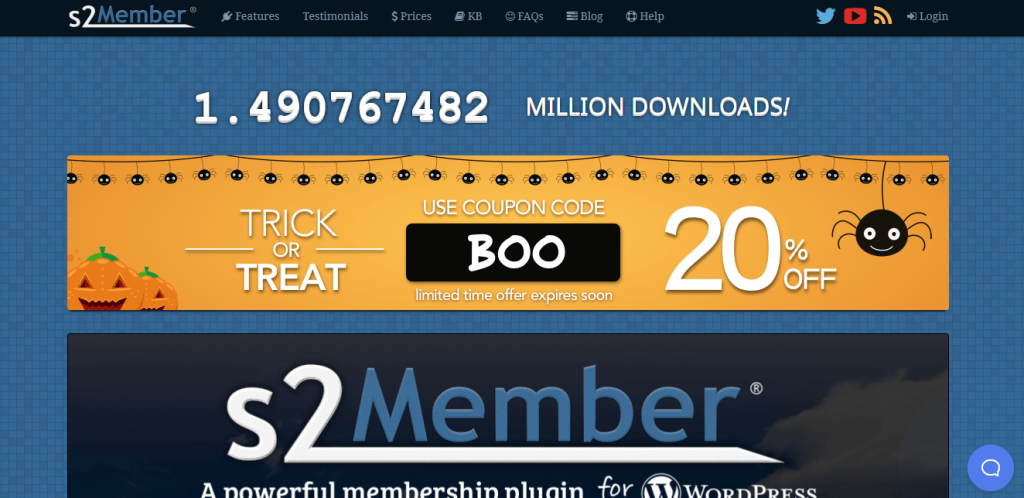 If you are looking for a popular WordPress membership plugin, s2Member is one of the best options. As a premium membership plugin, it comes loaded with all the features you could need to create a full-featured membership site, such as content restrictions and recurring subscriptions.
The S2Member membership extension is an easy-to-use plugin with a lot of power, and once you get it down, you can use it for both physical and digital products.
This membership plugin is so good that it deserves a place on our top WordPress membership plugins list.
Features
Payment gateway integration made simple
Customizable and unlimited coupon codes
Reports from MemberPress provide information about revenue, popularity, and more.
Pricing
It's no secret that S2Member is very affordable, considering it offers a pair of professional pricing plans. A few of them are as follows:
Framework: It is free of charge
Pro version 2: One-time fee of $89 for single-site licenses
Pro version: A one-time payment of $189 covers an unlimited number of sites
7. WP-Members
Best for the affordable membership plugin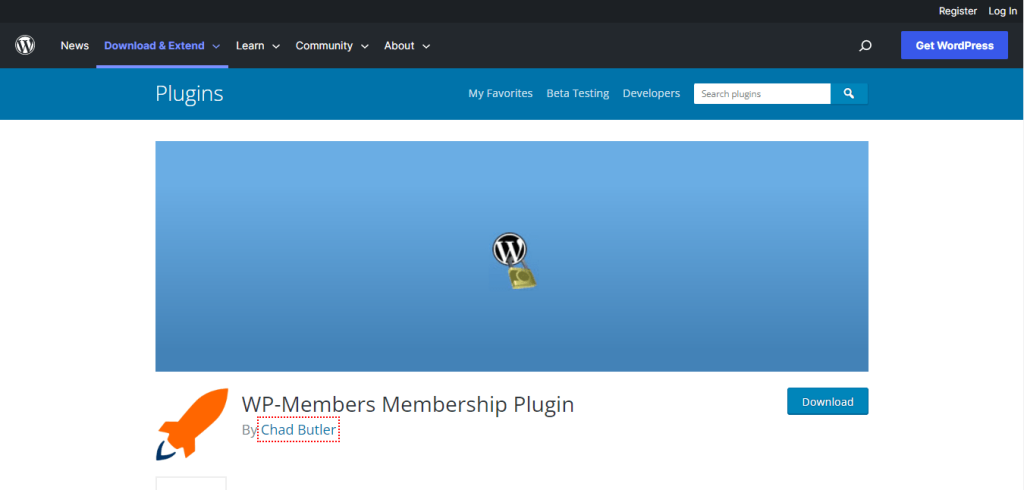 The WP-Members plugin for WordPress is another excellent membership plugin. It does work a little differently from other programs in one fundamental way that makes it unique. As a default, it restricts everything on your site, instead of just restricting some of the content.
Developers will find WP-Members more comfortable to use than the average user due to their unique features. Thus, the plugin is intentionally designed to be tweaked and modified.
Features
Members can only access certain content if they are registered.
Adding more fields to the online registration form.
Emails and dialogs can be customized.
Pricing
Free
8. Simple Membership
Best for beginners with no experience
With an easy-to-use interface and all of the essential features you need to create a membership website on WordPress, Simple Membership is better than most membership plugins. Newbies without experience in web development can create a membership site without hassle.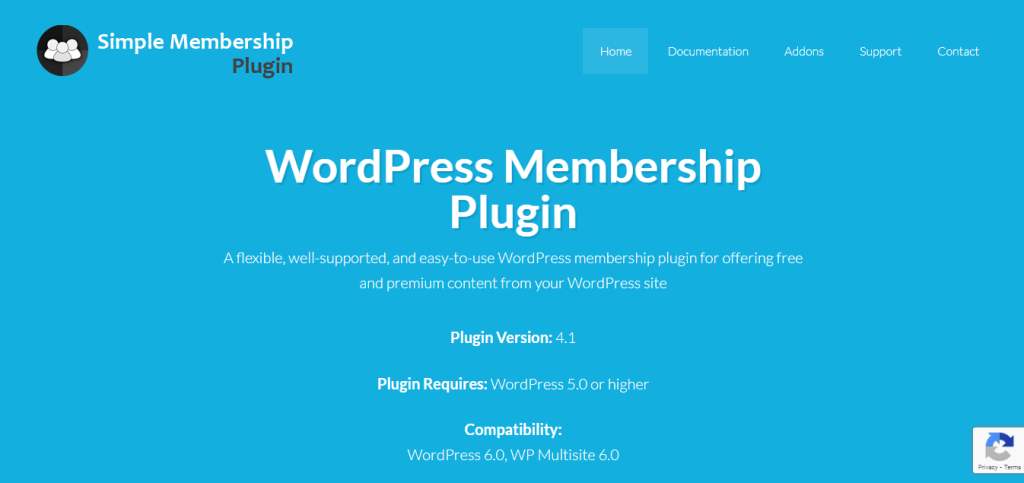 Free and paid membership plans can be created with this membership site plugin.
Features
Providing teaser content to visitors can convert them into members
Automatically protected comments will be left on your protected posts
A web page can protect attachments
Pricing
Free
9. Ultimate Member
Best for anyone who wants to protect part or all of their website.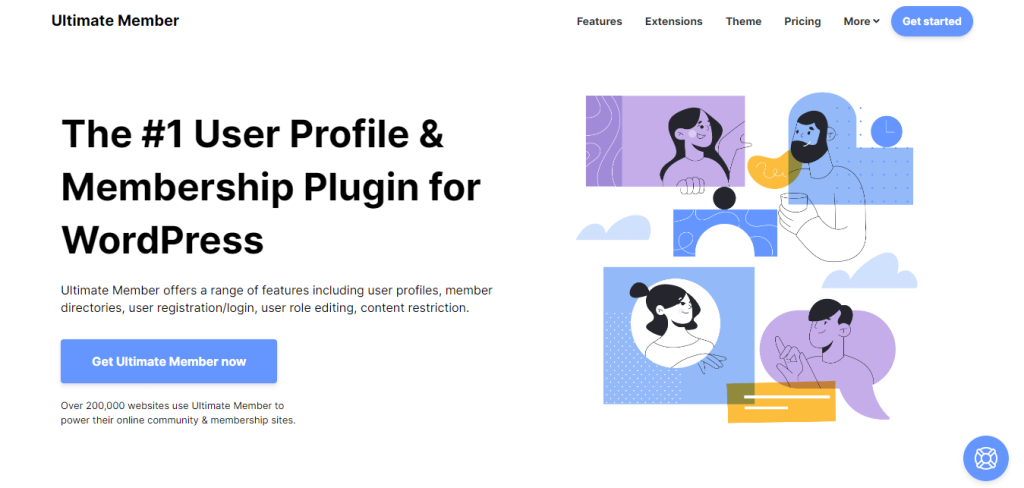 The Ultimate Member plugin for WordPress provides an extensive range of membership features. In addition to creating a customized registration and login page for each member, it also allows you to use conditional logic for the fields, making the whole process more straightforward for you and your members.
The plugin also takes care of the membership system and provides job boards and forums functionality by integrating JobsBoardWP and ForumWP with the WordPress platform. Two extensions can help you add more functionality to your membership site and increase how your users can benefit from it in various ways.
Features
Build forms by dragging and dropping
Templates for customizing emails
Support for multisite networks
A directory of members is available
Beautifully designed user account
Pricing
It comes with two pricing plans:
Regular License: It comes for $59, which includes customer support for 6 months
Extended license: It costs $149/year with 46 pro-add-ons.
Related Read:
Conclusion
So far, we have examined some of the market's most promising WordPress membership plugins. A few plugins contain elements that are common to all, but they are all unique in some way.
In terms of WordPress membership plugins, MemberPress is one of the best out there. There's no doubt that it's the most comprehensive plugin out there, and it also comes with some powerful LMS features.
A plugin that creates a robust learning experience with quizzes, certifications, and a growing learning experience for members, then LearnDash could be the ideal choice.