Are you still confused about which are the Best WordPress SEO Plugins? If so, then you have arrived at the best post to clear all your doubts.
Search engine optimization (SEO) is essential to any website since it aims to enhance the traffic on your website and rank it on the top search engine result. 
However, it encompasses a wide range of strategies and tasks that are important in SEO for WordPress sites and might be difficult to implement unless you have a plugin that helps you do it.
Using the right plugin for your website can boost your website's ranking, optimize the content and get your website rank on search engine results pages (SERPs).
Here, we will go over the top WordPress SEO plugins you can use. Here we go!
What Are SEO plugins? 
SEO plugin helps you to optimize your web pages so they will boost ranking on the search engines. WordPress has a lot of built-in SEO optimization features. You can write headings and titles, customize URLs, alt text, and add tags.
SEO plugins are not going to guarantee that your content will rank higher on the search engines. Although, it will help you in optimizing your content so that it will rank for the search engines. But still, you have to do some work, it is just like having a coach there to guide you through.
Our Recommended WordPress SEO Plugins
| | | | | |
| --- | --- | --- | --- | --- |
| Sr. No. | WordPress SEO Plugin | Ratings | Downloads | Pricing |
| 1. | All-in-One SEO | 4.6/5 | 2,000,000+ | The basic plan starts with a $49.60/year |
| 2. | Yoast SEO | 4.8/5 | 4,500,000+ | Free plan but also comes with a $99/year for advanced features |
| 3. | Rank Math | 4.9/5 | 1,200,000+ | Price starts at $59/year |
| 4. | SEOPress | 4.9/5 | 1,50,000+ | Pro plan starts with $49/year |
| 5. | WP Meta SEO | 4.3/5 | 15000+ | Free of charge but also comes with a premium version at $49/year |
These were some of our best picks. For more options, we have put together the top 10 WordPress SEO plugins to ease website management.
1. All-in-One SEO for WordPress (AIOSEO)
Best for large and medium size businesses or eCommerce stores.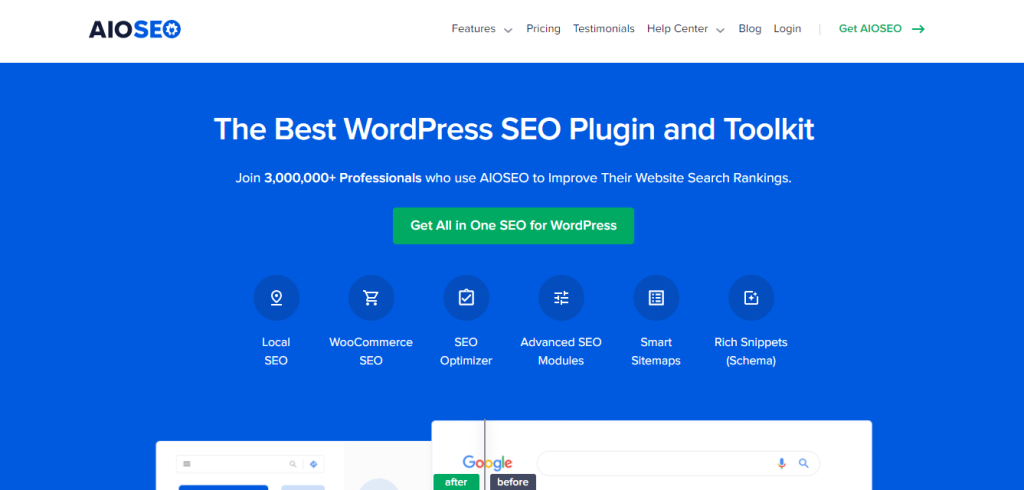 There is no better WordPress SEO plugin than All-in-One SEO for WordPress (AIOSEO). Over 3 million people use it monthly to improve their search rankings without learning complicated SEO terminology.
Additionally, it does not require the installation of multiple plugins and is suitable for all kinds of businesses, including eCommerce stores, blogs, news sites, and others.
Key Features
Integration of social media
A sitemap is an automated way to inform search engines about website changes by continuously generating and updating RSS, HTML, and XML sitemaps.
Each page and post should be optimized appropriately with an on-page analysis.
Pricing
The free version is ideal whether you are building a website for personal use or a small business. A range of advanced features is available with the pricing plans, including
Basic plan: The basic plan is $49.60/year for one website
Plus plan: The plan starts at $99.60 a year and lets you manage three sites simultaneously.
Pro plan: It costs $199.60/year for upto ten websites.
Elite plan: You can manage up to 100 websites with the Elite plan for $299.60/year
2. Yoast SEO
Best for beginner bloggers to optimize content.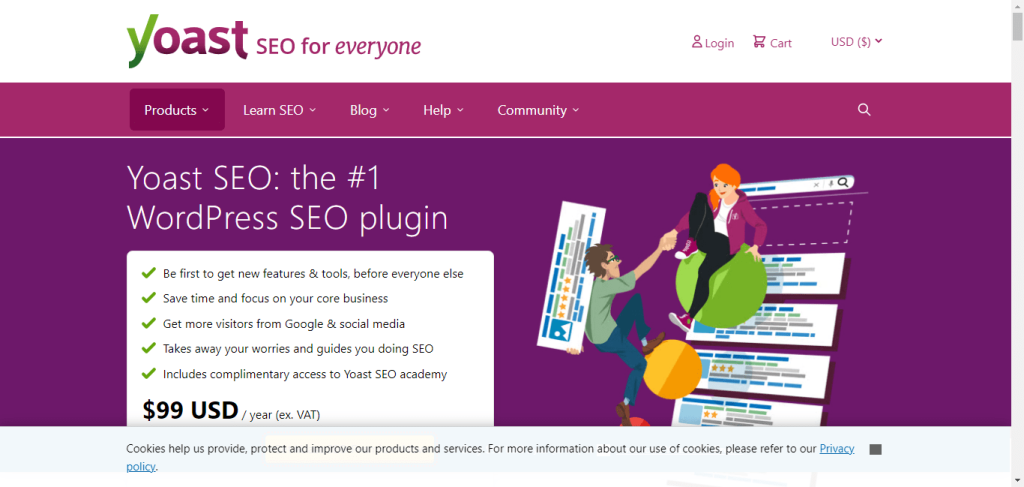 Yoast SEO is the easiest to use among the most popular SEO plugins for WordPress. Easily generate search engine-friendly and easy-to-read content with its excellent features right out of the box.
With Yoast SEO, you can set your keywords, meta descriptions, canonical URLs, and more all in one place.
Key Features
Controls schema markup for rich snippets
The five internal linking blocks on your WordPress website can help visitors discover more content by directing them to other parts of your website.
It prevents 404 errors after content has been moved or deleted.
Pricing
It is easy to use and has enough features for small and medium websites to use for free.
The Yoast SEO Premium program, which costs $99/year, offers many more features (such as Google Analytics), making it a viable option for websites with substantial content optimization.
3. MonsterInsights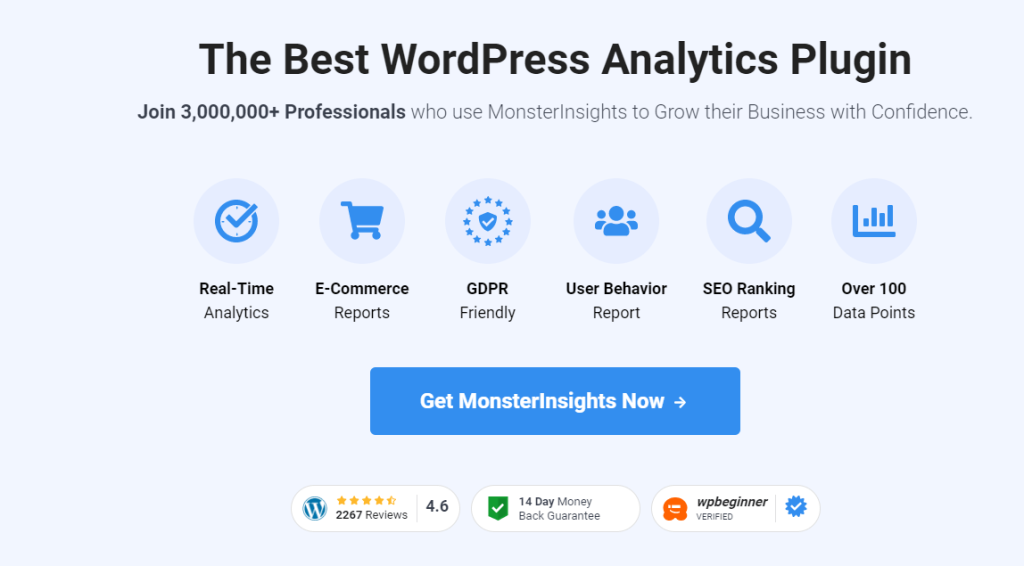 Best for businesses and online stores
The MonsterInsights plugin for WordPress is widely considered one of the best for managing Google Analytics.
With MonsterInsights, you can maximize the optimization process by leveraging Google Analytics rather than an on-page SEO plugin. Moreover, it helps you grow your business by showing you the numbers that matter.
Key Features
It helps visitors explore more of your site by adding popular posts to your content.
Stats in real-time – show you the most recent information about website traffic and visitor behavior.
Track links, banner ads, and affiliate link automatically.
Pricing
MonsterInsights brings you the free version but has minimal features.
As a result, we recommend upgrading to one of the plugin's premium plans to take advantage of its unique features:
Plus – It costs $99.50/per website each year, and you can use up to 1 website
Pro plan: The pro plan costs $199.50/year and comes with the capability of using upto five websites
Agency: This pricing plan is for agencies and costs $399.50/year. You can use upto 25 sites with this plan.
4. W3 Total Cache (W3TC)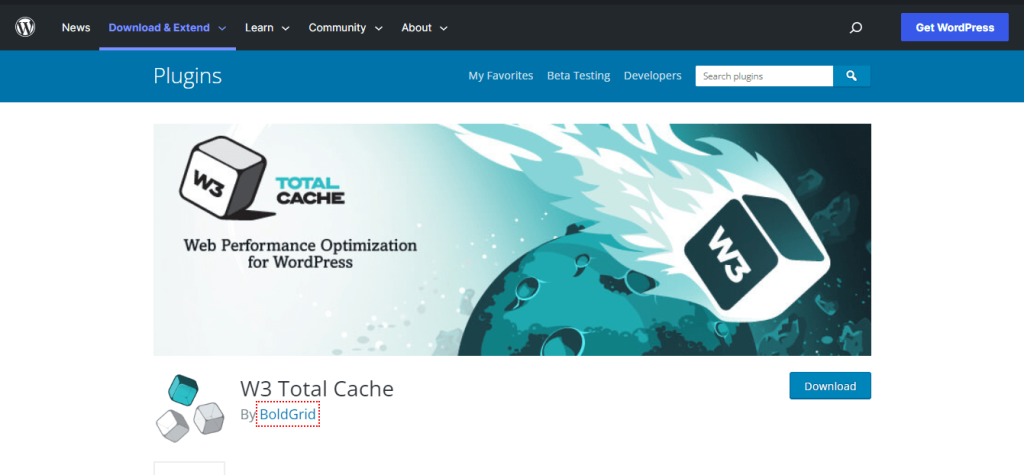 Ideal for small and large businesses.
The W3 Total Cache plugin improves website performance and enhances user experience. A medium-sized to large business website can use this plugin to increase its search engine ranking. The Setup Guide has a variety of settings that you can try to improve the speed of your site.
Key Features
By removing unnecessary data from CSS and JavaScript files, minify reduces the size of the site.
A content delivery network (CDN) helps you host static files quickly
Use graphs to provide information about your site's usage over time.
Pricing
This free plugin already comes with several optimization features. A premium software version is available for $8.25/month, adding even more features, such as site delivery statistics and caching.
5. Rank Math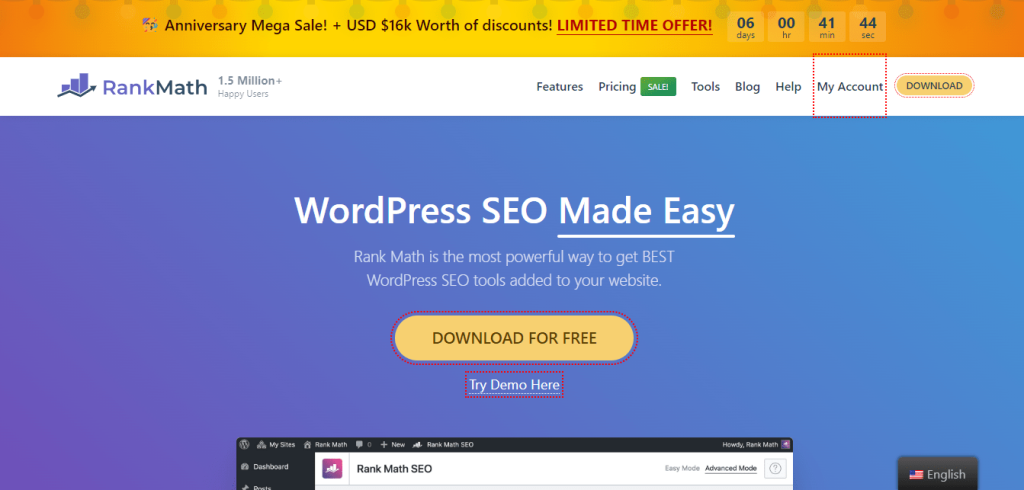 Best for blogging and business websites
The Rank Math plugin is undoubtedly the most versatile and effective SEO for personal and business websites. The plugin remains lightweight by allowing users to activate specific features, and users can choose the difficulty level and customize the SEO settings.
Using this WordPress plugin, you can also identify any SEO issues.
Key Features
Artificial intelligence – It improves the quality of your content with help from keywords and links generated by artificial intelligence.
A WordPress website rank tracker will help you keep track of the performance of your keywords in search engine results.
Schema generator: You can use the schema generator on the site to insert structured data into your articles, product pages, and recipes using a variety of schemas.
Pricing
For a fee of $59/year, you can monitor up to 500 keywords.
$199/year for 20,000 keywords for businesses
The agency plan costs $499 annually and tracks up to 75,000 keywords.
6. Squirrly SEO
Best for Ecommerce stores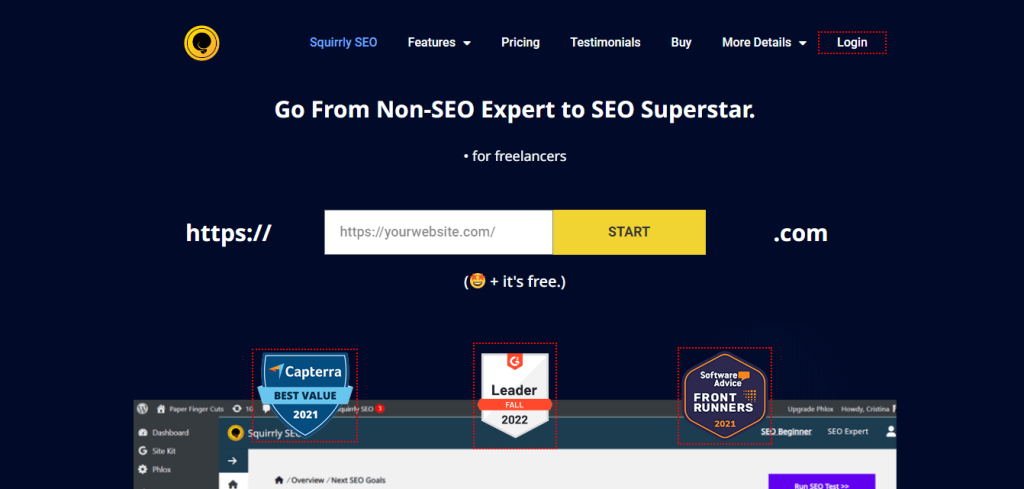 The Squirrly SEO plugin is great for large, high-traffic WordPress sites with unique content and many visitors. AI technology provides a user-friendly dashboard and a list of actions to optimize your WordPress site, using artificial intelligence technology, from backlinks to domain authority.
A feature that sets Squirrly SEO apart from its competitors is the ability to track keywords and analytics in real-time.
Key Features
Your top-performing pages and Google rank are shown in this section of your SEO progress and achievements.
Tool for removing duplicate meta descriptions and titles from your website, which may negatively affect the ranking of your website.
A bulk SEO service is one in which multiple meta descriptions and titles are changed simultaneously, including visibility, the open graph, and the Twitter card.
Pricing
Several SEO features can already be found in the free version. With the premium plans, however, you will have access to more advanced features:
For $29.99/month, you can manage up to 100 keywords
For $71.99 per month, you can use it on seven sites and enjoy up to 300 keywords per month.
The agency package costs $75.99 a month, includes 500 keywords, and uses it on 50 sites.
7. SEOPress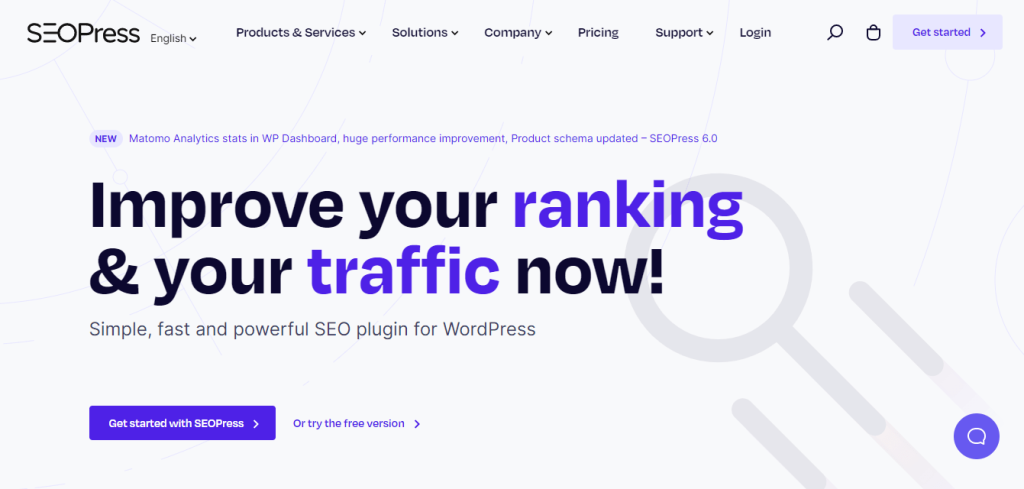 Best for business owners to improve user experience
One of the trademark WordPress SEO plugins, SEOPress offers simplicity and power in one package.
With 17 languages to choose from and plenty of features to make it the best, it is available in 17 languages.
In addition to managing your titles, breadcrumbs, XML sitemaps, meta descriptions, and redirects, with SEOPress, you can align them to provide the best possible SEO results.
As a beginner, it will be constructive to have a simplified setup process, especially since it is very easy to follow.
A perfect choice for any website owner having a large site and wishing to keep it at its peak performance for as long as possible is SEOPress.
Key Features
Indexing instantly – Using Google Indexing API and IndexNow API for Bing or Yandex, you can instantly have your content indexed instantly without delays.
A theme or page builder can be integrated using various plugins. 
SEO for images automatically optimizes images to increase traffic and visibility on Google Images.
Pricing
We recommend you choose one of the premium plans if you want to set up a website or online store for your medium or large business.
SEOPress Pro: The Pro version includes advanced SEO features for a one-time fee of $49.00
SEOPress Insights: A $99/year subscription to Insights includes access to analytics features
SEOPress Bundle: For $128/year, you will get all of the SEO and analytics features included
8. WP-Optimize
Best for professional business website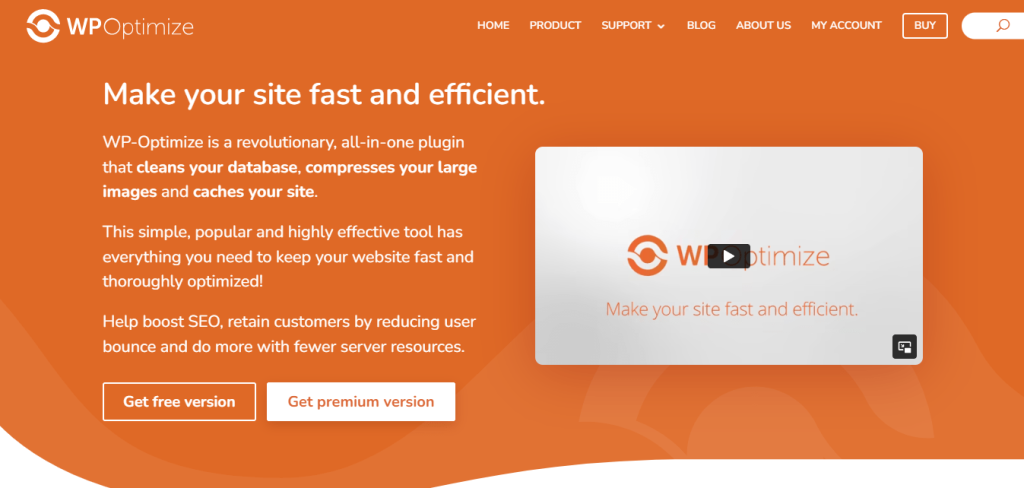 This plugin is an all-in-one performance plugin that caches, compresses, and cleans a WordPress site's database simultaneously and caches its own images. WP-Optimize is one of the market's most popular and best-selling WordPress optimization plugins because of its simple setup and easy-to-use dashboard.
Pricing
Starter plan: The starter plan for WP Optimize starts at $49/year, where you have 1-2 site licenses at your disposal.
Business plan: The Business plan for up to five websites costs $99/per year
Unlimited – Unlimited websites cost $199 a year, and you can manage them all at once.
Key Features
A database optimization procedure involves clearing unnecessary data, repairing damaged or fragmented database tables, and recovering lost space.
Speeding up your site by removing spam, unapproved comments, and redundant post revisions is possible.
A cutting-edge lossy compression technique converts large images into smaller files.
9. Slim SEO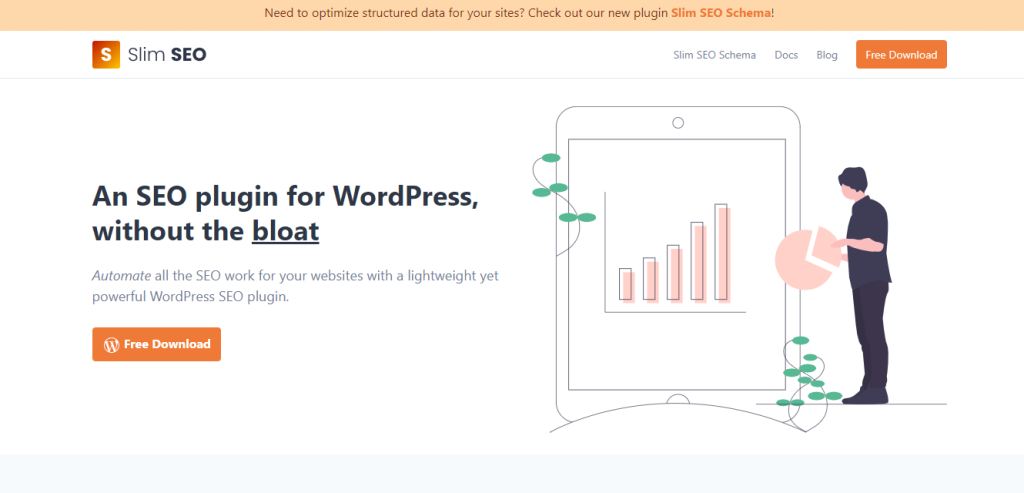 Best for professional blogging website
Many WordPress SEO plugins are available, and learning how to use them can be challenging due to all the different settings and options they offer.
It is essential to know that Slim SEO is primarily known for automatically generating sitemaps and meta tags for search engines and adding schema markup to the site.
Key Features
As part of Slim SEO, your posts and pages can automatically be tagged with meta descriptions and sitemaps and add schema markup.
The plugin allows the author's pages to be redirected with the help of the plugin.
Using the plugin, you can control the kind of content users share on social networks when they share your content.
Pricing: Free
10. WP Meta SEO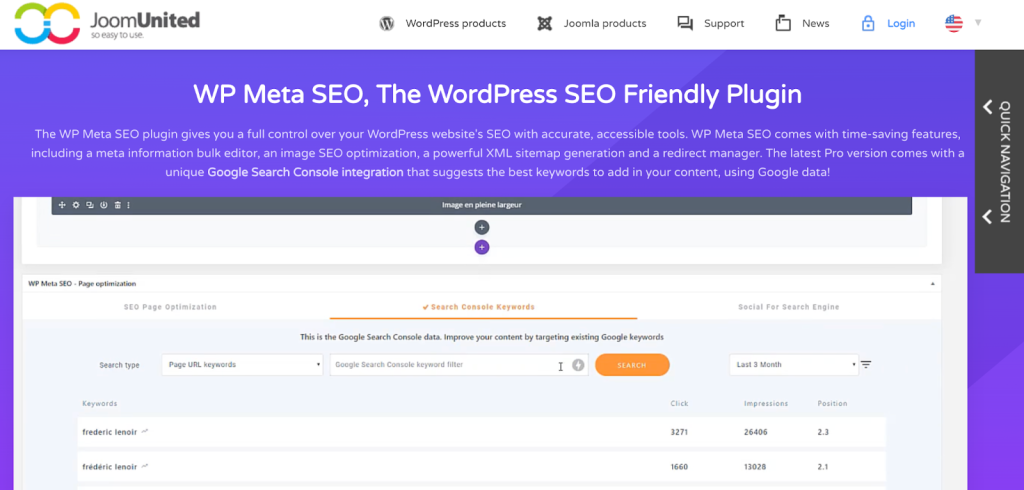 Ideal for multimedia and online stores
It is a comprehensive SEO plugin for WordPress websites with a lot of content and a high level of traffic.
This plugin makes it easy to optimize images, meta descriptions, and titles in bulk. WordPress Meta SEO performs a website performance analysis and provides actionable suggestions.
Key Features
The content ETA enables you to edit your posts and pages, meta titles, and descriptions without opening the editor.
The image editor enables you to resize your images and edit their names, alt-text, titles, captions, and descriptions without opening the files themselves.
You can optimize all anchor texts on your site with the link editor.
Pricing
There are already tools included in the free plugin that will enable most WordPress websites to be optimized. It is important to note that a premium version of the software is available for $49/year, which offers additional features such as a duplicate meta checker and link manager.
Related Read:
Conclusion: WordPress SEO Plugins
With the right WordPress SEO plugins and tools, your site will perform better and drive more traffic.
Furthermore, the right SEO plugin and tool can assist in creating XML sitemaps, checking broken links, researching keywords, and other optimization tasks.
If you are starting your blogging career, the Yoast SEO plugin would be an ideal solution to optimize content.
To get the most out of the content and website, Rank Math stands out.