Are you seeking a WordPress plugin to make your website search more effective?
The built-in WordPress search function is fairly limiting and frequently fails to produce results for your site's search queries.
We've compiled a list of the top WordPress search plugins in this article so you may increase content discoverability and provide your site users with more pertinent information.
What Are WordPress Membership Plugins?
WordPress membership plugins help you to build login access to the content. These plugins make it easy to:
Share free content to create a following
Creates email list to send customers updates or coupon
Charge for content
These plugins are different from gated content marketing because gated content only asks for email opt-ins but membership plugins usually want more piece of information and payments.
Top WordPress Search Plugins: In A Nutshell (2023)
Plugins
Rating
Features
Pricing
Downloads
1.
SearchWP
4.9
Automatic integration with WP tool & no coding needed
Standard-$99 /yearPro-$199/year
30000+
2.
Relevanssi
4.8
Results of the search are in order of date
FreeAdvanced-$99/year
1lakh+
3.
Ajax Search
4.7
Enabling Live search
Free-BasicAdvanced-$36/Life-time
70,000+
4.
Advanced Woo Search
4.8
Provide Ajax search
Personal-$59/year
Freelancer-$99/year
agency-$199/year
70000+
5.
Jetpack Search
4.3
Toolbar feature replaces the admin bar. Quicker response
Start-FreePaid-$8.25/month
500+
6.
Swifttype Search
4.3
All documents are made to protect in the cloud
Starts from $99/year
1000+
7.
Ivory Search
5
Performs faster search based on inverted index search mechanism
Starter-Fre
Pro-$19.99/year
ProPlus-$49.99/year
90000+
8.
FacetWP
5
Works automatically on archived pages
Free-Trial$99/year-$249/year
Many thousands
8 Best WordPress Search Plugins To Use In 2023
In this section, we have given Top WordPress Search Plugins that you should try once.
1. Search WP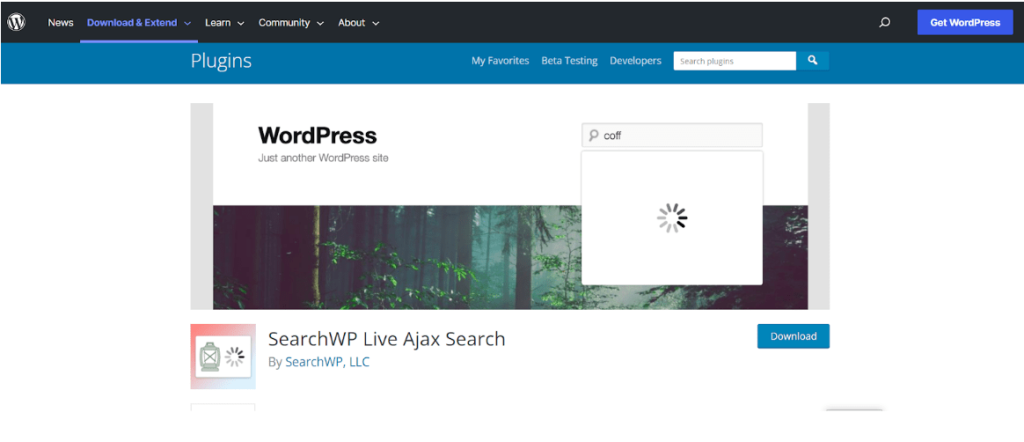 The greatest custom search plugin for WordPress is SearchWP. More than 30,000 sites are powered by it, and it is simple to use and offers complete customization options.
The plugin scans every content on your website that can be indexed. Excerpts, shortcodes, taxonomies, custom post kinds, already-existing pages, articles, and even comments.
You have total control over your WordPress search algorithm thanks to the SearchWP plugin. You can choose manually which information should be indexed and shown in your search results, and it enables you to build your own customizable website search engines.
By giving each content type a weight from 1 (lowest) to 10, you can adjust the weighting of each content category, the search algorithm, and the priority of search results (highest).
Top Features
Indexing of PDF and office documents
Automatic connection with WordPress's built-in search
feature for keyword stemming
Different search engines
Live AJAX search
Search analytics and insights
Pros
Custom Fields are searchable thanks to SearchWP! WordPress search fully disregards custom fields (post meta)!
SearchWP fixes your e-commerce search!
SearchWP can search your documents!
Everything may be searched with SearchWP.
Shortcodes & Taxonomies are known to SearchWP.
Cons
Pretty expensive: Various pricing tiers for extensions are available from SearchWP. Which may be an inconvenience for the websites of small businesses.
Limited Multisite Support: SearchWP doesn't support multi-sites using global search. On each site, the plugin needs to be installed separately.
2. Relevanssi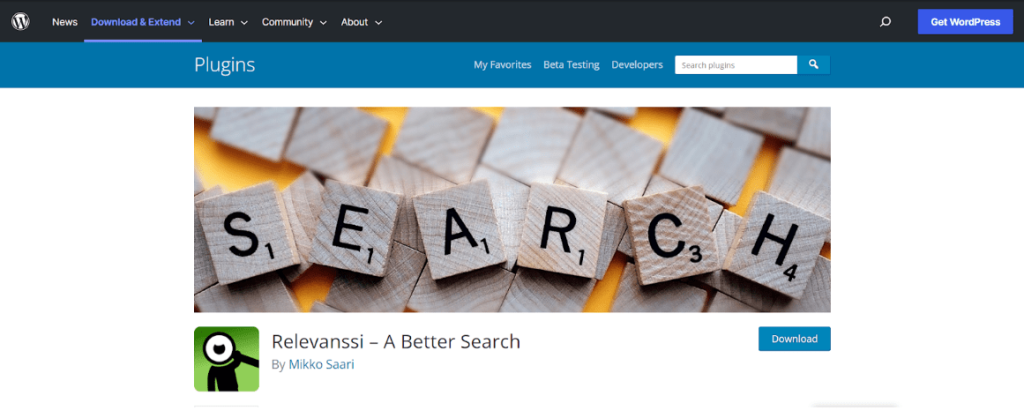 A popular WordPress search plugin called Relevanssi is available in both a free edition with some restrictions and a full-featured premium version.
It will enable you to provide more thorough and pertinent search results, as well as appealing features like "did you mean?" search suggestions on Google.
Top Features
Utilises the built-in search capabilities of WordPress
Creates a custom search index
Search more content kinds, such as comments, tags, custom fields, and more.
To alter which content is deemed "relevant," modify the weighting of titles, tags, and comments.
Like Google, "Did you mean?" suggestions
In the search results, emphasise the search term (like how Google does it)
An option to index the content of shortcodes and attachments is included in a better content indexing feature (like a Word document, though attachment indexing is a premium feature)
In WordPress Multisite, you can search across many sites (premium)
Allow OR and AND type queries for searchers
Send particular keyword searches to a specified page automatically (premium)
Pros
Easy to Use
Cons
AJAX search needs a different plugin to be enabled.
3. Ajax Search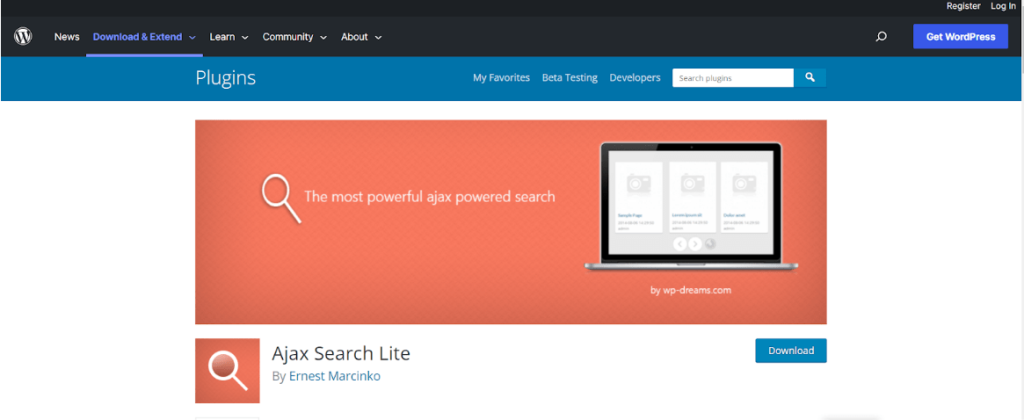 Ajax Search Lite is a live search plugin for WordPress that is incredibly responsive. You may add an AJAX-powered search form to your website by using this plugin. Additionally, the search is made to be very user-friendly, with a simple interface, compatibility for mobile devices, and fluid animations.
In addition to allowing users to search within posts and pages, the plugin also allows them to do so within custom post types, custom fields, excerpts, categories, and more. Additionally, Ajax Search Lite offers unique filter boxes (checkbox filters) for various post kinds and categories.
Google Analytics can even be integrated to help you better understand your clients. All of these excellent features are included in the free edition. However, they are more advanced if you want access to its premium services.
Top Features
Compatible with the page builders WPBakery and Elementor
Works with the WordPress translation plugins qTranslate, Polylang, WPML, and others
Different search bars
Effective filters
CSS3 and SVG icons
Shortcodes and search widgets
Adaptable search logic
Automatic completion and keyword suggestions
Pros
Enhancing the User Experience
Using Less Bandwidth and Increasing Speed
Supported by every contemporary browser
Server workload is lessened.
The end-user perceives search as being extremely quick due to the faster response time.
Cons
The admin user interface for the plugin can be challenging to use.
There is no way to add extra search forms.
4. Advanced Woo Search

A strong search plugin for WooCommerce websites is Advanced Woo Search. Visitors may efficiently search through all of your products with the help of this WordPress plugin. It has many unique features, is quick and simple to use, and supports AJAX search. This plugin indexes your items to provide quick answers to simple and sophisticated Phare queries.
It uses AJAX to display results as your visitors' input automatically. The product image and price are shown beside the name in the live results. You may use a shortcode or a widget wherever you want on your WooCommerce-powered website to add a search box. Your consumers can do searches in the product title, content, excerpt, tags, categories, and SKUs with Advanced Woo Search.
Top Features
Stop phrases (exclude phrases)
Supports synonyms and plurals
Settings suited to beginners
Images and prices may appear in searches.
Compatible with the page builders for WordPress
Alterable products
Pros
Strong support for Woocommerce items is available
It offers seamless connectivity with Google Analytics, and users can easily add a search bar to their website using a shortcode or widget.
The tool is ready for translation, so you can easily use it on international websites.
Enables intelligent ordering
Searches in titles, extracts, content, tags, categories, and other areas are supported by Advanced Woo Search.
The product pricing can be found in every search result.
Based on the importance of the source, search results are intelligently sorted.
Ability to remove terms from a search
Cons
With all WordPress themes, the seamless integration option doesn't always function.
5. Jetpack Search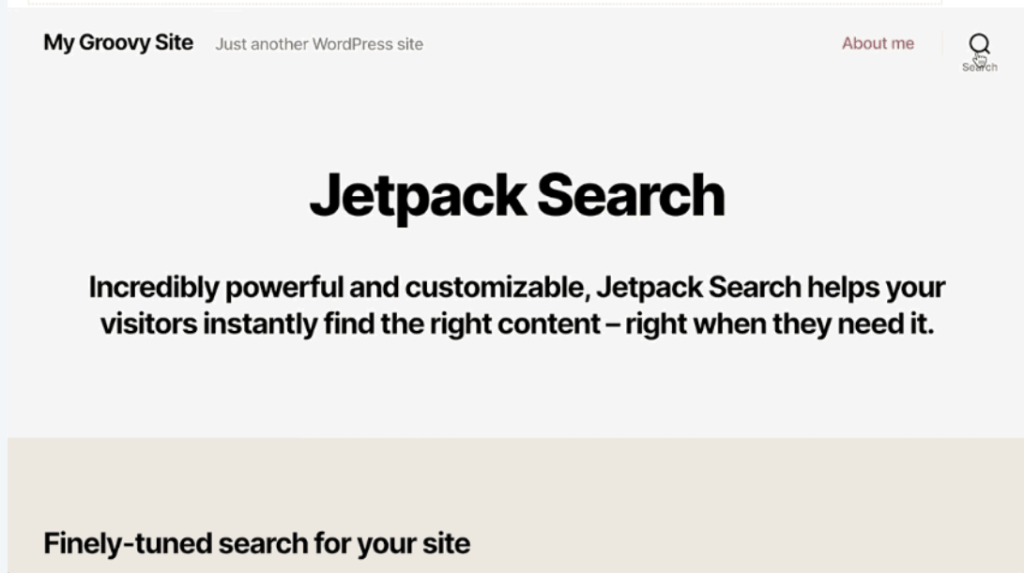 The creator of Jetpack, Automattic, has released a new search plugin for WordPress called Jetpack Search. It's still worth looking at even though it's a very recent addition to the WordPress plugin directory.
Elasticsearch, a hosted WordPress search service, takes the place of WordPress' built-in search feature. Elasticsearch enhances user experience overall, accuracy, and search performance.
Top Features
Real-time indexing, in which content is instantaneously indexed after making changes
Implementation of Instant Search and Filters without Reloading the Page
Results prioritized based on your site's statistics
Corrections to the spelling of the search phrases
Live search recommendations
Search phrases highlighted in post text and comments
Support for 29 languages, including all languages and languages analysis
Pros
Increases Image Load Time, Protects Your Site from Brute Force Attacks, Provides Traffic Insights, and Speeds Up Image Load Time.
Simplifies the administration of multiple websites.
Website downtime is tracked.
Automates content sharing on social networks.
Displays Related Posts and lets you send emails with posts.
Cons
It isn't the most economical option for websites with a lot of material.
6. Swiftype Site Search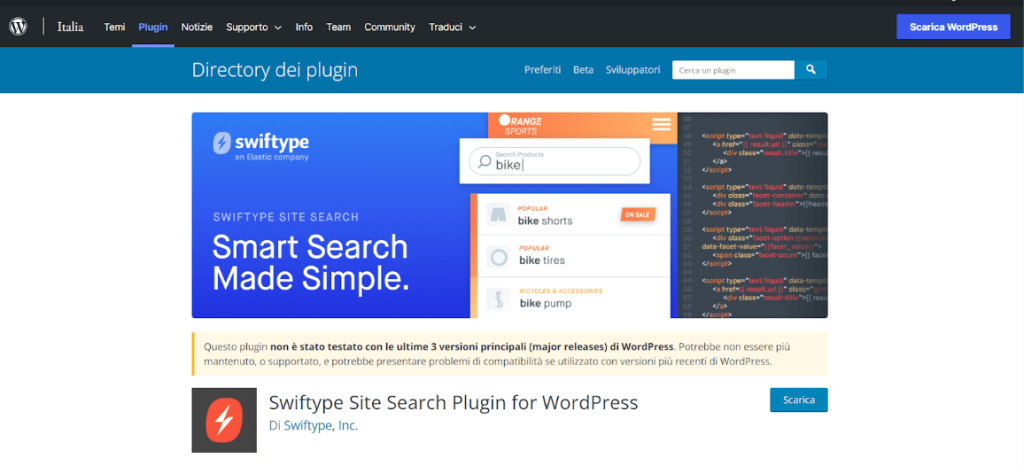 Swiftype is an additional useful WordPress search plugin that switches out the default WordPress search with a more adaptable and focused search engine. You may receive in-depth search analytics and enhance your search process with Swiftype Site Search.
The easy dashboard that comes with the Swiftype Site Search plugin has all the features you'll need to help you tailor your search. You may have a quick and precise search for your website without any programming or coding.
Top Features
User-friendly design and an intuitive dashboard
Without the need for coding or programming, quick and precise search
Simple document storage and search on its own server for lightning-fast website performance
Pre-optimized stemming, synonyms, bigram matching, phrase matching, typo tolerance, and more features
regular updating
Powerful analytics dashboard with deep search insights and a display option for metrics and search logs
Proposal for autocompleted searches
Has 13 language support options, including English, French, German, Russian, Chinese, and more.
Pros
Swiftype uses its own relevance algorithms to decide which posts to transmit back in the results after receiving a user's query.
The standard WordPress search query is a straightforward SQL "LIKE" query that just runs a wildcard prefix match against the posts in your WordPress database and returns them in chronological order (newest first).
Tokenization, tf-idf weighting, field-specific weights, post quality, and other query-specific signals that must be gathered and improved over time are some of the factors that modern relevance algorithms should take into account.
Cons
One drawback is that only standard posts and pages are currently indexed, not bespoke post kinds. Therefore, it might not be able to display results from those areas if you have, say, products on your site or a unique portfolio part. They are working on adding custom post kinds, according to their website.
7. Ivory Search

You can use Ivory Search in place of WordPress' built-in search as another great search plugin.
It makes it simple to build a personalized WordPress search form. You can construct dynamic forms for various regions of your site by allowing each form to have a distinct set of search parameters.
It is compatible with WooCommerce and the top WordPress translation plugins. Ivory Search examines post kinds, picture metadata, custom fields, and other factors to enhance search results.
Top Features
Unlimited generation of bespoke forms
Separately configure each search form
Lookup attachments, files, and photos
Keep some items out of search results.
Support for multilingual searches
Incorporating well-known WordPress plugins (WooCommerce, bbPress, etc.)
Pros
Pre-built Search Forms with Ajax Search
Create several forms
Enables spaces to add more JavaScript (JS) and CSS files.
Encourage Widgets
Features of a shortcode
Cons
The absence of a theme-based CSS customization tool is the only drawback. For those who are unfamiliar with web technology languages like HTML and CSS, the process is therefore exceedingly difficult. But don't worry, just copy and paste the code from below into the appropriate CSS textbox area.
8. FacetWP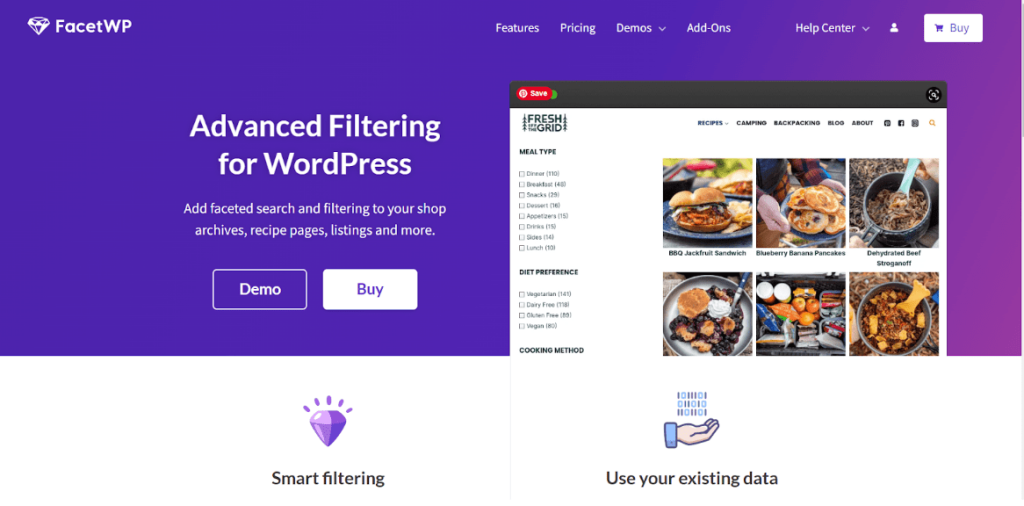 One of the most well-liked search and filter plugins for WordPress is called FacetWP. It enables you to integrate highly customised faceted search into WooCommerce and WordPress websites.
A user-friendly builder or well-known page builder plugins like Elementor's faceted search feature can be used to construct your own own faceted search layout.
Overall, FacetWP's flexibility stands out, especially when it comes to interacting with customized content.
Top Features
Create search and filter tools that can be used by WordPress users or any article type.
Use drop-down menus, range selectors, checkboxes, a search box, and more in your filter system.
Put taxonomies, custom fields, and post data to use to create filters (e.g. author, post type, etc).
connects to a variety of well-known custom content plugins, such as ACF, Pods, Meta Box, and others.
Using a built-in layout builder, a page builder, or your own bespoke code, create your own unique results template.
You can show your aspects next to pre-existing content list widgets from the page builder via the connectors. For instance, you may put a faceted search next to the Posts or WooCommerce Products list widgets in Elementor Pro.
Pros
You may use it to build filters based on just about any piece of the website content, including custom fields.
You get a tonne of various facet types, which makes it easier for you to make filters for various kinds of content.
Because it works with well-known page builder plugins, adding faceted search to your designs or theme builder templates is simple.
A straightforward template tag system can be used to create your own unique results templates.
There are numerous hooks available to developers so they can tailor things to their needs.
Cons
There isn't a free version, and the commercial version costs more than most substitutes.
For inexperienced users, it can be a little challenging, however, the use of page builder connections has greatly simplified things.
Related Read:
WordPress Search Plugins – Final Notes
You'll need a robust search engine as your WordPress site expands to assist users in finding the appropriate products or content on your website. The above-mentioned WordPress search plugins are well-equipped to manage the search capability of your WordPress website, please users, and encourage them to return to your online store for additional searches.
In this article, we attempt to provide you with some detailed information about the best WordPress search plugins. For more queries or information, please connect with our resourceful team.
FAQs
How do you use the best search plugin in WordPress?
1. Put "Better Search and Replace" in place. Go to the plugins tab in your WordPress administration.
2. Go to the plugin page. Go to Tools > Better Search and Replace in the wp-admin section.
3. Type in URLs.
4. Choose some database tables.
5. Turn off the dry run.
6. Enable Search/Replace.
What are the top 5 plugins you use with WordPress?
Ajax Search, Advanced Woo Search, Jetpack Search, SearchWP, and Relevanssi are all listed in our article.
How to use Azax search in WordPress?
1. Ajax-search-lite should be uploaded to the plugins directory in /wp-content.
2. Utilize WordPress' 'Plugins' menu to activate the plugin.
3. In your template or post page, paste the shortcode you copied from the settings.
Which is the best WordPress Search Plugin for WordPress?
SearchWP is one of the most popular WordPress search plugins