WordPress themes have gained a lot of attention for their ability to create a beautiful and functional website simultaneously. As far as themes go, WordPress provides them all – from free classic themes to advanced theme bundles that are extremely expensive.
However, the multiple options do not pose a problem in this case. Choosing a theme with a fast loading time is important.
Nowadays, the importance of having a website that loads quickly can not be overstated. A slow-loading website that frustrates visitors and can cause them to lose business is not the only drawback since Google also takes PageSpeed into account when ranking sites for search engine results.
However, if you are looking for a fast-loading theme for your WordPress blog or website, you should focus on these fast WordPress themes on the market today. By narrowing down your options, you will find a theme that will be right for you based on your needs and preferences.
In the article, we will compile a list of 8 of the fastest WordPress themes that can offer you a head start to improve your website's loading time.
Our top picks for Fastest WordPress Theme
| | | | | |
| --- | --- | --- | --- | --- |
| WordPress Theme | Best For | Loading Speed | Rating | Pricing |
| Astra | Best for small and medium-based business websites | 0.5s | 5/5 | Costing starts at $47/year |
| Divi | Best for startups | 1.9s | 5/5 | Starts from $67/year and $187 for a lifetime. |
| Neve | Best for individuals with a tight budget. | 1.9s | 4.6/5 | Starts at $69/year |
| GeneratePress | Best for all websites | 1.4s | 4.9/5 | Starts at $44/year |
| OceanWP | Best for eCommerce businesses | 1.5s | 4.9/5 | Costing starts from $27/year |
This is just a quick glimpse of our top picks. Here are some of the best WordPress theme options to choose from.
8+ Fastest WordPress Themes To Try In 2023
Here we have given in-depth detail on Fastest WordPress Themes. So without getting late let's get deep dive into it.
1. Astra 
Best for small and medium-based business websites.
Among WordPress's fastest themes, Astra is regarded as one of the most popular themes. As a result, it performs efficiently since it doesn't depend on jQuery, which causes delays in many applications. Aside from letting you include individual modules on your site, it allows you to edit your content efficiently.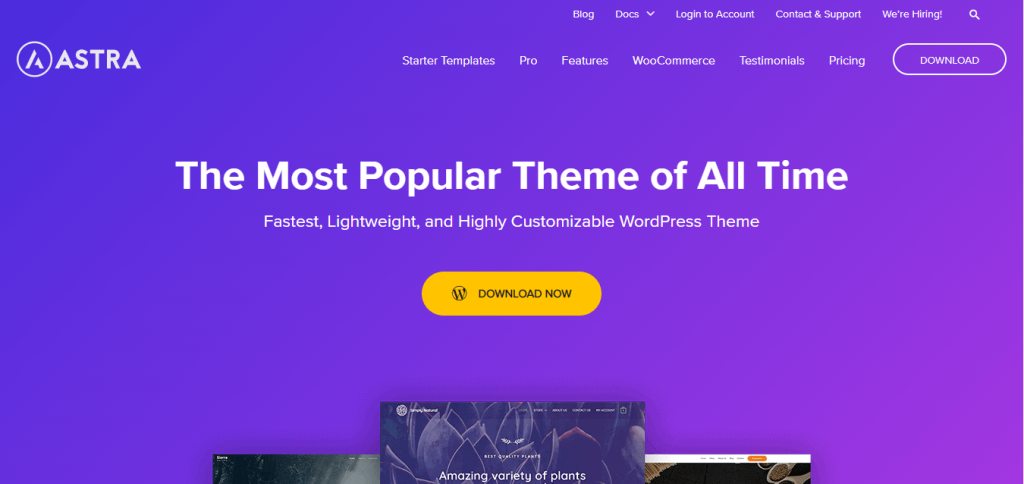 With this fast WordPress theme, you can view the design of your website as it unfolds right before your eyes as it is being customized in real-time. In addition, it comes with several popular page builders, including Elementor, Beaver Builder, and many more.
Aside from that, it is also a powerful theme with a wide array of demos and numerous customizability options, such as design choices for the header and sidebar.
Features
Performance-optimized
Adaptive design
Layouts for sites and blogs
Setting up WooCommerce
Pricing
The Astra theme is available free of cost. But it does provide premium plans that come with advanced features and perks.
Astra theme pricing plan is categorized into two categories: Annual and Lifetime. Each of them has three pricing plans.
Annual pricing
Astra Pro — It costs $47
Essential Bundle —Starts at $137 with advanced features like a WP portfolio plugin, 180+ starter templates, and much more.
Growth bundle: Priced at $187
Lifetime pricing:
Astra Pro — One-time cost of $227
Essential Bundle— It costs $677(One-time fee, no renewal)
Growth Bundle— It costs $937 (One-time fee);
2. GeneratePress
There are many WordPress blog themes on the market, but GeneratePress is one of the most popular and fastest-loading themes. It is an SEO-friendly, fast, and fully responsive theme for your WordPress blog that allows you to generate multiple types of content based on your business requirements.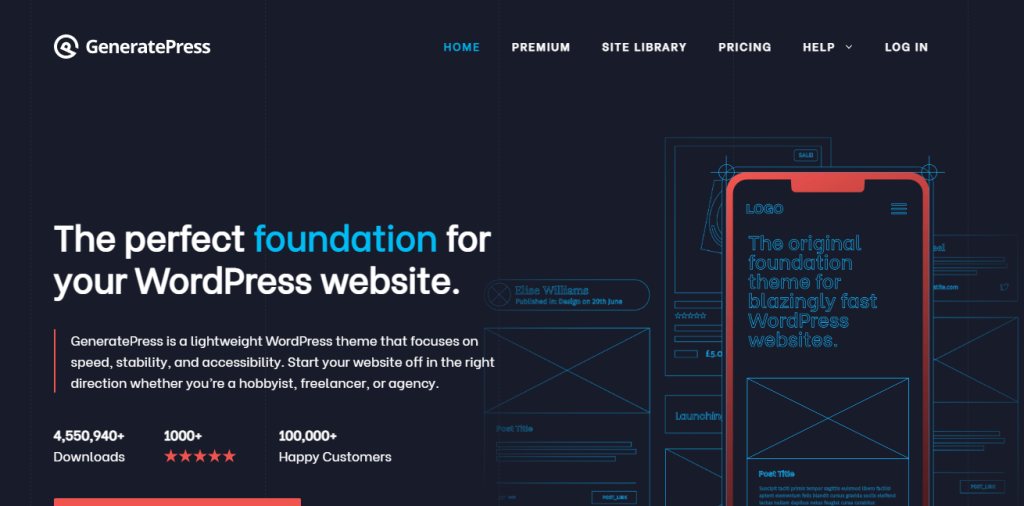 There are a variety of page builders for integration, and over 25 languages have been translated for the website. There are more than 60 color controls, five navigation options, five sidebar layouts, and nine widget placement areas.
Features
Demos in multiple formats
Responsively designed
SEO-friendly
There are no rendering issues
Pricing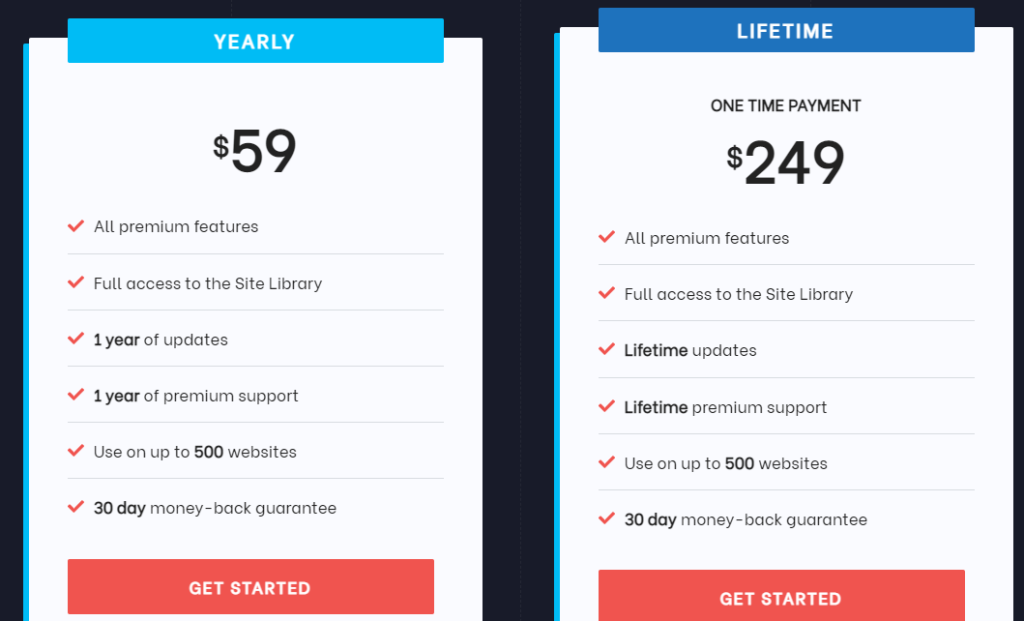 It is also worth noting that GeneratePress Premium offers a vast library of ready-made templates that you can use to kickstart the design of your site. Pricing options offered by GP include the following:
There is a free theme available for GeneratePress
Yearly: A GeneratePress premium license for up to 500 websites (one year of support) is available for $59.
Lifetime: Up to 500 sites with GeneratePress premium (lifetime support): $249
3. OceanWP
Best for eCommerce businesses
The OceanWP theme is a multipurpose WordPress theme fast-loading, lightweight, and integrated with WooCommerce.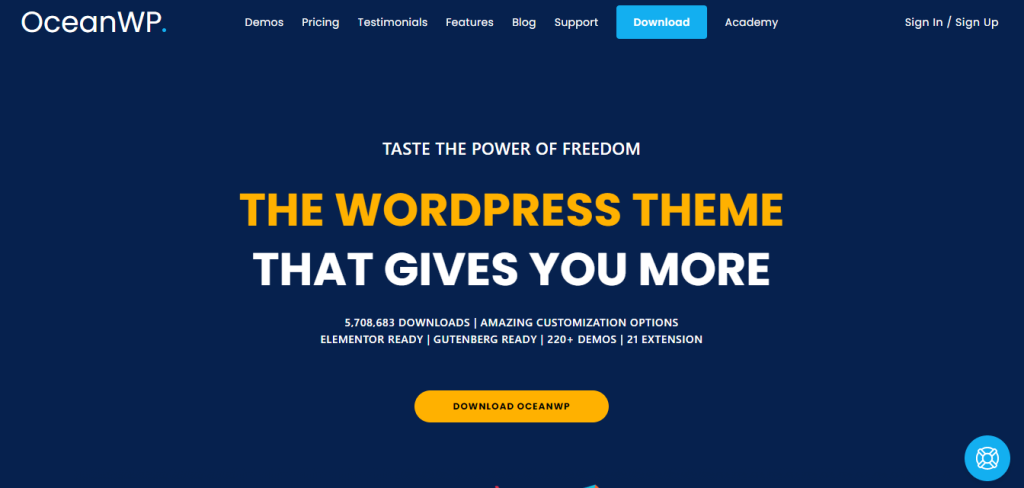 Developed to be a multi-purpose WordPress theme, OceanWP lets you create eye-catching and responsive websites. Founded in 2016, OceanWP is the brainchild of Nicolas Lecocq. Since then, the theme has been given a lot of attention, and it is now among the fastest WordPress themes in the world.
Besides being fast, responsive, RTL, and translation ready, the website also features true SEO practices and unique WooCommerce features that will boost conversions.
There are many good things about OceanWP, but one of the best things is that it is user-friendly and easy to use. With the help of a free import extension, anybody can import demo sites within a matter of seconds with just a few clicks. This WordPress theme was created for eCommerce store owners, designers, developers who manage websites on WordPress, and the site's owner.
Features 
Widgets for Ocean Elementor
Typography and fonts around the world
Ready to use with WooCommerce
A variety of header styles to choose from
The layout of the global site
Pricing 
OceanWP is a free WordPress theme but comes with premium options (yearly and lifetime).
Annual pricing
Personal plan —Priced at $27. It lets you manage 3 sites.
Business plan — It costs $44 (Lets you manage 6 sites).
Agency — Priced at $79. It allows you to manage 50 sites at a time.
Lifetime pricing
Personal — $118 one-time (3 sites).
Business — $178 one-time ( Lets you manage sites).
Agency — $318 one-time (Allows you to access 50 sites).
4. Neve
Best for individuals with a tight budget.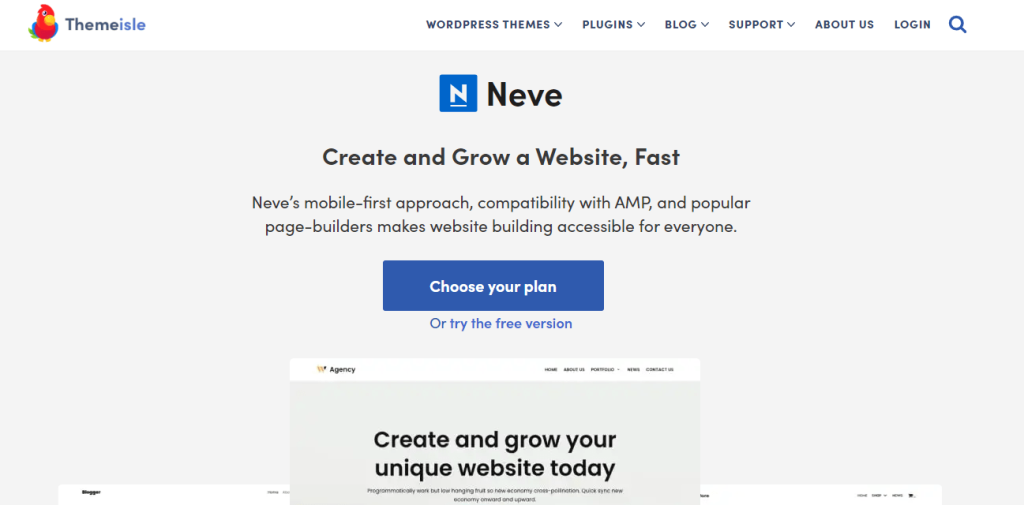 There is no doubt that Neve is a fantastic WordPress responsive theme that is fast, easy to customize, and multipurpose. With the latest Gutenberg editor and most popular page builders like Elementor, Brizy, Beaver Builder, and Divi, Neve is a great addition to the new Gutenberg editor.
Neve is an SEO-optimized theme and a Google AMP-optimized theme, ready for WooCommerce, responsive, ready for RTL and translation, and fully search-engine friendly. Designed by Themeisle, Neve is a minimal and high-performance theme of many elements.
Features
A mobile-friendly design and AMP compatibility
Fully customizable and lightning-fast support
Header and footer design options for websites
Loads in under one-second
Pricing
Though Neve is the free theme, it also comes in a pricing plan (yearly and annually) that lets you enjoy the advanced functionality.
Annual pricing
Personal plans: It costs $69/year ( for unlimited sites).
Business plan — Costs $149 (unlimited sites).
Agency — It costs $259 (unlimited sites).
5. Blocksy
Best for blogging and business website
To speed up your WordPress site, you should look at Blocksy. The theme has been designed to be lightweight and fast and to ensure that your website won't be slowed down by it during use.
Blocksy is an innovator in web technology. In other words, it was built to work with Gutenberg Editor, and it includes many options that will allow it to be adapted and customized to fit your needs.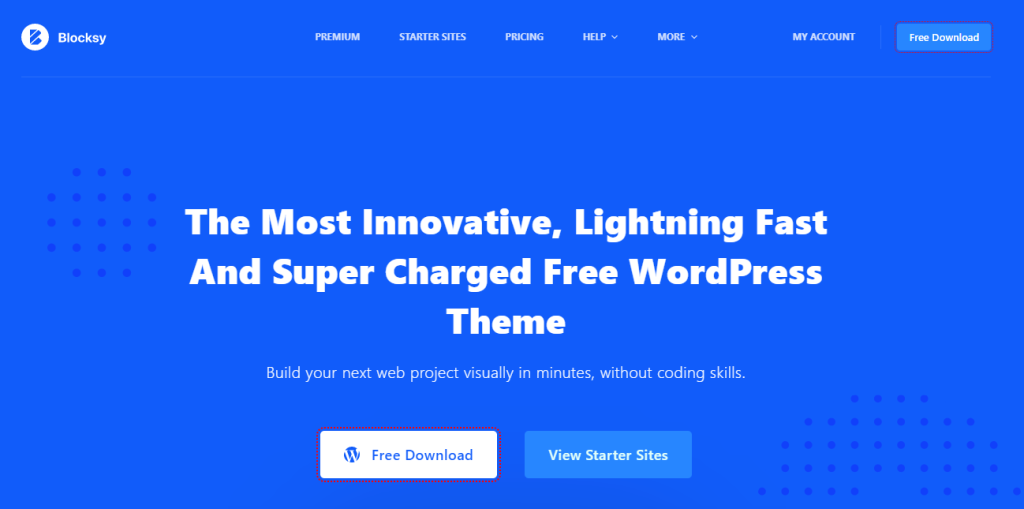 With Blocksy, it is possible to easily create any website, including business agencies, retail stores, corporate websites, education websites, restaurant websites, blogs, portfolios, or landing pages for businesses. As well as this, it integrates well with some of the most popular page builders available for WordPress, including Elementor, Beaver Builder, Visual Composer, and Brizy.
Features 
The theme for multipurpose use
Design with simplicity
Header with flexibility
Compatible with the top page builders
Pricing
Blocksy comes with three pricing plans.
Annual pricing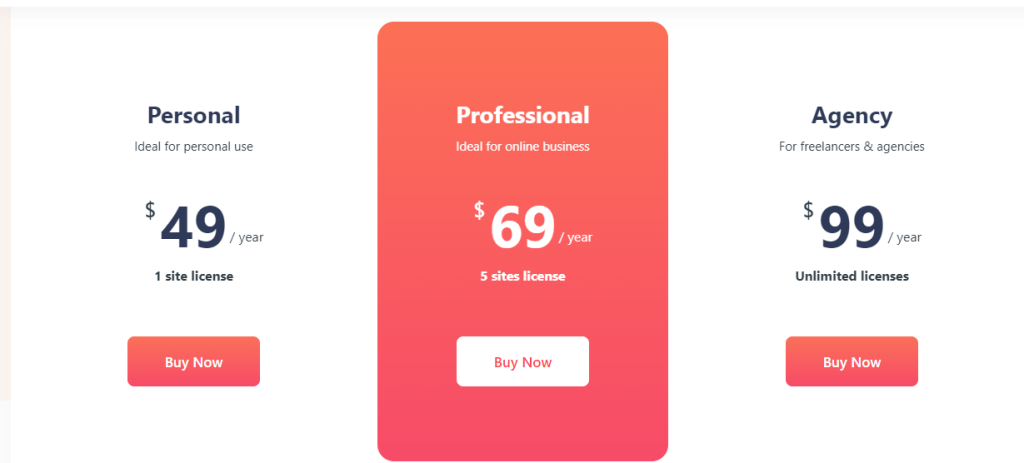 Personal plans cost $49 per year for 1 site.
Professional plans cost $69 per year for 5 sites.
Agency plans are priced at $99 per year for unlimited sites.
Lifetime pricing
Personal plans: It cost $149 (One-time fee)
Professional plan: It costs $199 (One-time fee)
Agency plan: It costs $299 (One-time fee)
6. Divi
Best for startups with tight budgets.
Among all the themes that Elegant Themes have built over the years, Divi has the highest level of functionality. With 100+ pre-made and fully customizable layouts, the developers make it easy for you to get started.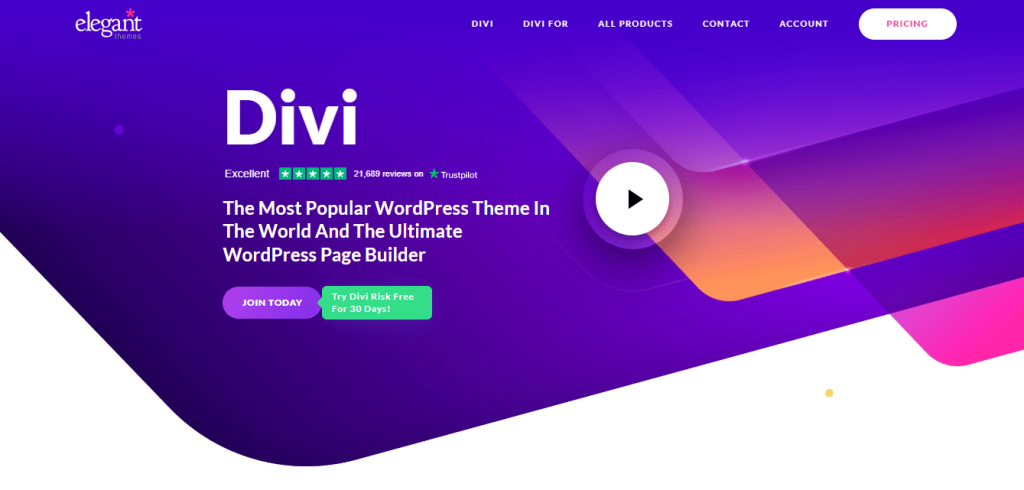 Divi Builder comes packaged with this theme, letting you create pre-made modules such as call-to-action buttons, sliders, pricing tables, blurbs, contact forms, and sidebars.
Divi also offers a variety of header styles, limitless color options, and blog and portfolio layouts. Opportunities abound!
Features
Responsively designed
Page builder with drag-and-drop functionality
Backgrounds with parallax and video
Layouts pre-made
Pricing 
Divi pricing comes with two major pricing plan, which includes:
Yearly plan: It costs $67/year. Packed with advanced features like premium support, product updates, access to manage various website packs, and whatnot.
Lifetime plan: It is priced at $187. This is a one-time fee. This pricing plan allows you to access perks like lifetime updates, unlimited website usage, and more.
7. Customify
Best for all sorts of websites.
Among all the WordPress themes in this list, Customify is one of the fastest. As a lightweight and SEO-friendly solution, it's designed with best coding practices, is lightweight, optimized, and uses the lightest code possible.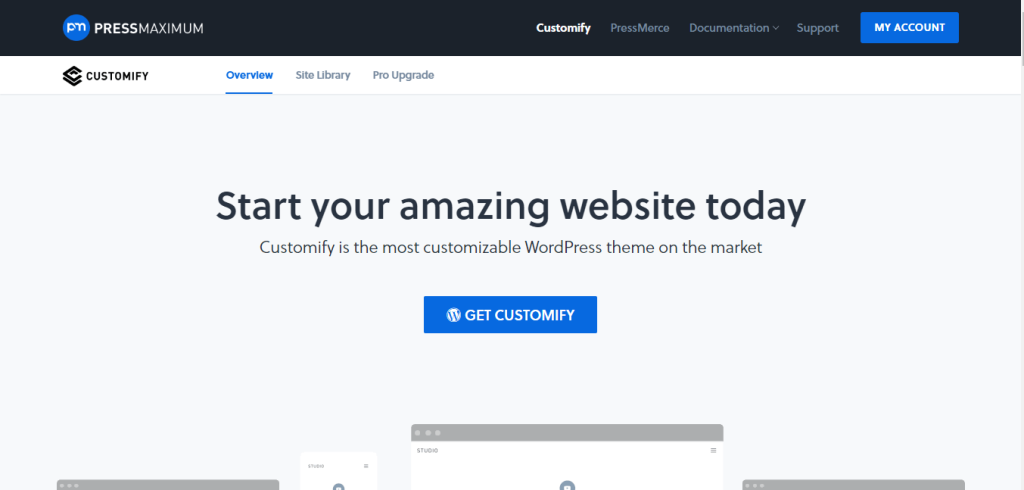 This theme comes with an easy-to-use interface that allows you to customize its headers and footers to match your overall design for your site.
It has dozens of pre-made templates to get up and running quickly. In addition, this multipurpose theme is fully customizable with eight different page builders, so you can make everything you want your own.
Features 
The theme for multipurpose use
Design with simplicity
Flexible headers
Compatible with the best page builders
Pricing 
Its pricing starts at $59/per year
8. Hestia Pro
Best for personal blogs and corporate websites.
Hestia is a fast and popular WordPress theme. This theme is versatile whether you are building a personal blog or a corporate website. This theme has been designed to be fully responsive, meaning it will look great on any device.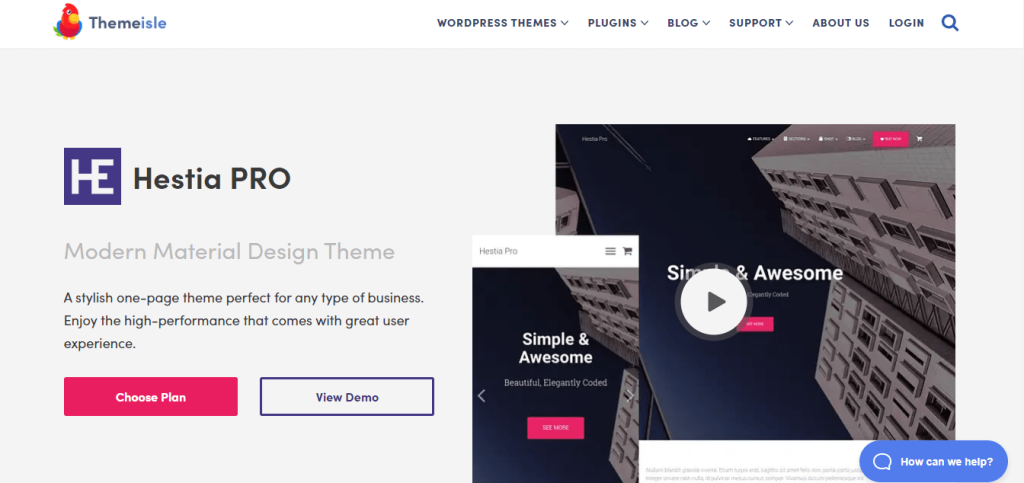 There is no learning curve with Hestia, even for novices. The theme has a powerful page builder, allowing you to create complex layouts easily. Furthermore, if there are any questions, the theme is well documented and comes with excellent support.
Features 
Colors customized
Many compatibility options are available, including Elementor, Beaver Builder, etc.
Integration with WordPress Customizer
CTA for newsletter subscriptions
Pricing 
Hestia is also divided into two packages: Annual and lifetime pricing. Each of its packages includes three pricing plans.
Personal Plan— It costs $69/year for a single site
Business Plan- Priced at $99/year. It lets you manage three sites.
Agency plan— It costs $299/year. Access to manage unlimited sites.
Conclusion: Fastest WordPress Themes (2023) 
Whether you're looking to boost your website's performance and search engine ranking, we've covered the fastest WordPress themes. There are two WordPress themes that we recommend hiring first, Astra and OceanWP since they provide the best performance within a price range that will suit any budget. In any case, regardless of which theme you choose, ensure it offers the features and compatibility that your website requires to succeed.