If you want to stand out in the market with an appealing website, then investing in a WordPress theme that rewards free and paid users helps you do this, and Astra does this very well.
Whether you are creating a website for yourself or a client, Astra Theme helps you create the website you want.
Astra is one of the fastest-growing themes in the WordPress repository.
With its extensive library of pre-built websites, you can create beautiful websites without any programming knowledge in minutes.
With Astra, it is possible to build portfolios, WooCommerce storefronts, and business websites in a matter of minutes.
Let's take a closer look at the Astra theme review, so you can determine whether it's the right choice for you.
About Astra Theme:
Astra is a free WordPress theme created with the new WordPress user in mind. Using the easy-to-use interface, you can customize the look and feel of your website without having to write a single line of code, so you can create the website you want.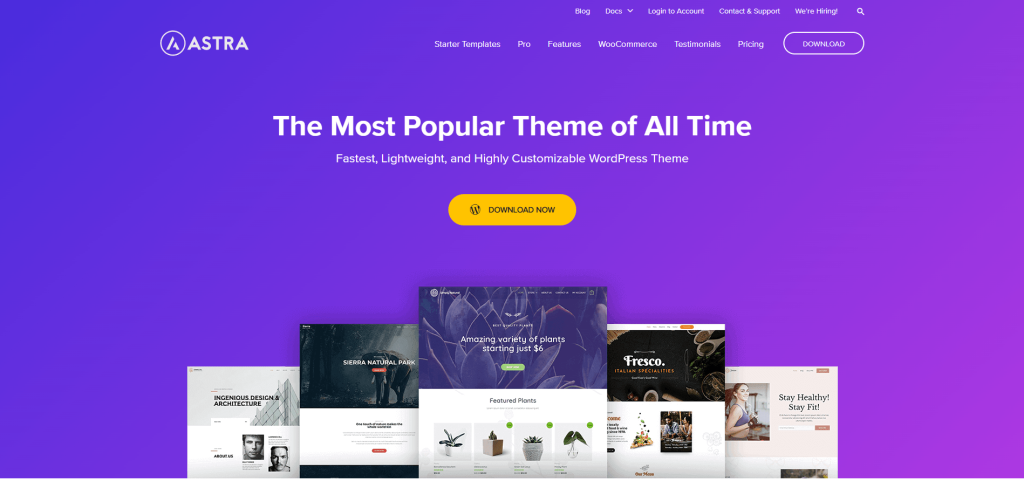 Brainstorm Force is the team behind the Astra theme and was developed long back in 2009.
One of Astra's best characteristics is its lightweight nature and its speed. With WordPress's standard data, the plugin loads in about 0.5 seconds and takes up about 50 KB.
This is also extremely easy to use, as it integrates with many popular page builders, including Elementor and Beaver Builder, making it a great choice for both beginners and experts.
Astra Theme Features:
There is a lot of functionality included in Astra. When you look at the features in the free version of the theme, you'll discover that it is capable of something that even more premium themes cannot offer. Moreover, you will receive more of these functions if you have the premium version.
Astra is packed with some noteworthy features.
1. Various Customization Options:
With its ability to customize theme options, the Astra theme stands out from its competitors. Moreover, when you upgrade to advanced features, you have plenty of customization options available, so you can make your site the way you want it to be.
In the WordPress customizer, you can see many options after you install the theme.
It allows you to change the theme's color, the text, the links, the buttons, and the text's font and color to match the brand's color. You can also customize fonts and typography based on your target audience to make it more appealing.
In addition, you can customize post and page layouts, headers, footers, menus, and more. Headers and footers are hard to customize in most themes, but Astra makes things easier. It has header and footer builders that allow you to customize them fully.
2. Integration Capabilities:
A WordPress plugin adds specific features to your site, and these plugins don't always work well with WordPress themes.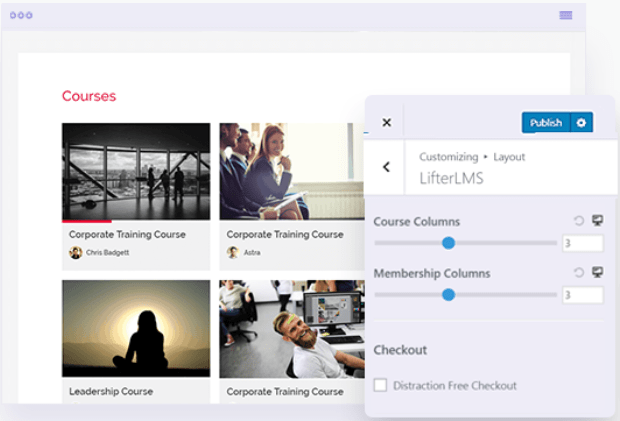 Astra integrates seamlessly with a variety of WordPress plugins. You can use it with LifterLMS, LearnDash, and other plugins. On top of that, it integrates deeply with other popular page builder plugins.
Moreover, Astra is compatible with WordPress SEO plugins, membership plugins, speed optimization plugins, and eCommerce plugins.
3. Layout Options:
The other great feature that sets Astra theme the ideal choice for all beginners and experts is multiple layout options. The layout makes it easier to display information in different formats and for different types of products.

Layouts available include:
With the boxed layout, essential sections can be contrasted by displaying them in a box.
This layout allows you to display all the content on your site within the screen's width.
With padding, you can give your content some space from others.
The fluid layout allows you to display site content regardless of whether you stretch or touch the browser window.
The Spacing Control lets you define how much space and margin each element receives.
This is Astra's default container layout.
You can keep or remove the sidebar from your site. Choosing the side is up to you.
4. Translation & RTL Ready:
With Astra, you can easily localize your website for non-native English speakers. Arabic and other RTL languages can be translated as well.
5. Pre-built Websites:
With Astra, you can choose from a vast selection of pre-built websites. With this feature at your disposal, you can save a lot of time and get a head start on building a website and customizing it as per your requirements.
6. Templates:
Not to forget, templates are a great addition to the Astra theme. The templates library has two types of templates: free and premium.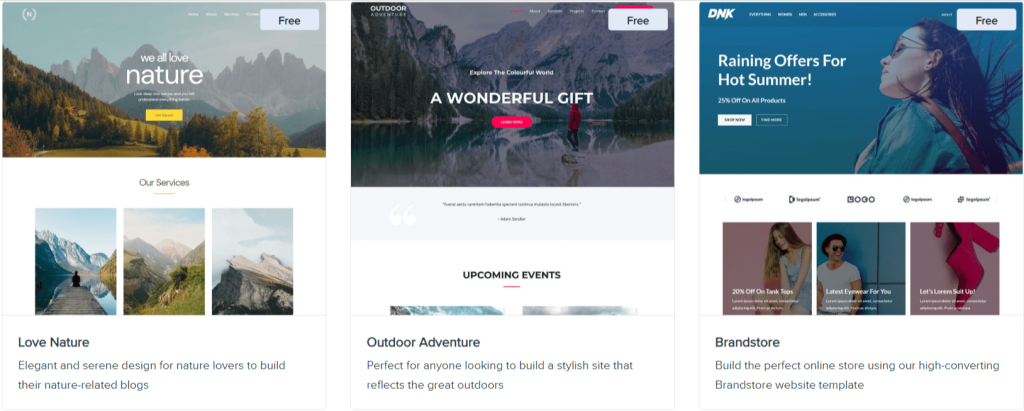 Templates are free to download and can be used with any popular page builder plugin, such as Beaver Builder, Elementor, etc.
You can still import ready-made websites if you don't want to install a page builder because, in WordPress, you have a built-in editor called Gutenberg, which lets you edit your pages from the dashboard.
Astra Theme Pros and Cons:
Pro Of Using Astra Theme:
Website loading time: With Astra, you can load your site within a minute without installing a cache plugin. The theme runs on Vanilla JavaScript without jQuery as part of its speed optimization process.
Design Options: The Astra theme allows you to design almost any website you want for your business. In addition to the free version, it offers over 20 free starter templates and page builders.
Site Layouts: There is a Site Layout module in Astra Premium that allows you to control the overall layout of your website. The module lets you choose between a boxed or full-width layout and a fluid layout for your primary content.
Support: Users of Astra premium have access to live chat support 24*7.
Developer-friendly code: Astra makes it easy for web developers to use WordPress by following default data and coding standards. As well as that, Astra offers many hooks and filters to allow you to create custom layouts.
Page builder support: The best way to create an attractive and professional-looking website without knowing any coding. Page Builders of all types are compatible with the Astra theme.
SEO-Friendly: With the Astra theme, you can create a responsive and SEO-friendly website. Also, it works with Rank Math, Yoast and other WordPress SEO plugins. With the Astra theme, you'll also find integrated SEO schema code.
Cons
Features that are limited: The free version of the Astra theme offers limited customization options and features.
Support: The free version does not offer a chat support option.
The free Astra version does not have the option to generate an external CSS file.
Astra Pricing:
At the WordPress repository, you can download the free Astra theme. To make the Astra theme more customizable, purchase the Astra Premium plugin if you're serious about using it on all your websites.
The free version of this plugin does not offer nearly the same amount of settings in the WordPress Customizer as the paid version, and you also do not have the option of creating a pre-built Site Library. The price of Astra Premium is comparatively affordable as well, with three license options available that allow you access to a similar amount of content.

There are three Astra Pro plans available, with a monthly price of $44 per year, a $127 annual price for the Essential Bundle, and $174 annually for the Growth Bundle. Besides the yearly plans, you can also subscribe to the lifetime plan. Currently, the sale is going on, so the pricing is even more affordable.
There is no limit to how many sites you can use Astra premium on; the best part is you are not subject to any limitations when using it.
Astra PRO:
This plan costs $44 per year and $209 for the lifetime. The Astra Pro plan offers all premium features, including 20+ starter WordPress templates, long-term support, and unlimited website usage.
Essential Bundle:
You can enrol in this plan for $127 a year or $509 for a lifetime. Including all the premium modules, 55+ premium agency templates, a WP portfolio plugin, and a wealth of add-ons for Elementor and Beaver page builders, the Astra Essential Bundle gives you all you need in one convenient package, saving time and money.
Growth Bundle:
With the Astra Growth Bundle plan, you get all the features Brainstorm Force offers at only $174 per year or $625 for a lifetime. This plan is available to anyone who wants it.
Astra Growth Bundle includes a lot of free premium modules, extensive training, 55+ premium templates, schema pro plugin, conversion pro plugin, and all the add-ons for using the page builder that you might need.
Refund Policy:
Astra offers a 14-day money-back guarantee on all premium plans. Within 14 days of purchasing Astra PRO, if you are unhappy with the theme performance or think it is lacking, you will get a 100% refund of your purchase price.
Astra Support:
Astra support is easy to use. There is no need to worry about getting stuck using it. You can always check its documentation and find out what you need to do if there is any problem. The organization has a list of frequently asked questions on its website that will answer most of your questions.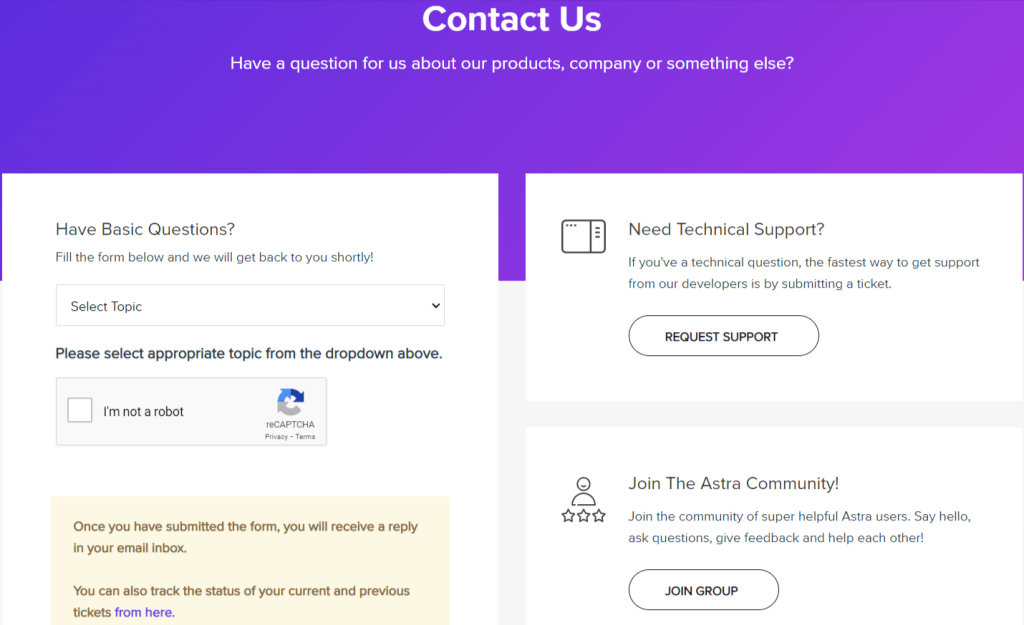 In case you are unable to find an answer to your problem on the company's user discussion forum, you may also join the company's Facebook group to see if you can find someone who can assist you. If you can still find the answer to your question, you can contact their support team by opening a support ticket with them.
Related Read:
Conclusion: Astra Theme Review
During this Astra WordPress theme review, you will see that it's a popular theme that offers you the opportunity to create a site that's unique and different from the rest.
Due to their extensive features, you can easily customize your site to fit your specific requirements.
As well as this, if you have a Pro account, you can seamlessly integrate your favorite plugins with your website.
Frequently Asked Questions:
Is Astra popular?
There are over 1.6 million websites around the world using a WordPress theme called Astra, a fast-loading, multipurpose theme.
How to remove the footer credit on Astra?
Astra Pro is a plugin that allows you to remove the footer credit without paying for it. The only other way to hide the footer credit would be to use CSS code.
Is Astra theme free?
Astra is a 100% free theme that can be downloaded from the WordPress.org website. If you want more functionality & pre-made templates with the theme, you need to upgrade to the Astra Pro theme.
Which Page Builder works with this theme?
The WordPress builder is compatible with more than one drag-and-drop page builder, including Beaver Builder, Elementor, and Brizy, all known for their ease of use.
Does Astra make a good WordPress theme?
Due to its lightweight code and features, Astra has become one of the most popular WordPress themes. Its flexibility and features allow it to be used online for e-commerce websites, blogs, businesses, and even non-profit and profit organizations.
Do they offer a money-back guarantee?
If you are unhappy with its service or features, you can claim your full within 14 days of purchasing it.