The number of WordPress themes releasing each day is staggering, but finding one highly effective, lightweight, and simple is quite challenging.
Currently, the Kadence theme is hot on the market. With so many unique features, it is easy to create a stylish-looking website.
What about its quality? It is worth asking if it can compete with other WordPress themes that are so popular such as Divi, GeneratePress, Astra, and OceanWP.
Well, we have covered the solution to all your concerns.
In this article, we'll explore Kadence in detail and walk you through the features Kadence has to offer. Read on to learn more.
About Kadence Theme
As a multipurpose WordPress theme, Kadence can create any blog-like website, an e-commerce website with multiple pages, or any other type of WordPress website you can imagine.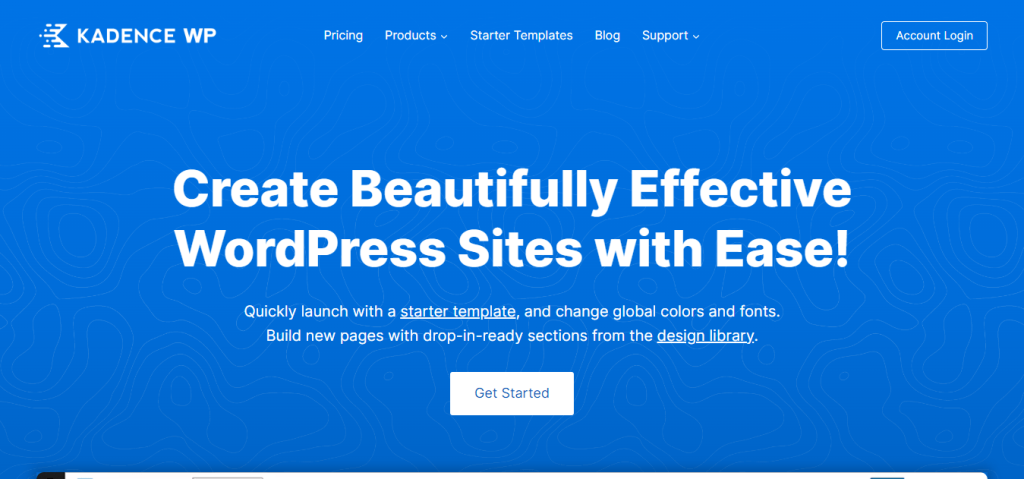 The software allows you to build a website that looks awesome and loads quickly without sacrificing the site's speed.
Using this theme, you can create a beautiful site without bulky page builders like Elementor.
The theme is also freemium, meaning you can use it for FREE.
What makes it the best?
In contrast to other WordPress themes with free versions, this theme includes various features that enable you to create a beautiful blog easily.
However, some sites might want more functionality, such as the ability to insert anything anywhere on the website, even in places that are not accessible, plus a host of other features that the Kadence Pro has to offer.
Pros and cons of the Kadence theme
Pros
It contains a large number of free features. Beginners will love it!
Premium themes are cost-efficient.
The Kadence Pro theme comes with some unique features that you won't find in any other premium theme you can buy
The Kadence blocks make it easy to design a website from scratch.
The theme is lightweight and search engine-friendly, ensuring your site is found on page one of Google's search results.
You can use various third-party plugins to make your website more dynamic, such as LifterLMS, Elementor, Beaver Builder, etc.
A drag-and-drop builder is provided to build headers and footers with ease
Cons
There are not enough starter templates, like those in other WordPress premium themes.
There have been some reports of slow support from some users.
White labeling is not available.
Theme performance
With Kadence, you can expect a lightweight and a high degree of performance. Using inline SVG icons, it weighs less than 50 KB and is accompanied by no heavy Javascript files.
The only files that will be loaded on a page are those that are required so that it remains as fast as possible. Kadence is also compatible with popular WordPress AMP plugins such as Jetpack, which works well with AMP (Accelerated Mobile Pages).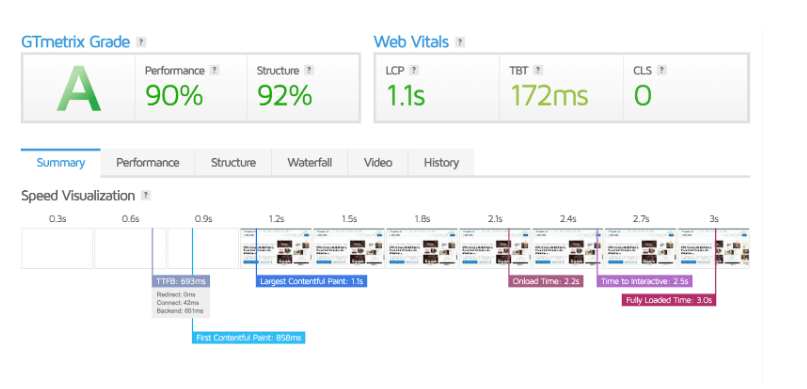 You will find this helpful if you care a lot about speed and want a website as fast as possible.
Listed below are the results of our survey:
It does relatively well on the test. 
Kadence Pro Key Features:
Kadence Pro offers a bundle of advanced features for its users which includes features like: 
Custom fonts
19 new header addons
Infinite scrolling
Ability to add scripts to header & footer
Hooked element
Access to pro template
Custom images for taxonomy background
WooCommerce addons that help you to customize your WooCommerce store
Why invest in Kadence Theme?
Many reasons make Kadence's theme necessary, and there is no doubt it deserves much attention. Besides offering superb features, it is affordable and offers many other benefits. Here is a list of some top reasons why investing in the Kadence theme is a good decision.
The theme is excellently fast.
It is effortless and fast to use Kadence, and many options are available for free and paid WordPress themes.
As part of the web performance optimization feature, it provides you with many options that will help you load your website faster.
Aside from that, it removes the burden of using heavy page builders on your website, which also helps to speed up the loading time of the website as well.
Integrations abound
This theme comes with a huge number of integrations with 3rd party tools & plugins, including:
Plugins for Gutenberg, Elementor, and Beaver Builder
Content restriction
Learn Dash and Lifter LMS
Woocommerce and much more
You don't have to worry about integrating the Kadence theme with any of these tools on your website to install the theme.
Drag and drop header and footer builder
This theme is equipped with a drag-and-drop builder for the header and footer of the website.
One of the biggest advantages of this theme is the ability to add custom post types, a feature you won't find on many other themes, even popular ones.
As well as being included in the paid version of the theme, it is also included in the free version. In the premium version, you will get up to 12 additional header add-ons that you can put right in your website's header.
The perfect solution for e-commerce and membership websites
With Kadence Pro, you can create an eCommerce or membership website for your business.
The program has many features, such as adding an account option to your website's header, designing a store page, adding a cart option, and much more.
So, if you plan to run an e-commerce or membership website, Kadence Pro is for you.
Don't miss out!
Free WordPress themes to choose from
As of today, Kadence is the best free theme available in the complete WordPress directory, and it will continue to be so!
Regarding features and speed, Kadence is far and away the best free theme on the planet.
It's an excellent choice for beginners because the free version of Kadence has everything a beginner blogger needs.
Kadence Theme's free version features
If you choose to use Kadence for free, several high-end features will be available to you that you will not be able to find in other themes.
Here are a few free sections:
Global Colors
KadenceWP offers several global color settings, one of which is the background color chosen for all content on the site, one chosen for a particular piece of content, and one used to set the link color.
Below is a list of the available global color options:
Background of the site
Background Information
Content Background with Title
Link style for content
The color of the content link
Branding
This is where you can upload your website logo and customize the positioning of your logo on your website. You can select the site title and tagline as part of the branding options.
The branding options are as follows:
Logo for the site
The layout of the logo
Title of the site
The tagline for the site
Icon (Favicon) of the site
Design options include changing the font for the site title, hover style for the site title, and active colors for the site title. For the correct positioning of your logo, you can also use the padding option.
Header Layout
The Kadence-free theme has many useful features, but the header layout settings are one of the most advanced. This setting appears to be the drag-and-drop page builder that you are using already when you are using this setting.
These kinds of customizations are not available with most free themes.
Page Layout
The layout type you choose here will determine how your website looks.
The features you will be able to control include the display of the page title, the width of the page, whether a sidebar should be displayed, the location of the sidebar, featured images, comments, and many more customized to your preferences.
Kadence Theme Pros version features
Kadence Pro comes with the following features:
Header addons
First, Kadence Pro offers a wide variety of header add-ons that can be added to the software.
You are getting an additional 12 header addons in the Kadence premium package that can be added to your website's header
Conditional headers
There is one feature of Kadence Premium that would be very helpful to its users and was one that they had been looking forward to for quite some time.
This plugin displays the headers in different parts of the website.
If you use it on your website, you will be able to gain the following benefits:
In blog websites, it is possible to display different headers based on the different categories they belong to.
The plugin can help you remove the header from membership websites' pages for logged-out members and add it to the pages for logged-in members.
You can use this feature if you are running an eCommerce website to eliminate the header on the checkout page, ensuring you do not get distracted during the purchasing process.
WooCommerce features
To make a beautiful-looking online store, you should opt for the Kadence pro theme. The Kadence free theme comes with a handful of Woocommerce options, but if you want a high-end online store, you should opt for the Kadence pro theme.
In the Kadence theme pro version, you get the following WooCommerce features:
Notice to Stores
Catalog of products
Design of a single product
Image of a product
At the checkout
Account layout
Those features will be enough for you if you want to design a simple and sober store; however, if you seek something more unique, then Kadence pro has everything you need.
Go to the Appearance section of the website and select the Kadence tab to enable the Kadence premium WooCommerce Add-on.
Pricing plans for the Kadence theme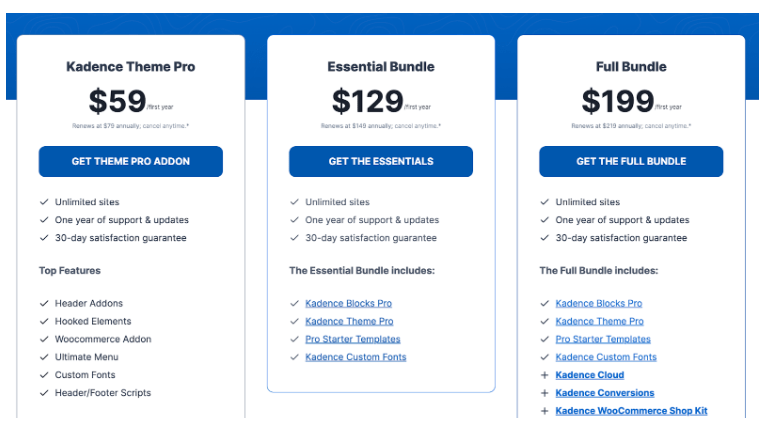 You can download the Kadence theme free from the official WordPress theme directory and install it in your blog.
There are good features in it to help you build a decent-looking website using it.
Nevertheless, if you are looking for more features, Kadence Pro is an excellent option.
Is this the best part?
As its highly affordable pricing, you do not have to worry about your budget.
In terms of pricing, the Kadence Pro addon is available for a mere $59 for one year and supports all the latest features and updates.
On the other hand, if you want a better value for less money, you should choose one of the Kadence bundles.
You get three bundles at Kadence:
Essential bundle: With this bundle, you can access all the features that come with the Kadence theme premium, which includes all the starter templates, which you can use on unlimited websites for one year with premium support. Usually, it would cost you $129 to purchase it.
Full bundle: It costs $199/year. With this premium plan, you will access advanced features, including Kadence solutions like Shop kit (for eCommerce websites), conversions premium, and many other things, including access to all of Kadence products for one year.
Lifetime full bundle: Getting frustrated with yearly payment reminders? Willing to a one-time solution? Well, Kadence brings you the lifetime full bundle plan where you need to pay only a one-time fee, and then you can access the theme throughout your life. It costs $699.
The Kadence premium bundle is designed to give you access to all the premium products from Kadence for a lifetime on as many websites as you want.
Related read:
Conclusion: Kadence Theme Review (2023)
Kadence has quickly become a top WordPress theme and even competes with some leading WordPress themes in some aspects. It is both a free and a paid version of the application, with many features included. The free version is a perfect choice for users just starting. However, if you wish to take the quality of your site design and user experience to the next level, you should opt for its premium version.