There's no need to fret about your tight budget for hosting service providers. Here is a solution to solve your problem.
Having been ranked among the top WordPress hosting providers, Cloudways has a marvelous coupon code that allows you to save 30% on all three-month plans.
Discounts on your favorite hosting plans are brought to you once in a while.
Can't figure out how to redeem the Cloudways promo code to use this outstanding hosting service?
In this article, we'll cover everything about coupons, from redemption methods to pricing plans.
To learn more, read on.
About Cloudways Promo Code (Active Offers)
You can rarely find any coupon code for a hosting service provider that is as good as the Cloudways promo code "CWBLOGIDEA."
This is unlike any ordinary coupon code with a 2%, 3%, or even 5% discount. But Cloudways unique promo code has something for new users. With this Cloudways promo code, you can enjoy a tremendous discount of up to 30% on all plans.
Though nothing comes for free, so does this coupon code. It comes with some conditions; for example, it can only be used by new industry customers.
Users are only permitted to redeem one coupon at a time.
How to Redeem Cloudways Coupon Code (Step By Step)
Having trouble redeeming your Cloudways coupon code? That's why we are here to help. Here are the steps to claim your Cloudways coupon code:
Step #1: Here is a link to the official website of Cloudways that you will need to follow to redeem the coupon code. 
Step #2: You must click on "start free now" on the landing page.

Step #3: Once you are directed to the next page, you must create an account since this offer is only for new customers.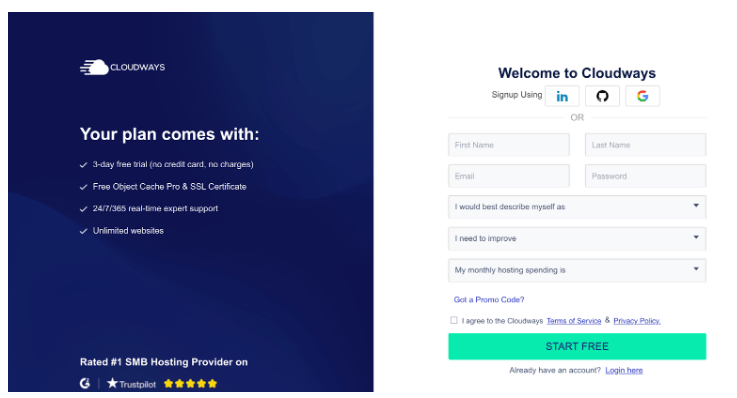 Step #4: While adding details to creating the account, you can add the promo code at the same time.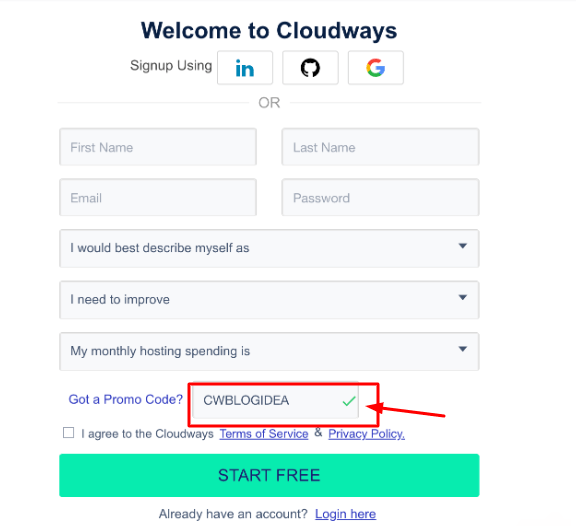 Step #5: After adding the promo code, click on start free, and then on the next page, you can choose your preferred plan.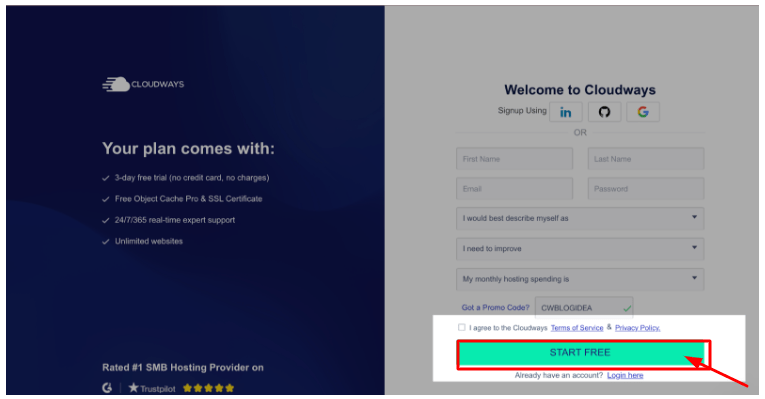 Step #6: After applying the promo code, you will see that discount is successfully applied to the plan.
Features of Cloudways
The following features are among those offered by cloudways hosting service providers. So get started.
SSD-Based Hosting: Simple and powerful service with unparalleled global response times and superior performance.
Caches built-in to the system: As part of their service, they provide an optimized stack with ready-to-use caching components such as Memcached, Varnish, and Nginx, as well as Redis, for quick response times.
Free WordPress Cache Plugin: Unlike any other plugin, Breeze was developed in-house to achieve higher performance than any other plugin. Each Cloudways WordPress site has it pre-installed.
Cloudways Pricing Plans
Many of the services you can get from Cloudways will cost you quite a bit, and you'll receive an even greater discount when you use a coupon code.
Here are the type of plans you get with Cloudways:
Digital Ocean
Several plans are available through Digital Ocean, ranging from $12/month to $96/month. With a special promo code, it will cost you between $8.40 to $67/per month.
Digital Ocean
Actual Price
Coupon Code (30% off)
Discounted price
$12/month
CWBLOGIDEA
$8.40/month
$26/month
CWBLOGIDEA
$18.19/month
$50/month
CWBLOGIDEA
$34.98/month
$96/month
CWBLOGIDEA
$67.20/month
VULTR
Plans with VULTR range from $13/month to $100/month. You can choose from four monthly plans starting at $13/month.
VULTR
Actual Price
Coupon Code (30% off)
Discounted price
$13/month
CWBLOGIDEA
$9.09/month
$26/month
CWBLOGIDEA
$18.19/month
$50/month
CWBLOGIDEA
$34.98/month
$100/month
CWBLOGIDEA
$70.05/month
Linode
Using Linode costs between $12/month and $90/per month.
Linode
Actual Price
Coupon Code (30% off)
Discounted price
$12/Month
CWBLOGIDEA
$8.40/month
$24/month
CWBLOGIDEA
$16.79/month
$50/month
CWBLOGIDEA
$34.98/month
$90/month
CWBLOGIDEA
$62.99/month
Amazon Web Services
It is most reliable to use Amazon Web Services as a cloud platform. Depending on the plan, it can range from $36.51/per month up to $176.26/month.
Amazon Web Services
Actual Price
Coupon Code (30% off)
Discounted price
$36.51/month
CWBLOGIDEA
$25.54/month
$86.77/month
CWBLOGIDEA
$60.48/month
$176.26/month
CWBLOGIDEA
$123.38/month
$274.33/month
CWBLOGIDEA
$192.02/month
Google Cloud
Pricing plans for the Google Cloud Platform are among the most diverse. Starting at $33.18/month, it goes up to $225.93/month.
Google Cloud
Actual Price
Coupon Code (30% off)
Discounted price
$33.18/month
CWBLOGIDEA
$23.22/month
$73.50/month
CWBLOGIDEA
$51.45/month
$138.52/month
CWBLOGIDEA
$96.95/month
$225.93/month
CWBLOGIDEA
$158.15/month
Related Read:
Conclusion: Cloudways Coupons Code 2023
Now, you know what Cloudways coupons have in store for you, but you should hurry up since this offer is for a limited period. 
Frequently Asked Questions:
Is there any free trial on Cloudways?
You can get 3 days of free trial for all its subscribers, so you have 3 free days to try this tool.
Can I get a discount on Cloudways?
You can get a 30% discount for the first 3 months on all Cloudways pricing plans using our exclusive promo code.
Who can use these offers?
This offer is for all the users who sign up on Cloudways and upgrade their account to the premium plan after the free trial.