Are you tired of waiting for the CSSIgniter premium price to go down and getting disappointed if you ever are able to use this unique theme and plugins within your budget? Don't be upset. Your wait is finally over. Cssigniter offers a coupon code "Holidays" to let you subscribe to the pricing plan at 30% off.
Cssigniter is one of the highly regarded and most preferable WordPress plugins and themes available in the market. No matter whether you want to create a website for your business or the client. Be it travel, e-commerce, bloggers, or any other niche, the Cssigniter WordPress theme can transform any site.
With the latest coupon code, you can grab such a fantastic service at a reasonable price and transform your old-looking website into the modern one.
In this article, we have put together an article to claim the coupon code.
Available Cssigniter Coupon Code (2023)
Cssigniter has gained too much attention that it led to spreading rumors about its coupon code. Many sites are releasing the news for the Cssigniter coupon code, but most are not working. Well, don't get stressed, we are here with the right news at your disposal.
Cssigniter has finally announced the update about the coupon code before the year ends. By using the coupon code "Holidays" you can claim upto 30% off on the total cost of pricing plans.
While you subscribe to the service, the code will automatically be applied in case it doesn't you can use the code " Holidays" to claim the discount.
How Do You Redeem The Coupon Code?
Here we guide you on the steps to redeem the coupon code.
Step #1: First, you need to visit the CSSIgniter website.

Step #2: Then, on the landing page, you will see the coupon code at the top. Click on that.
Step #3: Next, you will be taken to the pricing page, where you must choose the plan you need.
Step #4: After choosing the plan, click on buy now.

Step #5: Moving forward, you will see that your discount will be automatically applied. Then you will need to enter the required details and click next.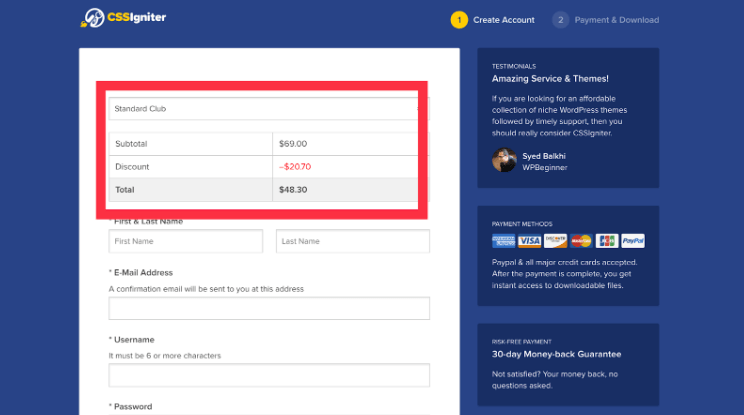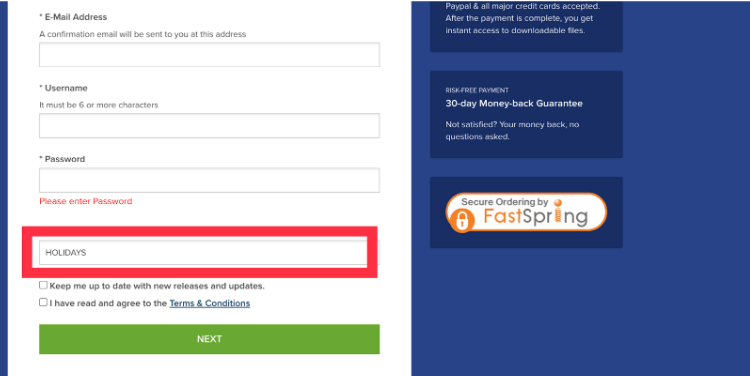 Step #6: After that, you will be taken to the payment page where you need to enter the payment details and click on complete order.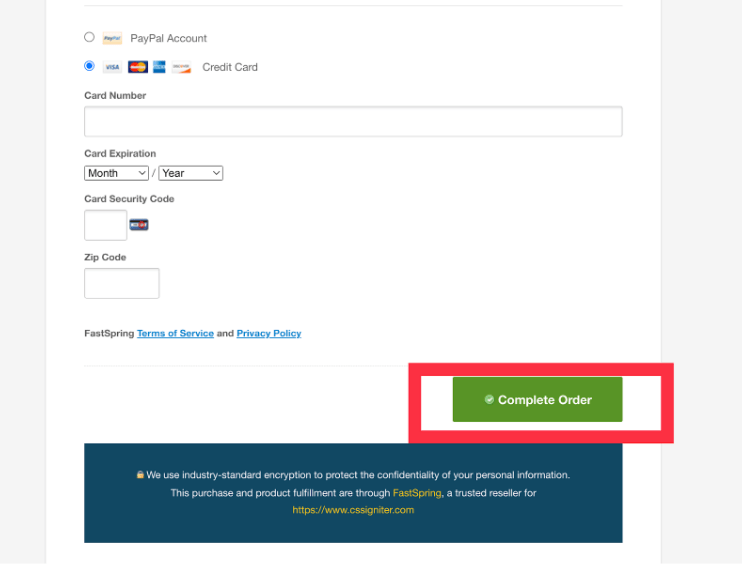 CSSIgniter Pricing
You can see CSSIgniter's pricing for themes and plugins here:
Single Plugin or Theme
The individual theme starts at $49/per year. Purchasing a plugin or theme will give you one year of full updates and support for that plugin or theme. The best part is that there are some CSSIgniter plugins and themes that are completely free of charge.
Standard Club
The standard club is another pricing package starting at $69/year. This one-year subscription will give you access to premium support and CSSIgniter themes
Developer Club
The developer club costs $79/per year. With this plan, you will have access to every CSSIgniter theme, and HTML templates, as well as one year of updates and premium support.
Lifetime Club
Lifetime Club is the advanced premium plan offered by CSSIgniter, it costs $249/per year. For a one-time fee, you will be able to access all plugins, CSSIgniter themes, HTML templates, and Elementorism templates.
Are CSSIgniter themes worth it?
CSSIgniter is among the greatest WordPress themes with advanced features making it the go-to solution to transform the appearance of your website.
These themes utilize the WordPress Customizer, so you can easily customize the theme's appearance using the live preview function. This makes it very easy to switch up the look of your theme using the live preview facility.
To customize the look of your theme, you can make use of the Customizer, featuring detailed options for color, typography, layout, and more.
Additionally, you can import a demo using a simple one-click process, so you can have your site look just like the demo, control individual pages and posts, and change the style as you see fit. Using a page builder plugin with your theme is an excellent idea if you want to build pages to go along with it.
Themes can also be found with features that are specific to the niches.
If you own a music business, the theme related to your business is also available. It comes with instruments so you can conveniently manage your tour dates and discographies.
Most of these add-ons follow WordPress' best practices of using custom post types; therefore, you don't have to worry about your extra features being locked into one theme. If you decide to switch themes later in the future, you will still be able to access your information from a regular WordPress post type.
There are some cases where custom widgets are also used to implement the features.
Pros & Cons Of CSSIgniter:
In this part, we have listed some pros & cons of the CSSIgniter, lets have a look at it.
Pros:
The themes have clear code and best practices
All its memberships are best value for money
Best documentation and support
Offers lifetime membership
It has a best and responsive support team
You can get many custom banners and links so you can promote your website
It also offers 40% commission to its affiliates so that you can generate good revenue
Cons:
Hard to get started for the beginners
Need WooCommerce for integration 
Related Read:
Conclusion: CSSIgniter Coupon (2023)
Having read this article, you might be familiar with the steps to claim the CSSIgniter discount, and available at 30% off on each pricing plan. Settle down and claim the discount to get the theme at reasonable rates.