At first, appearance and choosing a web server aren't heavily influenced by location. Cost is a more crucial aspect. But can you really expect a foreign company to offer the same level of service as the top Canadian WordPress hosting providers?
Fortunately, finding a reliable WordPress hosting provider in Canada is fairly simple. Since WordPress now powers over 27% of all websites, most web hosting automatically offers 1-click WordPress installers.
This article will analyze and contrast a number of the top WordPress hosting options in Canada.
Features To Look For When Choosing A WordPress Hosting
However, you should be aware that certain providers are superior to others when it comes to WordPress websites before you sign up with the lowest monthly web hosting you can discover.
The following are the most crucial factors to take into account when selecting a WordPress host:
SSL is required to accept payments.
Is it possible to transfer a website to or from the host?
Do free backups come with it?
High uptime promise: should be more than 99%
In what locations are the data centers?
24/7 technical assistance and client service
WordPress installation is simple.
Improved security
Most of these components are covered by the web hosts we advise using with WordPress sites, and a few more are included just for fun.
Top WordPress Hosting Canada: In A Nutshell (2023)
| | | |
| --- | --- | --- |
| Name Of Hosting Provider | Pricing | Rating (Reviews) |
| 1. SiteGround | $2.99 CAD/month | Excellent -5 |
| 2. GreenGeeks | $2.95 CAD/month | Excellent -5 |
| 3. Kinsta | $35 USD/month | Good -4 |
| 4. WP Engine | $40 CAD/month | Very Good-4.5 |
| 5. A2 Hosting | $1.99 CAD/month | Excellent-4.7 |
| 6. BlueHost | $ 2.75 CAD/month | Good-4.2 |
| 7. HostPapa | $3.95 CAD /month | Excellent-4.8 |
| 8. HostUpon | $2.95 CAD/month | Excellent-4.7 |
8+ Best WordPress Hosting Canada In 2023
1. SiteGround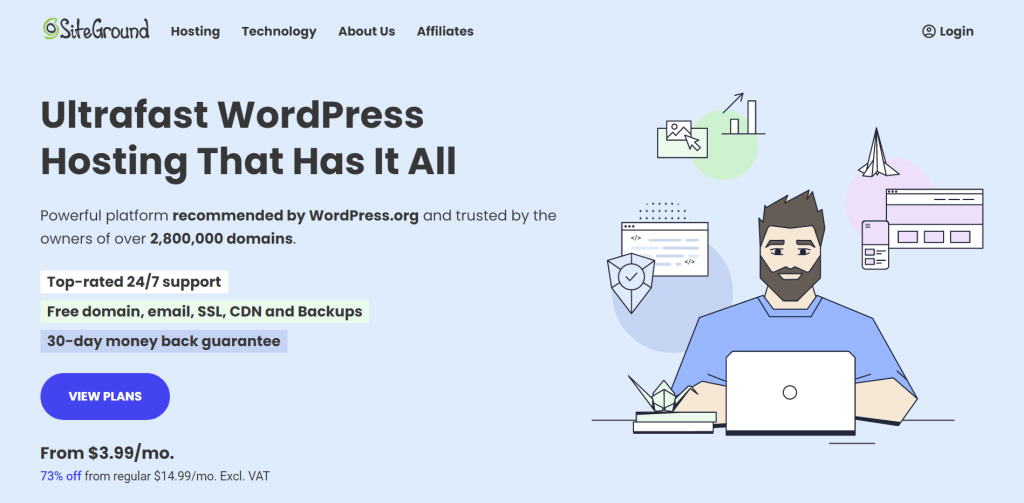 One of the few providers WordPress officially recommends for WordPress, SiteGround is a titan in the global WordPress arena. Despite having excellent (and worldwide) servers, they don't have any in Canada (though you could just use a CDN like Cloudflare to get around this issue).
We particularly appreciate how they have technologies that are specifically designed for speed and security. They even offer a unique WordPress plugin called SuperCacher to increase speed.
They provide many choices for support if you need it, and their back-end is rather simple to utilize (like a Knowledge Base, Tutorials, Live Chat, Phone, and Ticket Support).
Additionally, they come highly recommended for WordPress from WordPress (which is unusual!).
Servers and Assistance
Despite not having any servers in Canada, SiteGround's worldwide servers prioritize speed, quality, and security. The platform has tailored WordPress plugins to enhance the functionality and speed of websites for local consumers. The plans are reasonably priced, with the entry-level offering starting at CAD 9 per month.
Because of this platform's straightforward back end, many users prefer it. They offer fantastic help alternatives for novices, including tutorials, live chat, and ticket support so that you can find solutions to any of your queries and worries. Another key benefit is that WordPress endorses this platform (an achievement in the hosting industry that few can claim).
Key Features
Ad-hoc data transmission
Server assets
Free installation of a CMS
No-cost drag-and-drop website builder Weebly
Free email services
Unlimited parked and subdomains
Thirty-day money-back promise
Helpful site tools
Flash storage
Over four continents, servers
Custom server configuration
Using HTTP/2 servers
Every account receives a SuperCacher Free CDN.
Pros
Incredibly fast loading (can load your WordPress website 4x faster than other platforms)
Excellent uptime since 2014, round-the-clock client service
Quick server response time and a user-friendly bespoke dashboard
Cons
A higher renewal fee for the plan
No regional servers in Canada
2. GreenGeeks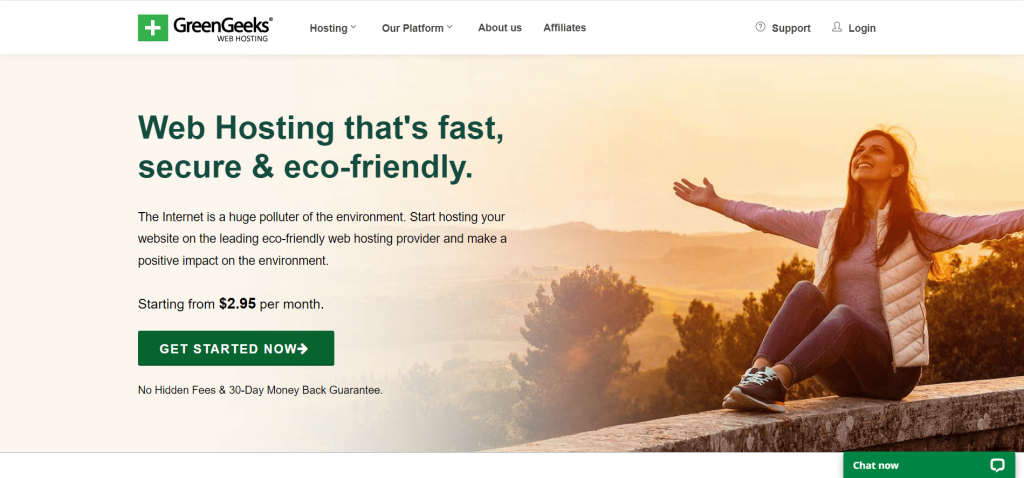 GreenGeeks is the way to go if you're seeking a fast, secure, and scalable top WordPress hosting Canada provider that provides first-rate 24/7 support.
The #1 slot on our list should go to GreenGeeks since it offers one of the easiest, one-click WordPress installation processes and is one of the most dependable hosting companies available.
Key Features
Hosting account isolation,
Secure vFS,
Clustered Threat Analysis,
Proactive Server Monitoring,
Real-Time Security Scanning
Automatic updates for apps
Pros
Unlimited bandwidth, SSD storage, and email hosting
A simple method to help small businesses and green energy
Simple and cost-free site migration (on all hosting plans)
Weekly updates and daily backups
Free Content Delivery Network with Cloudflare
Countless MySQL databases
Location of nearby servers (Canadian servers in Toronto)
Cons
High hosting renewal fees
Questionable refund policies
3. Kinsta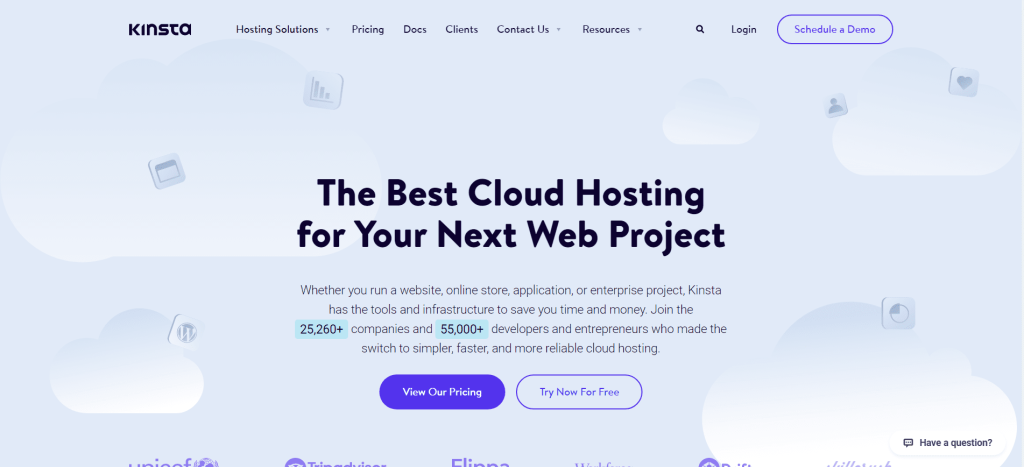 Since Kinsta specializes in WordPress hosting for sites of all sizes, it is advantageous. The platform's 24 data centers, including one in Montreal, Canada, are spread out over the globe in an effort to make your information accessible to online users wherever they are.
Your data is stored and easily accessible thanks to a CDN network that spans over 200 cities in 100 countries. The greatest thing is that this is included with every Kinsta plan at no additional cost.
Every business owner values free premium tools that may save them hundreds of dollars each month. With Kinsta, you receive premium features like resources, admin duties that are streamlined, and tools fit for an enterprise.
Small to medium-sized organizations can use customized hosting services to meet their own requirements. They do not have fixed-term agreements, making it simple to downgrade or upgrade depending on your current needs.
Kinsta offers both customized plans and free migrations from other hosting platforms. Also offered are dedicated virtual machines.
Key Features
Utilizing Google Cloud Platform-Kinsta provides its clients with automated scalability in a secure environment without the need to maintain any physical hardware by utilizing Google Cloud.
These built-in programs that monitor application performance help you pinpoint the main performance problems causing your website to load slowly. These features are conveniently included in all Kinsta plans and have been specifically created for WordPress websites.
The fastest high-end CPUs are used by Kinsta, which claims industry-leading speed. With this special offer, you can anticipate a performance boost of up to 200%, which is available globally from Google's C2 machines.
Pros
Outstanding loading times and performance
For WordPress hosting exclusively,
With unlimited team members for simple administration
Cons
Comparatively more expensive
4. WP Engine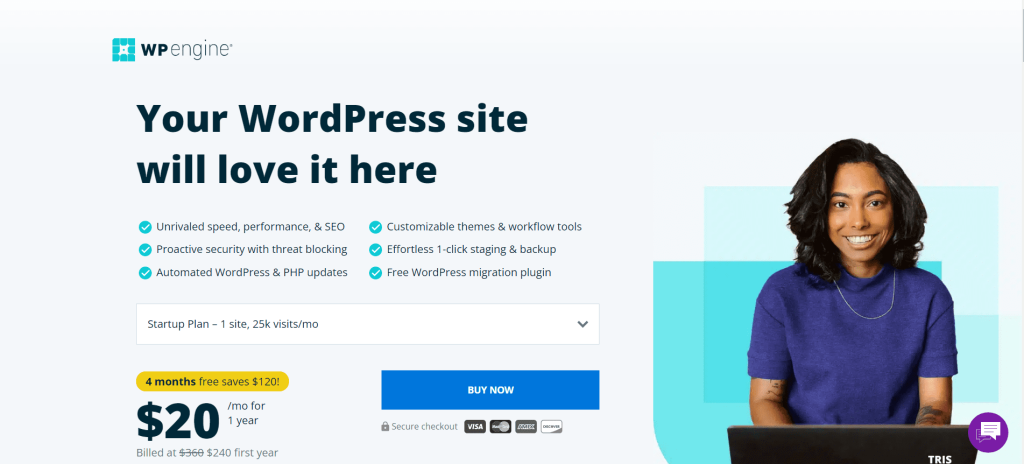 The most well-known brand in the managed WordPress hosting market is WP Engine. They take care of managing your WordPress servers. They keep an eye on your website around-the-clock, so you won't have to worry about it going down.
Around the world, there are numerous data centers, one of which is Canada Premium's managed WordPress hosting service.
They provide services to over 80,000 clients, including major media outlets and seasoned bloggers. WP Engine is the way to go if you want to host a WordPress website but don't know how to administer a server.
Pros
WordPress hosting that is fully managed.
You are free to scale your website however much you want.
They are home to some of the most popular publications and blogs on the planet.
Every package includes a free global CDN.
Their servers feature top-of-the-line hardware and SSD hard drives.
Included for free are the Genesis theme framework and 35+ premium StudioPress themes, each worth well over $1,000.
24/7 live chat assistance.
Use coupon code wpe3free to receive 4 months free on our yearly Startup, Growth, and Scale plans (or 20% off your first month on monthly plans).
Cons
Super costly not fit into someone's budget
5. A2 Hosting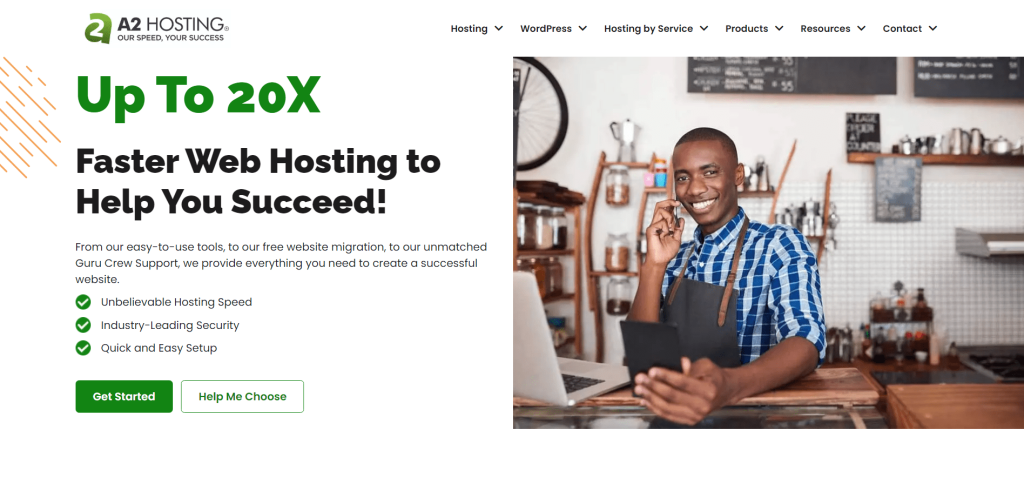 One of the modern-day's fastest website hosting companies is A2 Hosting. They truly prioritize speed in their features, which can be seen in the names of their plans (Lite, Swift, and Turbo). As the plans in the given packages are upgraded, you'll acquire additional power and features. Swift is at least two times as strong as Lite. The Turbo plan can be up to 20X quicker than their least expensive option. Therefore, be sure to take A2 Hosting into consideration if speed is one of your top concerns in a WordPress hosting service.
Fantastic, high-performance web hosting, WordPress hosting, and Canadian reseller hosting are all services provided by A2 Hosting. Their plans are inexpensive without sacrificing cutting-edge features, fast servers, or security.
Key Features
Customer service is available around-the-clock, 365 days a year, via phone, live chat, and email.
Note that this is only a pledge and not a guarantee: 99.9% uptime commitment. However, A2 Hosting has previously demonstrated its dependability in this regard; as a result, you can rely on being online constantly (or at least, most of the time).
As was already established, A2 hosting's best quality is speed. When selecting one of their plans, remember that while their most affordable one is already fast, their mid-priced plan is two times faster. Naturally, their top-tier plan is operating in "turbo mode."
Pros
Storage and disc space are infinite.
All of your websites can use a free SSL certificate.
SSD hard drives enable the HTTP/2, PHP7, Free CloudFlare CDN, and HackScan servers to operate more quickly than conventional ones.
The expert support staff is accessible around-the-clock. You can contact them by phone, email, or live chat.
The team is offering a free website migration.
Cons
Extra fee to change the data centers
6. BlueHost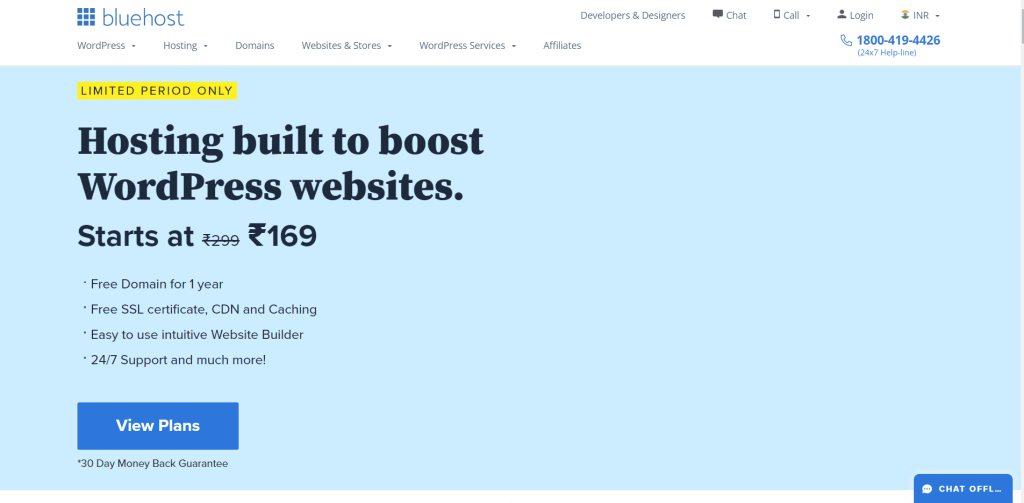 After being acquired by EIG, BlueHost's reputation wasn't great, but they've gradually improved through excellent customer service and several fantastic WordPress-focused plans that improve performance for WordPress sites. They provide a selection of WordPress plans with rapid installation, automatic WordPress upgrades, and a helpful staging environment. They provide first-rate 24-hour help with a range of options and a 30-day money-back guarantee for new customers.
Key Features
CAD-based price
One website
Free domain 50GB storage Free SSL certificate
limitless bandwidth
CDN
WordPress already installed Automatic WordPress updates
50 original WordPress themes are available.
24/7 assistance
Guaranteed uptime of 99.9%
WordPress website builder with drag and drop
Pros
Decent WordPress site options
Reasonably priced
Good options for support
Cons
It won't support Canadian-based servers.
7. HostPapa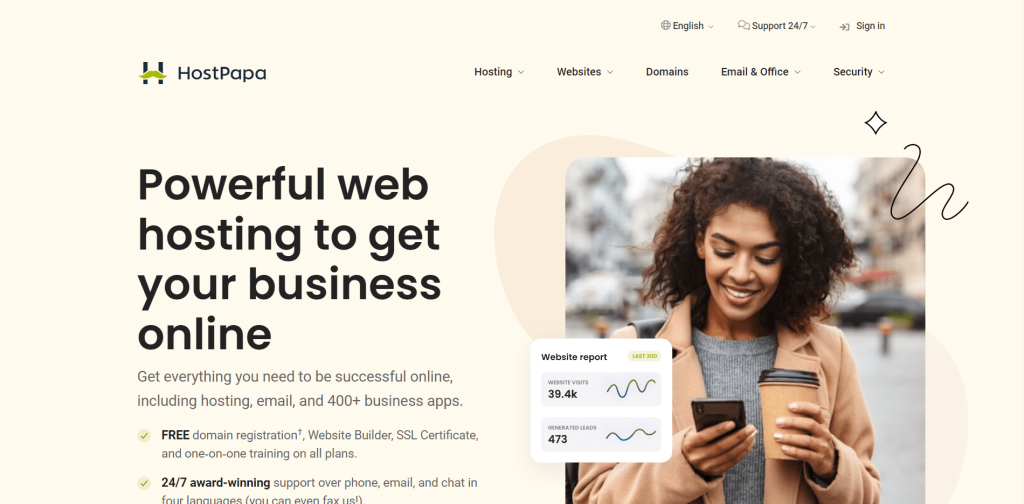 The top WordPress hosting option might look familiar. In general, HostPapa is the finest option for web hosting. We didn't change anything with WordPress for a variety of reasons.
HostPapa just delivers too much value to ignore. It is simply the best Canadian hosting solution for WordPress, hence we utilise it for our Canadian customers.
That applies to more than simply their basic service. It's for their commercial use. Because of this, Hosting Canada is also eligible for our list of affordable hosts.
Readers of Hosting Canada can get a significant discount at $2.36 per month.
Key Features
Local Canadian enterprise
Local servers
Customer Service in Canada
CAD-based price
Guaranteed uptime of 99.9%
2 maximum websites
Among the domains was
storage of 100 GB
limitless bandwidth
100 maximum email accounts
No-cost SSL certificate
WordPress pre-installed and Jetpack
Automatic caching for WordPress
Free domain and website migration
Free private instruction
Pros
High Uptime
Excellent Support Options
Thirty-Day Money Back
Cons
8. HostUpon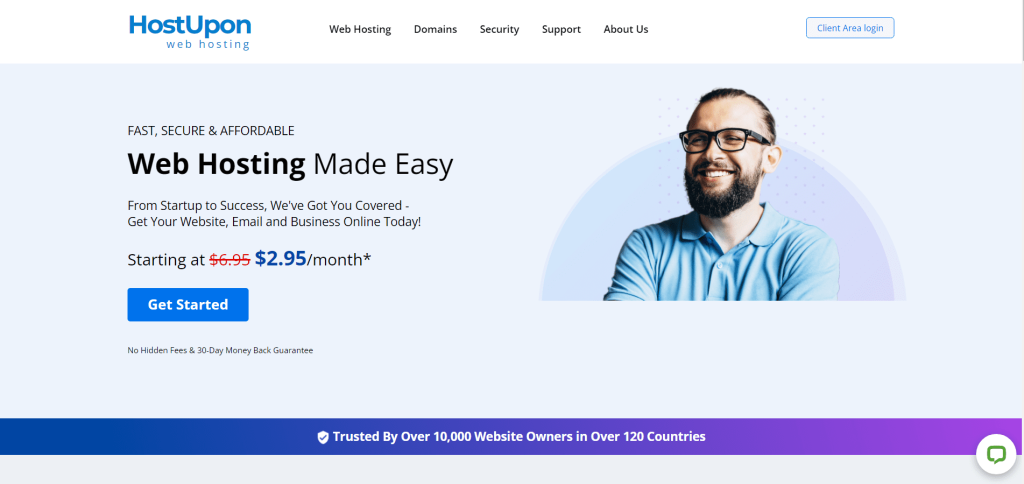 With a Toronto data center that has been optimized, local sales and support, and an exceptional commitment to customer happiness, HostUpon is as Canadian as you can get.
Additionally, they provide WordPress-specific hosting packages with unlimited disc space, cost-free migrations from other hosts, a free domain name, and round-the-clock WP support. They also provide 3 servers in the US, in case that's where your target market is.
Their most affordable hosting package, previously $7.95 per month, starts at just USD $2.96 per month.
HostUpon exceeds many expectations, offering inexpensive hosting plans along with unlimited bandwidth, unlimited add-on domains, and unlimited disc space.
Key Features
Regional data centres
The ability to use emails in sync with current clients through email integration
Fast response times for customers' needs
Unrestricted websites and storage
Includes free domain names
Pros
MySQL databases, unlimited email hosting, additional domains
Green and local hosting servers
A free domain name upon registration
A free website builder with detailed instructions
Website migration is free with every hosting package.
Countless email addresses
Thirty-day money-back promise
Cons
Regular updates but no daily backups
Related Links
Conclusion: Best WordPress Hosting Canada (2023)
Consider the following factors when choosing a Canada-managed WordPress hosting platform: whether the host is based in Canada or just has a few servers there; the cost of hosting overall; the number of sites you can host with a single plan; the availability of a free trial; the minimum speeds guaranteed by the site; its long-term reputation; and how well it secures on-site data.
I hope the above article gave you some key insights about the best hosting sites for WordPress in Canada.
FAQs
Which hosting is the fastest for WordPress In Canada?
One of the most well-known WordPress hosting companies worldwide is SiteGround. They are one of the few hosts that WordPress actually suggests to users, and they provide the SuperCacher WordPress plugin to increase website speed and functionality.
What to check before buying hosting?
When looking for a web host, there are many different things to take into account. The most crucial ones are the usability, cost, efficiency, and dependability of your website. Each of these has a big impact on how successful your site is.
Are free hosting WordPress Sites possible?
Another hosting company that provides free WordPress hosting without advertisements is Freehostia. You don't need to manually install WordPress because you may use the free one-click script installation. 5 domains, 250 MB of storage space, 6 GB of bandwidth, and 3 email accounts are all included in the free plan.
Does WordPress have its own hosting?
Yes, WordPress offers both free and premium hosting options on WordPress.com. There are no up-front expenses when hosting directly on WordPress.com, and you won't need to buy a different domain.