There is no doubt that Wix is one of the best website builders out there, which offers a range of excellent templates & designs. It comes with over 500 widgets and templates to choose from. You can build your website quickly with Wix Editor or Wix ADI.
So what's stopping you from subscribing to these excellent website builders? Budget? Well, that doesn't seem to be a problem anymore.
WiX's promo code saves you 10% off any annual subscription plan, excluding Combo, Connect Domain, and Editor X.
Here we will cover everything you need to know about WIX promo codes.
Available Wix Promo Code 2023
Several websites offer Wix promo codes and claim to offer discounts of 20-30% on Wix plans. However, such promo codes have expired or are no longer valid. There is still one valid promo code that gives you a 10% discount on Wix plans.
The code "TAKE10" can be used in the promo code section of the website, and it will automatically give you a 10% discount. This promo code will allow you to get a discount on Wix's annual plans. You can use the above coupon to start using Wix immediately and access the advanced features.
How To Claim Wix Promo Code
We are now going to take a look at how to claim this offer. This step-by-step instruction may be helpful for you to redeem the code and access the discount. 
Step 1: Access the Official Wix Website
By following this link, you can access the official Wix website. On the website, there is a button that says "Get Started". You need to click on it, which takes you to the Wix website's sign-up page.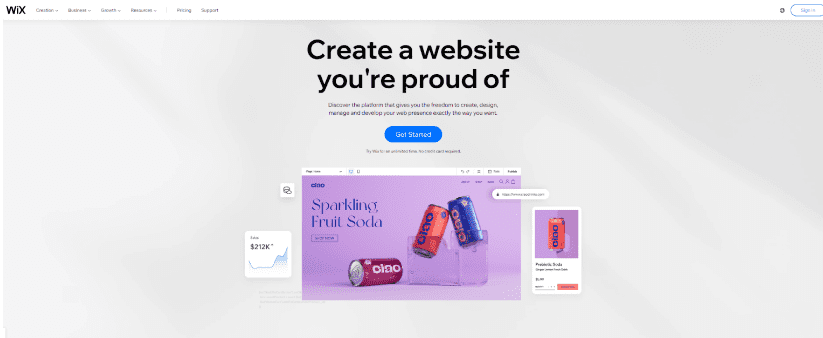 Step 2: Create an Account or Log in
Next, click on "Create an account or log in" by entering the following details.

Entering your email address.
Confirming your email address.
Setting a password.
Confirming your password.
Step 3: What Type of Website are you Looking to Create?
You will be asked questions such as "What type of website are you creating? The name of your website, the goals you have for this website, and a few options.

Step 4: Created a Website Before?
Wix ADI or Wix Editor is now available to create your website. The Wix ADI tool can help you create a website within a few minutes, but the Wix Editor requires that you build every aspect of the site from the beginning.

Step 5: WIX Dashboard
In the dashboard on the right side of your site, you will find an option to upgrade your site after you have crafted a few basic pages. Below, you can see available Wix pricing options, and choose any plan that meets your needs.
Step 6: Select a Plan
The plan you select will have a billing cycle. This service is available monthly and annually. By choosing a longer validity period for your purchase, you will be able to save even more on your purchase. You must select the yearly billing cycle from the drop-down menu to use this promo code.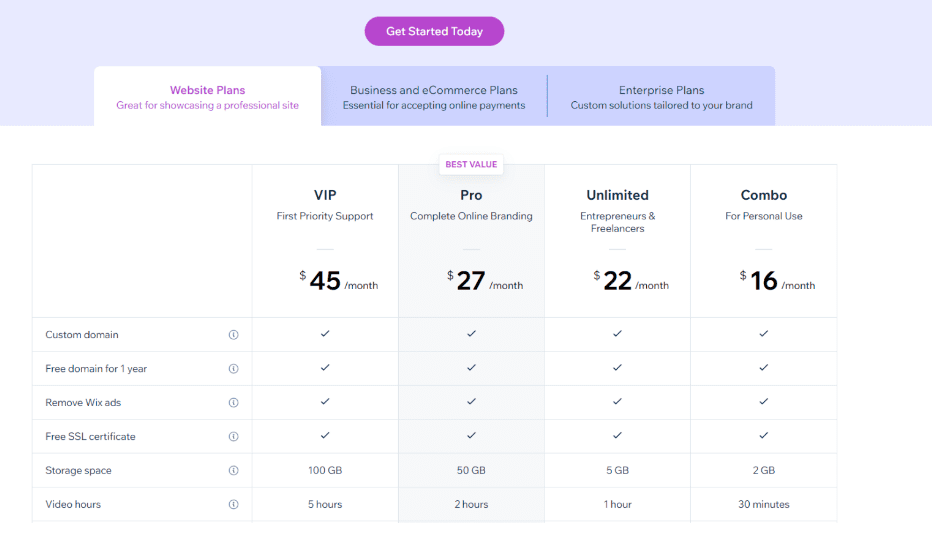 Step 7: Enter the Promo Code
To apply the discount, you need to enter the promo code shown above in the promo code section. All required to complete your purchase is to complete payment information.
Once done. The last step is to click "Submit Purchase."
Once you complete your purchase, your Wix account will be upgraded. With Wix, you can now create unique websites with its premium features.
Wix Pricing Plans
A Wix account is categorized into two categories and each plan has a unique pricing option. Let's examine each of them in more detail.
Website Plans
Website plans are available in four different price ranges:
1. Combo Plan
During the year, the combo plan will cost you $16 per month. Designed for personal use, this plan is for you.
2. Unlimited Plan:
It costs $22/per month annually for the unlimited plan. For freelancers and entrepreneurs, this plan is ideal, and the Combo plan offers all the features you need.
3. Pro Plan:
It costs $27/per month for the pro plan annually. This plan is the best choice for complete online branding, and the Unlimited plan gives you access to all features.
4. VIP Plan:
VIP plans cost $45/month annually. If you want Wix's first-priority support, this plan is the best.
Business And eCommerce Plans
The following three pricing options are available in this category:
1. Business Basic
The basic plan for businesses costs $27/mo on an annual basis. Using this plan, you'll be able to make payments online very quickly.
2. Business Unlimited
An annual subscription to the business unlimited plan costs $32/mo. The purpose of this plan is to help you grow your business. With this plan, you can access all the features the basic Business plan offers.
3. Business VIP
Business VIP plans cost $59 per month (billed annually). A full Wix suite is included with this plan.
Related Links
Conclusion: Wix Promo Code (2023)
It's easy to design and create your website on Wix since it allows you to do it however you like. Through Wix, you can establish a unique online presence for your business, blog, and store. Wix makes it easy to create your first website, even if you don't know how to code. With the Wix ADI, you can create your website in just a few clicks.